Blog
The Blog of Toledo Lucas County Public Library
Two Librarians, Too Many Books: Squad Goals
Posted over 2 years ago by Allison F
Allison Fiscus: Hello Lucas County! It's been too long! How ya been? Anything new?

Katie Midgley: You had a baby! The brand new Mott Library is about to open up! Main Library is undergoing a massive renovation! I put blonde highlights in my hair! SO many new things.
A: All of equal importance, too. It's almost summer which means it's almost peak-reading season which means it's time for us to bombard you with too many books to add to your to-read pile.
K: And today we are here with you to discuss a brand-new batch of recommendations with a fancy new theme.
A: And that theme is?
K:
A: Heck yeah. Now, for our readers, can you define just what exactly qualifies as a squad goals-read?
K: So glad you asked, A. Simply put, a book that qualifies as squad goals is one in which the group of people in the story, or the author, are people you'd want to hang with in real life. You know, your dream squad.
A: OK, I got you. So, if that's the case, I am gonna have to IMMEDIATELY give a shout out to the squad of all squads, the squad that "squad goals" exemplifies…
K: I know where this is going…
A:
K: There it is.
A: How can we not start with them? They're the comfort food of squads. The (admittedly a little too white) friends we all wish we had!
K: ALL of us?
A: Don't test me, Midgley.
K: I totally get it, I used to have a crush on Joey. But how does this relate to books?
A: Like this:
A: I got this book for Christmas and was so smug about how it couldn't possibly have anything new to offer that I didn't already know, but Kelsey Miller is full of surprises. A lot of it is about the way "Friends" has ingrained itself into our culture. How, for instance, it was on the verge of cancellation when 9/11 happened and pretty much the entire nation turned to it for comfort, giving the show some of the highest ratings in its first run.
K: Smelly Cat cures all. For real though, that's really interesting. I've turned to this show for comfort before, too. I watched it every night before bed to help me fall asleep for at least two years straight.
A: I get it. There's just something so soothing about a tiny woman with a high-pitched voice yelling "I KNOW!" at least once an episode. Miller also talks in-depth about the now infamous contract negotiations where the cast Three Musketeers' it up and went all for one/one for all on salary. Talk about your squad goals.
K: Uh, yeah. Didn't they end up making a million dollars per episode the last season?
A: The last TWO seasons.
K: Jealous.
K: Speaking of New York City...
K: I want Andrew Rannells in my squad (you know, Elijah Krantz from HBO's Girls?) I just finished his memoir, Too Much is Not Enough, and he would be the ultimate bestie.
A: Don't you mean Elder Price from "Book of Mormon?"

K: Ugh, right. Honestly, I wasn't even going to pick this book up because I assumed it was going to only be about musicals and life on Broadway based on his career. You know how much I hate musicals…
A: A fact in which I love you in spite of. Also, I have a blog you should read.
K: My queen. Anyways, I was taking a trip to NYC and wanted to read something set in the city to get me excited, and this was the perfect choice. He discusses the struggle of moving from a small town in Nebraska to the big city when he was only 18 and how hard pursuing your dreams can be when you're a small fish in a big pond. His humor is so on point, but he also touches on sexual assault, growing up in the Catholic Church AND what it was like to portray a character from Pokemon Live! despite not knowing what a Pokemon is.
A: But which character was he?
K: Some villain named James? My Pokemon knowledge is sub-par.
A: Was really hoping the answer would be Squirtle. So, get this - second blog in a row that I have a graphic novel rec. You're rubbing off on me.
K: Do tell!
A:

A: Ok, I'm gonna get real for a minute.
K: 60 seconds…go!
A: As previously mentioned, I'm a new-ish mom. I've got three boys all of whom are pretty much as (literally) white as they come.
K: Yeah your kids have the blonde hair/blue-eyed thing covered.
A: Precisely. And because of this and the, to put it politely, bonkers world we currently live in, I think a lot about how I'm gonna teach these kids the tougher parts of life to understand, like to be aware of how privilege works. (Has this gotten heavy enough yet?) How do you teach someone about that? It's hard enough to get full grown adults to see it.
K: Right, but at least adults have access to W. Kamau Bell, so we have a chance. (Love you forever, Kamau…)
A: Good Talk grabbed my attention because it's the opposite perspective. Mira Jacob is an Indian-American woman raising a mixed-race child and this book chronicles both the conversations about race she had growing up and the ones she now has with her son, husband, family and other important folks in her life.

K: This sounds great, kind of reminiscent of Ta-Nehisi Coates' Between the World and Me?
A: If Coates and Marjane Satrapi joined forces, you'd get Mira Jacob. Good Talk is stupidly funny at times, like when her son decides he's changing his name to "The Sixth Jackson" because he's obsessed with MJ, but also heartbreaking, like when he asks if his dad is afraid of him because he is dark skinned and his father is not.
K: Ugh.
A: Yup. It's most powerful points are in its depiction of how racism looks to someone of color and how, despite best intentions, white folk just don't get it because they can't experience it. It's the closest I've ever seen anything come to explaining the fear and frustration of daily life as a person of color in a way that I can begin to relate to. One of the best lines is in the first few pages. She says, "Sometimes you don't know how confused you are about something important until you try explaining it to someone else." If that isn't parenting in a nutshell, I don't know what is.
K: That line is true of so many things even beyond parenting. But while we're on the topic of motherhood, I've got one for you.
K: I really want to invite this author over for a drink. She's a dream member of my ultimate feminist squad for sure. I've never read anything that so perfectly and eloquently outlines the mental struggle almost every woman goes through when debating whether or not to have kids. I feel so connected to Sheila Heti because her perspective is honest, refreshing and so incredibly relatable.
A: Funny you should mention this. I was recently asked about my decision to have kids by someone who isn't sure she wants them and I didn't know how to answer. For me it was just like a switch flipped one day and suddenly it needed to happen immediately.

K: That hasn't happened to me yet but who knows what the future holds, right? There are so many passages in this book that were so beautifully worded I decided to read them over. And over. And over. I even took photos of the pages so that after I gave my library copy back I'd still have access to the words. I'm not even going to bother to try and pick a favorite line - just read it.
A: Done. I have a cheat book to add to the conversation.
K: A cheat book?
A: Yes. It's a bestseller, so I'm guessing it won't be some revelation of a recommendation to most people reading this, but it fits into this category so perfectly that I have to include it.
K: And it is…?
A:
K: Did you include this because you're trying to one-up me in the meeting-the-author category?
A: No! But now that you mention it I TOTALLY DID MEET HIM. He came to my branch and I introduced him to my mom like he was my prom date.
K: You have no chill.
A: Never claimed to, dude. This book is all about having a squad. It takes place in revolutionary Russia right as the Bolsheviks are taking control and persecuting (re: executing) the aristocracy. Our hero is Count Alexander Rostov who within the first several pages is spared the death sentence given to most of his aristocratic compatriots because of a poem he wrote that many believe inspired the revolution. So, instead of killing him, they just shove him into a luxury hotel under indefinite house arrest...which is where the rest of the book takes place.
K: Honestly, indefinite house arrest in a luxury hotel sounds like a vacation to me. Where do I sign up?
A: I like to explain it as the most exciting book I've ever read in which nothing happens. The Argo of books, if you will.
K: Okay you know I don't watch movies, so that reference goes right over my head, but are you trying to tell me Bryan Cranston disappoints?
A: Absolutely not. That movie literally makes a ringing phone more exciting than the most spectacular battle scene in any other movie.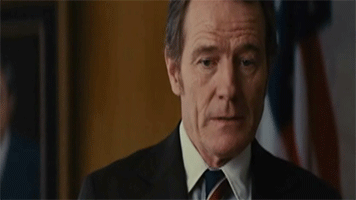 A: But back to the book-- A Gentleman in Moscow is all about squad goals. Alexander has to rely on his squad for everything because he can't leave this place that is slowly morphing and deteriorating around him, and as the years wear on he accumulates quite the variety of squad members that, in very sneaky ways, come together for the climax of the story that will have you on the edge of your seat. Gosh darn I'm gonna have to read this again. Just talking about it has me hyped up.
K: No! I'm so against reading the same thing twice. Too many good books to read, woman!
A: Just try and stop me.
K: Speaking of intense (read: TRAGIC) climaxes to stories, have you read A Little Life by Hanya Yanagihara yet? It was nominated for like every literary prize that exists.
A: What's up with that cover?
K: That's basically my face the entire time I was reading it. It's a depressing masterpiece and of the 892 pages I would say probably 500 will make you cry. Roxanne Gay called it "hatefully sad," and I can't summarize it much better than that.
A: We can always count on you for the feel good recommendations. You planning on taking this one to the beach?

K: Well if I drown in tears reading it at least there will be a lifeguard nearby. The book follows four friends (Willem, JB, Malcolm and poor, poor, Jude) over the span of several decades, beginning when they move to New York City (wow, I have a thing for books set in NYC, huh?) following them all the way through their adult lives. Also, it's not really squad goals, because I would NOT want to hang with this group because bad luck seems to follow them everywhere, but they are the most tight-knit squad I've ever encountered in literature, so I think it qualifies.
A: That's fair. Though I have to warn you, I'm not reading anything that's 900 pages and isn't written by J.K. Rowling.
K: You are thoroughly predictable.
A: Also fair. So, I'm in the middle of the strangest book right now.
K: Ugh, is it by James Joyce per chance?
A: It's The Catcher in the Rye. JK JK LOL. But for real how many guys have you met that just NEED you to read that book?
K: Literal LOL. No comment.
A:

A: It's a memoir of one of the White House stenographers during the Obama years. Reading it feels kinda like being a teen reading a romance novel. Like, you sorta feel guilty because it's things that maybe you shouldn't know? I feel like I have to hide it behind a magazine as I read.
K: Interesting. Show your work.
A: Well for instance, now I know that 44 runs in all black workout gear and the White House staff party harder than I did at BGSU in 2008 (never seen an 80's night I didn't love). I also know what Obama said to his staff - get this - after 13ABC Action News finished interviewing him in Maumee's very own Wolcott House. I screamed out loud as I was getting ready for work in my Maumee, Ohio bathroom when the word "Maumee" was said in the audiobook version. Certainly something that will never happen again.
K: Until you write your memoir. So what did he say?
A: Not telling. Go read it.
K: Rude.
A: It's strangely voyeuristic. It's essentially a peek into the inner workings of the most inner part of the White House. She literally was tasked with just hanging out in the background and recording what was being discussed. She was paid to be an eavesdropper. I mean shoot, I'd do that for free.
K: Well, it would depend on the administration… BUT, while we're on the subject of the Obamas...
A: Yaaaaaaaaaaaassssssssss.
K: How fast did you plow through this tome?
A: So fast.
K: I did nothing but read this book for three days straight (remember those adult snow days we were blessed with?!)
A: I listened to it. She narrates it. It couldn't have been more perfect. I felt like I was getting a FLOTUS pep-talk every morning while I was getting ready for work.
K: When they go low, we go high.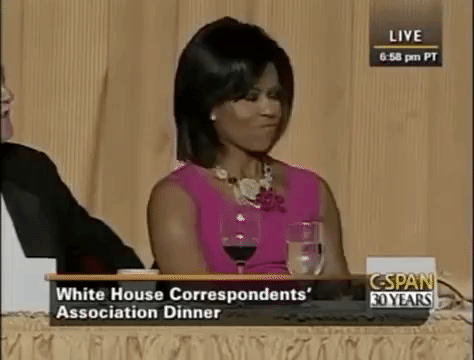 K: Honestly, I was so close to dismissing this book as just another first lady memoir, but wow, was I wrong. Did you know this is on track to be the bestselling memoir OF ALL TIME? She is such a powerhouse.
A: I did not know and I am also not surprised.
K: By the way, once I finished, I sat in bed and watched the video of her and Barack dancing at the Inaugural Ball while Beyonce serenades them with, At Last. I highly recommend it if you need a good cry.
A: Sometimes when I'm having a bad day I watch the video of Obama delivering gifts to kids in the hospital while wearing a Santa hat. No shame.
K: Sigh…Oh, Barry.
A: OK, Midgley. You good? Anything more to add?
K: I think that's enough for this go-round.
A: Until next time, Lucas County. Keep on reading!

OTHER ITEMS YOU MAY ENJOY