Let's work together to make sure our youngest community members have everything they need to be strong readers, engaged learners, and confident students. From birth, while learning to read, success throughout the school year, and for support throughout high school, the Library has resources for families and teachers. If you can't find what you need on this page, please call us at 419.259.5231.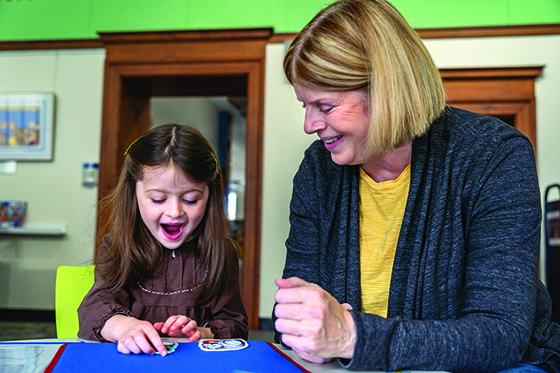 HELPING STUDENTS SUCCEED
Search the catalog using keywords, reading levels, or interest levels to help find the correct book for your student.
We will choose from available materials to fill requests with a quick turnaround for you! Let us know where you want to pick up your books from and we will get started! Use this form or call any location.
Book kits are perfect for supporting your teaching. You may reserve up to 60 days in advance. Check back often as our inventory is always changing.
Juvenile and Teen Kits have 25 copies.
Book Kit checkouts are for a maximum of 9 weeks. No renewals.
Most of these titles are available in ebook or eaudio with Libby or hoopla.
Start your request with this form or call 419.259.5200.
We have childcare kits with material designed for specific ages…with free delivery. 15 books per kit. Start your request with this form or call 419.259.5200.
Are your students stuck on a homework or research problem? You can print this
downloadable grid
to share with your students or to hang in your classroom. We also have 11 x 17 posters which can be requested at your favorite Library location or by calling 419.259.5200.
Our monthly Educator Newsletter provides tips to help your students learn. Sign up with this form.
It's important to know that reading is not a natural skill; it must be taught, and learning is hard work! Parents and caregivers are children's first teachers, and the Library's Ready to Read Team is here to help you with this work.
Choose one or choose them all! See all the reading challenges and get sign up information here.
Call us at 419.259.5200 to get a Library card for all your students.
Online tutoring for K-12, college, and GED students. No appointment needed and tutors are available noon to midnight, 7 days a week! Writing support is available either in a live session or through the Drop-off Paper review. Receive feedback on reports, essays, resumes, and cover letters within 12 hours. Offers practice quizzes including ASVAB, ACT, and SAT.
TutorSmart provides free after-school tutoring for 1st – 8th grade students. Limited spots are available. 
Apply here
. Contact TutorSmart at 419-210-1830 with questions.
If you don't see your preferred location, check again soon as locations and openings change based on the number of students enrolled.