Compulsive Hoarding: Stockpiling Serious Amounts of Stuff
Hoarding is an interesting topic to delve into for a variety of reasons.
Maybe you collect a lot of stuff.
Perhaps you have a relative with a cluttered home.
Or maybe you simply think hoarding or hoarders are interesting from a psychological standpoint.
It's often difficult to understand why people do the things they do.
Why do people save so much stuff?
Why don't they just throw it all out?
When all the clutter gets in the way of maintaining a healthy living space these are questions many people would ask, but it's not that simple for hoarders.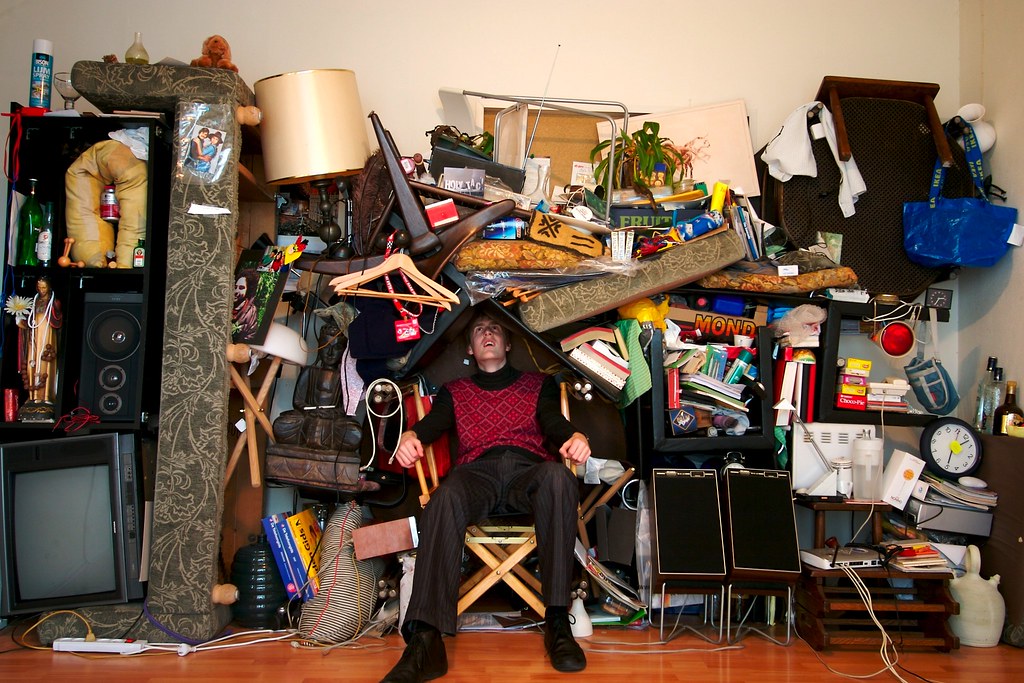 The Reality of Hoarding
Reality TV is well-known for making spectacles out of people and the lives they lead. A&E's Hoarders made headlines by focusing on the most extreme cases of hoarding anyone had ever seen. However, hoarders were famous long before reality TV. One of the most notorious cases of hoarding in United States history is that of the Collyer brothers. Their story has inspired movies, plays and a novel by E.L. Doctorow entitled Homer & Langley. The case was so famous that hoarding disorder has often been referred to as 'Collyer brothers syndrome.' Although many may cringe at the public's insatiable appetite for chronicles of hoarding, the resulting national dialogue has led to a better understanding of hoarding as a true mental disorder, which helped move the subject out of the realm of taboo and into one of reality. It's no longer something no one talks about or deals with, which is definitely a step in the right direction.
What exactly is hoarding anyway?
To hoard means to "accumulate (money or valued objects) and hide or store away." Mental health professionals often link hoarding to obsessive compulsive and anxiety disorders. This often misunderstood condition is now listed as hoarding disorder, "a distinct entity under the category Obsessive Compulsive and Related Disorders."
Could you be a compulsive hoarder? – This article from Everyday Health, lists the top 9 signs of hoarding:
Parts of your home become unusable.
No organization to the clutter.
The hoarded items hold no value.
You have a lot of pets.
Your home is becoming unsanitary.
Increased social isolation.
Combative or defensive when confronted.
Unwillingness to give up items.
Anxiety or other mental illness.
Every home gets a little messy from time to time, but it's important to consider that there may be a real problem if the mess starts to have a negative impact on a person's daily life, health or safety. In many instances, the thought of getting rid of their 'stuff' evokes such high levels of anxiety that they tend to hold onto things more than others. Compulsive hoarding affects approximately 3 million Americans across the United States. However, it's believed the statistics on this disorder are highly underrepresented, because sufferers may find it difficult to ask for help.
Why Do People Hoard?
According to Dr. David Tolin, director of the Anxiety Disorders Center at the Institute of Living, people hoard for many reasons:
They have a tendency towards perfectionism. If they can't make a perfect decision, then they won't make one at all.
They're afraid they'll throw out something good, so they just keep everything.
They have an emotional attachment to objects in their home.
The video, A Hoarder Confronts Her Clutter, offers a small glimpse into the lifelong struggle hoarders face.
Help For Hoarders
The road to recovery can be long and arduous. However, with intervention and ongoing therapy sufferers can improve their quality of life. Family members may even become closer to their loved ones suffering from the disorder when they step in to help with the recovery and cleanup process.
Resources:
Hoarding: The Basics – Anxiety and Depression Association of America (ADAA)
Hoarding Cleanup- Nationwide Directory
Nonfiction Books About Hoarding and Hoarders
The extreme cleaning specialist from A&E's hit TV show "Hoarders" describes the stories of real clients and addresses the physical challenges associated with working the front lines of hoarding, as well as the social issues surrounding the disorder.
With vivid portraits that show us the traits by which you can identify a hoarder, Frost and Steketee explain the causes and outline the often ineffective treatments for the disorder while illuminating the pull that possessions exert on all of us.
The featured psychologist on the hit A&E series "Hoarders" shares counsel on an array of hoarding-related disorders from compulsive shopping to extreme collecting, sharing practical advice, behind-the-scenes stories from the show and background histories about some of the most serious cases of hoarding that she has encountered.
Nonfiction Books for Children of Hoarders
Discusses the psychological and practical challenges of growing up with a hoarder, including health, safety, and quality-of-life issues, and offers suggestions for effectively communicating with family and navigating available resources.
The child of a compulsive hoarder reveals the difficult challenges she endured throughout her youth, describing her witness to the disorder's progression before her mother's diagnosis with cancer prompted a radical cleaning and a coming-to-terms with the psychology of hoarding behaviors.
Fiction Books featuring Hoarders
A tale inspired by a true story finds the blind Homer Collyer closeted within a once-grand Fifth Avenue mansion with his damaged brother and remembering a life marked by colorful characters, political events, and technological achievements.
Struggling to start over after a failed relationship and her son's entry into drug rehab, a struggling Lucy Bloom tackles an unexpectedly challenging job clearing the cluttered home of a reclusive artist and hoarder who hides an astonishing secret.
Articles on Hoarding
Compulsive Hoarding Poses Safety and Psychological Risks – University of Michigan Health System
Could You Be A Compulsive Hoarder? 9 Signs of Hoarding – Everyday Health
5 Famous Hoarding Cases – How Stuff Works
Hoarding: How Collecting Stuff Can Destroy Your Life – Time Magazine
Inside the Hoarder's Brain: A Unique Problem with Decision-Making – Time Magazine
When It Isn't Just Clutter Anymore – The New York Times
Why Do People Hoard – Oprah.com
---
Featured Image Credit: Song Dong, Waste Not, 2015 – Flickr (Creative Commons license).
Did you like this blog post? Keep up to date with all of our posts by subscribing to the Library's newsletters!