Fabulously Frugal
Frugality isn't just for cheapskates anymore. Saving money can be beneficial to everyone and in this economy who doesn't want or need to save a few bucks? In the modern world, everything costs money, and before you know it you may find yourself in debt or with little or no money if you're not budget conscious.
According to dictionary.com, the word frugal means …
Economical in use or expenditure.
Entailing little expense.
Living without waste.
Thrifty.
Prudently saving or sparing.
It's all about making smart choices everyday, which over time can add up to big savings and less stress due to overwhelming debt. So, if you need a little budgetary assistance, look no further than the Toledo Lucas County Public Library to help you become fabulously frugal.
Check out these great resources designed to help you save money
Suddenly Frugal: How to Live Happier & Healthier for Less by Leah Ingram
Many people know one or two things they can do to save money, like cutting back on vacations and meals out, but beyond that, they're stumped. When they look at their current lifestyle, they have no idea where they can trim the fat without sacrificing their quality of life.
That's exactly what this guide will do. It will help you identify small, painless changes you can make to your daily habits that can add up to big savings–while bringing you closer as a family. By grouping these money-saving tips into a room of the house or errand on a to-do list, you can immediately put your suddenly frugal plan into action–and instantly begin saving money.
By pinpointing the dollar amount associated with each cost-saving step, financial whiz and mom Leah Ingram will inspire you to embrace–and enjoy–your new frugality.
Ecothrifty: Cheaper, Greener Choices for a Happier, Healthier Life by Deborah Niemann
Use it up, wear it out, make it do, or do without—our grandmothers knew the importance of responsible, thrifty choices. But somewhere along the way we lost our way and succumbed to the belief that we can get everything for next to nothing, have it shipped halfway around the world and then, more often than not, just throw it away.
This consumer binge is taking its toll. Diet and lifestyle-related illnesses are epidemic, our environment is awash in a sea of plastic, our climate is changing, and the cost of everything is skyrocketing with the price of oil. Are we doomed? No. We can make greener, healthier choices, and we can do it while saving money.
Where to start? Ecothrifty is packed with simple, practical ideas and recipes to help you:
Make homemade products for cleaning and skin care
Grow your own food and cook more from scratch
Raise your family without lowering your standards
A must-read for anyone who has ever wanted to live a greener life but thought that it would be too expensive, time-consuming, or difficult, this handy, complete guide will show you how small changes can have a huge environmental impact and save you thousands of dollars, all while improving your quality of life.
Do More, Spend Less: The New Secrets of Living the Good Life for Less by Brad Wilson
Formats: Print | eBook | eAudiobook
It's tough in the consumer world. The good news? The entire basis for how to best shop, spend, travel, bank– essentially all aspects of being a consumer– is fundamentally changing. The power is now in your hands. Do More, Spend Less is your road map to get off the default path, turn the tables on the banks, airlines, hotels, cell phone companies, and retailers and win the great game being played for your hard-earned cash. This approach has helped consumers on BradDeals.com save more than $200 million in the last year alone.
Money Secrets of the Amish: Finding True Abundance in Simplicity, Sharing, and Saving by Lorilee Craker
Formats: Print | Audiobook | eAudiobook
Take one thoroughly modern gal with a recessionary income problem, mix with the practices of a culture that has proved to be recession-proof, and what have you got? – A financial planner in a straw hat.
When writer Lorilee Craker learned that the Amish are not just surviving but thriving in the economic downturn, she decided to find out why. What she found was about a dozen tried and true financial habits the Amish have employed for generations that will make your cash last longer and help you build wealth. Craker provides tips to …
Use it up, wear it out, make do, or do without
Rethink your gift giving
Repurpose, recycle, and reuse
Eat like royalty for a peasant's pittance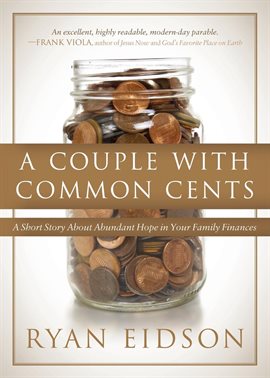 A Couple With Common Cents: A Short Story About Abundant Hope in Your Family Finances by Ryan Eidson
Formats: eBook
How Does a Husband and Wife Come to an Agreement About Money? Tabitha is a young mother of two who struggles with her family's finances every day. She's tried to talk with her husband, Jack, about their money struggles, but he won't listen. A friend of Tabitha's invites her to a weekend women's conference.
How can Tabitha take off work and go to this conference, when she doesn't have the cash to go, and can't miss a day of work because their money is so tight? Find out how she overcomes these problems in A Couple with Common Cents.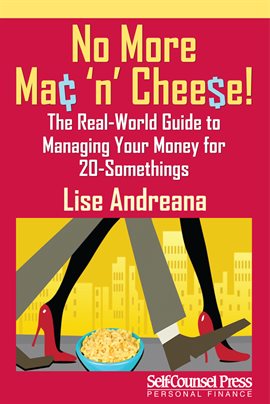 No More Mac 'N Cheese! The Real-World Guide to Managing Your Money for 20-Somethings by Lise Andreana
Formats: eBook
No More Mac 'n Cheese! is aimed at young people who recently graduated from high school or college and are out on their own for the first time. They may need to pay off student loans, secure a vehicle, start thinking about a down payment, mortgage, wedding, or retirement fund, all while trying to survive on more than just 99¢ noodles on an entry level salary. Nobody actually covers these topics in school. Whether you're a 20-something wanting to make the most of their financial independence; the parent of a young adult trying to instill some financial responsibility; or a member of a financial institution hoping to encourage the younger generation to start money management now, you will find sound advice within these pages.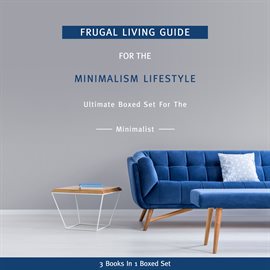 Frugal Living Guide For The Minimalism Lifestyle: Ultimate Boxed Set For The Minimalist
Formats: eBook
There are many benefits to frugal living and minimalism. The first is that it helps to keep people from getting deep into debt. Many consumers make the mistake of living well beyond their means. When a person takes on a large debt burden, they are not financially independent. This can hurt one's chances of maintaining a good credit score. Minimalism helps to ensure that people have the essentials that they need and that no matter what happens, people will be provided for.
Little House Living: The Make-Your-Own Guide to a Frugal, Simple, and Self-Sufficient Life by Merissa Alink
Formats: Print
From the immensely popular blogger behind Little House Living comes a motivational homemaking book, inspired by Laura Ingalls Wilder's Little House on the Prairie, featuring creative, fun ways to live your life simply and frugally.
Shortly after getting married, Merissa Alink and her husband found themselves with nothing in their pantry but a package of spaghetti and some breadcrumbs. Their life had hit rock bottom, and it was only after a touching act of charity that they were able to get on their feet again.
Inspired by this gesture of kindness as well as the beloved Little House on the Prairie books, Merissa found that a life of self-sufficiency and simplicity could be charming and blissful. She set out to live an entirely made-from-scratch life, the "Little House" way, and as a result, she slashed her household budget by nearly half—saving thousands of dollars a year. She started to write about homesteading, homemaking, and cooking from scratch, and over the next few years developed the recipes and DIY projects that would one day become part of her now beloved website, LittleHouseLiving.com.
As whole foods became staples of the family diet, Merissa realized the dangers of putting overly processed ingredients not onlyinto our bodies, but on or near them as well. In addition to countless delicious, home-cooked meals, she developed natural, easy-to-make recipes for everything from sunscreen to taco seasoning mix, lemon poppy hand scrub to furniture polish. With their simple ingredients, these recipes are allergen friendly and many are gluten-free.
With over 130 practical, simple DIY recipes, gorgeous full-color photographs, and Merissa's trademark charm in personal stories and tips, Little House Living is the epitome of heartland warmth and prairie inspiration.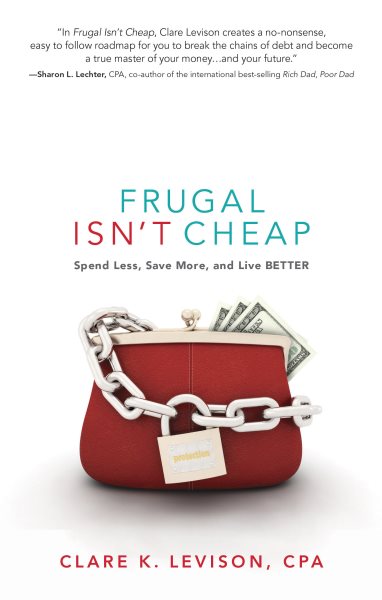 Frugal Isn't Cheap: Spend Less, Save More, and Live Better by Clare K. Levison, CPA
Levison serves up practical financial advice, and challenges you to change the way you think about money. Her message is deceptively simple and clear: it's cool to be smart about your money; it's stylish to be sensible rather than overindulgent; financial stability is more glamorous than extravagance. But cut up the credit cards? Levison prefers to promote responsibility rather than abstinence.
The Good Life for Less: Giving your Family Great Meals, Good Times, and a Happy Home on a Budget by Amy Allen Clark with Jana Murphy
Formats: Print
When Amy Clark and her husband found themselves in unexpected financial trouble right before the birth of their first child, they quickly learned the importance of smart budgeting and making a little money go a long way. In this book, Amy offers up a clever lifestyle plan that is long on creativity and short on cost to help you achieve a peaceful, thrifty home and a loving, happy family:
Set a reasonable budget and stick to it
Save half price or more on nearly everything
Cook delicious, frugal meals for any size family, and save money by making your own easy salad dressing, barbecue sauce, and homemade mixes
Manage an organized, clean house without spending valuable time and money
Create traditions and family occasions kids will remember forever—without breaking the bank
You'll be inspired by a wealth of smart and creative ideas for families living on a budget and a guide for everyone who finds themselves challenged to juggle all the roles that come with parenting. Amy gives you the tools, the guidance, and the inspiration you need to run your own household with wisdom, wit, love, and style.
Low budget cooking resources
---
Budget Cooking – Web Resources
Budget Cooking – Eating Well
Budget Cooking Recipes – Allrecipes
Budget-Friendly Recipes – Food Network
12 Ways to Eat Well on a Budget – Oprah
Budget Meals: Feed 4 for $10 – Cooking Light
Cooking on a Budget Series – Cook Smarts
Cook and Shop Smart on a Budget – POPSUGAR
5 Habits That Help Me Cook on a Budget – Kitchn
100 Cheap and Easy Recipes Under $1 Per Serving – All You
10 Ways to Save Money on Groceries Without Coupons – The Daily Meal
52 Cheap and Easy Dinner Recipes For Every Week This Year – Delish
The Best Food Hacks to Use While Cooking on a Budget – One Green Planet
Did you like this blog post? Keep up to date with all of our posts by subscribing to the Library's newsletters!