Blog
The Blog of Toledo Lucas County Public Library
Compulsive Hoarding: Stockpiling Serious Amounts of Stuff
Posted over 2 years ago by April S
Posted in eBooks and Audiobooks and Nonfiction | Tagged with Anxiety, Hoarding Disorder, Obsessive-Compulsive and OCD
---
The Reality of Hoarding
Reality TV is well-known for making spectacles out of people and the lives they lead. A&E's Hoarders made headlines by focusing on the most extreme cases of hoarding anyone had ever seen. However, hoarders were famous long before reality TV. One of the most notorious cases of hoarding in United States history is that of the Collyer brothers. Their story has inspired movies, plays and a novel by E.L. Doctorow entitled Homer & Langley. The case was so famous that hoarding disorder has often been referred to as 'Collyer brothers syndrome.' Although many may cringe at the public's insatiable appetite for chronicles of hoarding, the resulting national dialogue has led to a better understanding of hoarding as a true mental disorder, which helped move the subject out of the realm of taboo and into one of reality. It's no longer something no one talks about or deals with, which is definitely a step in the right direction.
What exactly is hoarding anyway?
To hoard means to "accumulate (money or valued objects) and hide or store away." Mental health professionals often link hoarding to obsessive compulsive and anxiety disorders. This often misunderstood condition is now listed as hoarding disorder, "a distinct entity under the category Obsessive Compulsive and Related Disorders."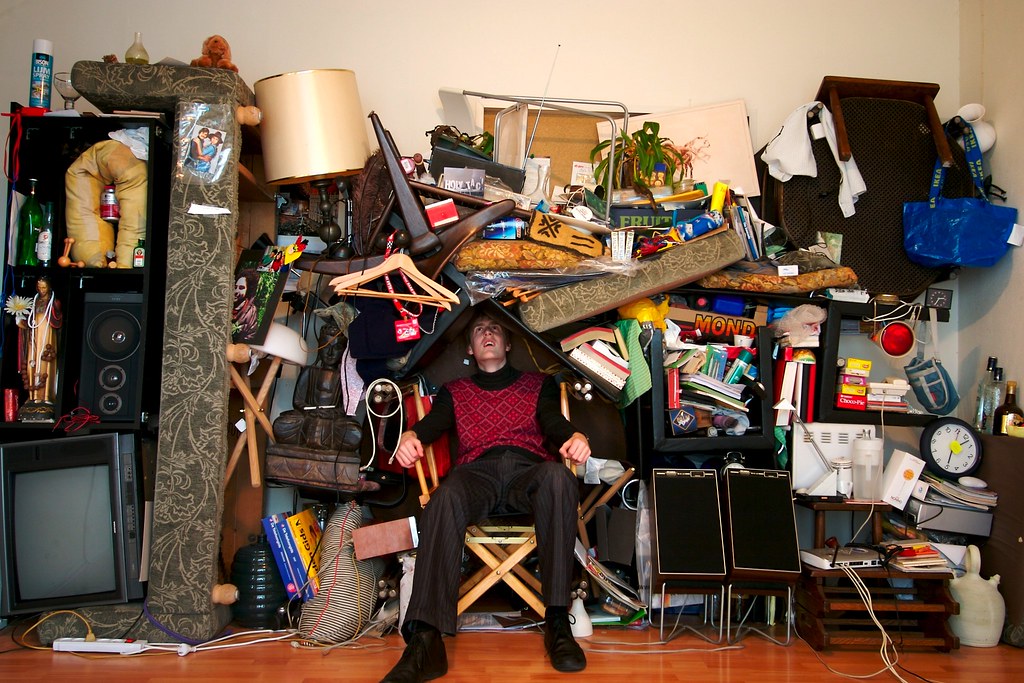 Could you be a compulsive hoarder? - This article from Everyday Health, lists the top 9 signs of hoarding:
Parts of your home become unusable.
No organization to the clutter.
The hoarded items hold no value.
You have a lot of pets.
Your home is becoming unsanitary.
Increased social isolation.
Combative or defensive when confronted.
Unwillingness to give up items.
Anxiety or other mental illness.
Every home gets a little messy from time to time, but it's important to consider that there may be a real problem if the mess starts to have a negative impact on a person's daily life, health or safety. In many instances, the thought of getting rid of their 'stuff' evokes such high levels of anxiety that they tend to hold onto things more than others. Compulsive hoarding affects approximately 3 million Americans across the United States. However, it's believed the statistics on this disorder are highly underrepresented, because sufferers may find it difficult to ask for help.
Why Do People Hoard?
According to Dr. David Tolin, director of the Anxiety Disorders Center at the Institute of Living, people hoard for many reasons:
They have a tendency towards perfectionism. If they can't make a perfect decision, then they won't make one at all.
They're afraid they'll throw out something good, so they just keep everything.
They have an emotional attachment to objects in their home.
The video, A Hoarder Confronts Her Clutter, offers a small glimpse into the lifelong struggle hoarders face.
Help For Hoarders
The road to recovery can be very long and arduous. However, with intervention and ongoing therapy sufferers can improve their quality of life. Family members may even become closer to their loved ones suffering from the disorder when they step in to help with the recovery and cleanup process.
Resources:
Hoarding: The Basics - Anxiety and Depression Association of America (ADAA)
Hoarding Cleanup- Nationwide Directory
Books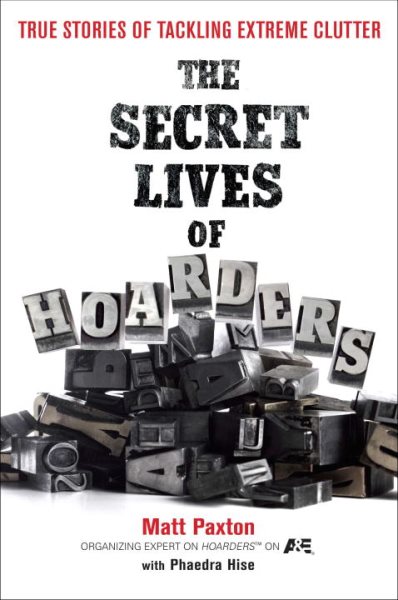 The Secret Lives of Hoarders: True Stories of Tackling Extreme Clutter by Matt Paxton; with Phaedra Hise

Formats Available: Print

"The Secret Lives of Hoarders is much more than harrowing tales of attacking the ugliest, dirtiest, and most shocking hoarding cases in the country. It is a behind-the-scenes look at this hidden epidemic- what it means, how to recognize it before it gets out of hand, and how to deal with it. Through his work with hundreds of clients in the worst circumstances Matt Paxton has learned to understand this disorder and his clients' impulses to collect, to speak the hoarders' language, and to reach out to them with compassion and concern while avoiding criticism and judgment. Most important, he guides compulsive hoarders successfully through every step of the clean-up and healing process. The Secret Lives of Hoarders is an engrossing and sometimes unsettling look at extreme clutter but one that helps hoarders, their families, and their friends to find meaning in the chaos." - Amazon
Stuff: Compulsive Hoarding and the Meaning of Things by Randy O. Frost and Gail Steketee

Formats Available: Print

"Frost and Steketee were the first scientists to study hoarding when they began their work. With vivid portraits that show us the traits by which you can identify a hoarder, the authors explain the causes and outline the often ineffective treatments for the disorder while illuminating the pull that possessions exert on all of us. What possesses someone to save every scrap of paper that's ever come into his home? What compulsions drive a woman like Irene, whose hoarding cost her her marriage? Or Ralph, whose imagined uses for castoff items like leaky old buckets almost lost him his house? Or Jerry and Alvin, wealthy twin bachelors who filled up matching luxury apartments with countless pieces of fine art, not even leaving themselves room to sleep? Randy Frost and Gail Steketee were the first to study hoarding when they began their work a decade ago; they expected to find a few sufferers but ended up treating hundreds of patients and fielding thousands of calls from the families of others. Now they explore the compulsion through a series of compelling case studies in the vein of Oliver Sacks. With vivid portraits that show us the traits by which you can identify a hoarder--piles on sofas and beds that make the furniture useless, houses that can be navigated only by following small paths called goat trails, vast piles of paper that the hoarders 'churn' but never discard, even collections of animals and garbage--Frost and Steketee explain the causes and outline the often ineffective treatments for the disorder. They also illuminate the pull that possessions exert on all of us. Whether we're savers, collectors, or compulsive cleaners, none of us is free of the impulses that drive hoarders to the extremes in which they live. For the six million sufferers, their relatives and friends, and all the rest of us with complicated relationships to our things, this book answers the question of what happens when our stuff starts to own us."- Publisher Description.

Mess: One Man's Struggle to Clean Up His House and His Act by Barry Yourgrau

Formats Available: Print

The author draws on his experiences as both a hoarder and an investigator to profile subjects ranging from professional decluttering services and anti-hoarding therapy to the brain science behind hoarding and the way clutter affects relationships.

"A fascinating read by a hoarder about the psychology and culture of hoarding." - The New York Times

Dirty Secret: A Daughter Comes Clean About Her Mother's Compulsive Hoarding by Jessie Sholl

Formats Available: Print

"A fascinating look at compulsive hoarding by a woman whose mother suffers from the disease. To be the child of a compulsive hoarder is to live in a permanent state of unease. Because if my mother is one of those crazy junk-house people, then what does that make me? When her divorced mother was diagnosed with cancer, New York City writer Jessie Sholl returned to her hometown of Minneapolis to help her prepare for her upcoming surgery and get her affairs in order. While a daunting task for any adult dealing with an aging parent, it's compounded for Sholl by one lifelong, complex, and confounding truth: her mother is a compulsive hoarder. Dirty Secret is a daughter's powerful memoir of confronting her mother's disorder, of searching for the normalcy that was never hers as a child, and, finally, cleaning out the clutter of her mother's home in the hopes of salvaging the true heart of their relationship—before it's too late. Growing up, young Jessie knew her mother wasn't like other mothers: chronically disorganized, she might forgo picking Jessie up from kindergarten to spend the afternoon thrift store shopping. Now, tracing the downward spiral in her mother's hoarding behavior to the death of a long-time boyfriend, she bravely wades into a pathological sea of stuff: broken appliances, moldy cowboy boots, twenty identical pairs of graying bargain-bin sneakers, abandoned arts and crafts, newspapers, magazines, a dresser drawer crammed with discarded eyeglasses, shovelfuls of junk mail . . . the things that become a hoarder's 'treasures.' With candor, wit, and not a drop of sentimentality, Jessie Sholl explores the many personal and psychological ramifications of hoarding while telling an unforgettable mother-daughter tale." - Publisher Description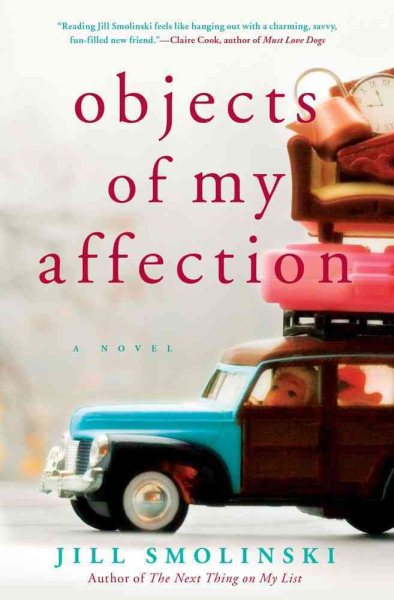 Objects of My Affection: a novel by Jill Smolinksi

Formats Available: Print | Book on CD | Pocket Audiobook | eAudiobook

Lucy Bloom is broke, freshly dumped by her boyfriend, and is forced to sell her house to send her nineteen-year-old son to drug rehab. Although she's lost it all, she's determined to start over. So when she's offered a high-paying gig helping clear the clutter from the huge home of reclusive and eccentric painter Marva Meier Rios, Lucy grabs it. But she soon learns that the real challenge may be taking on Marva, who seems to love her objects too much to let go of any of them.
Dirty Little Secrets by C.J. Omololu

Formats Available: Print | eBook

Everyone has a secret. But Lucy's is bigger and dirtier than most. It's one she's been hiding for years-that her mom's out-of-control hoarding has turned their lives into a world of garbage and shame. She's managed to keep her home life hidden from her best friend and her crush, knowing they'd be disgusted by the truth. So, when her mom dies suddenly in their home, Lucy hesitates to call 911 because revealing their way of life would make her future unbearable-and she begins her two-day plan to set her life right. With details that are as fascinating as they are disturbing, C. J. Omololu weaves an hour-by-hour account of Lucy's desperate attempt at normalcy. Her fear and isolation are palpable as readers are pulled down a path from which there is no return, and the impact of hoarding on one teen's life will have readers completely hooked. A gripping story about the secret shame of compulsive hoarding.
Homer & Langley by E.L. Doctorow

Formats Available: Print | Large Print | Book on CD | eBook | eAudiobook

Homer and Langley Collyer are brothers--the one blind and deeply intuitive, the other damaged into madness, or perhaps greatness, by mustard gas in the Great War. They live as recluses in their once grand Fifth Avenue mansion, scavenging the city streets for things they think they can use, hoarding the daily newspapers as research for Langley's proposed dateless newspaper whose reportage will be as prophecy. Yet the epic events of the century play out in the lives of the two brothers--wars, political movements, technological advances--and even though they want nothing more than to shut out the world, history seems to pass through their cluttered house in the persons of immigrants, prostitutes, society women, government agents, gangsters, jazz musicians . . . and their housebound lives are fraught with odyssean peril as they struggle to survive and create meaning for themselves.
Ghosty Men: The Strange but True Story of the Collyer Brothers, New York's greatest hoarders : an urban historical by Franz Lidz

Formats Available: Print

A true tale of changing New York by Franz Lidz, whose Unstrung Heroes is a classic of hoarder lore. Homer and Langley Collyer moved into their handsome brownstone in white, upper-class Harlem in 1909. By 1947, however, when the fire department had to carry Homer's body out of the house he hadn't left in twenty years, the neighborhood had degentrified, and their house was a fortress of junk: in an attempt to preserve the past, Homer and Langley held on to everything they touched. The scandal of Homer's discovery, the story of his life, and the search for Langley, who was missing at the time, rocked the city; the story was on the front page of every newspaper for weeks. A quintessential New York story of quintessential New York characters.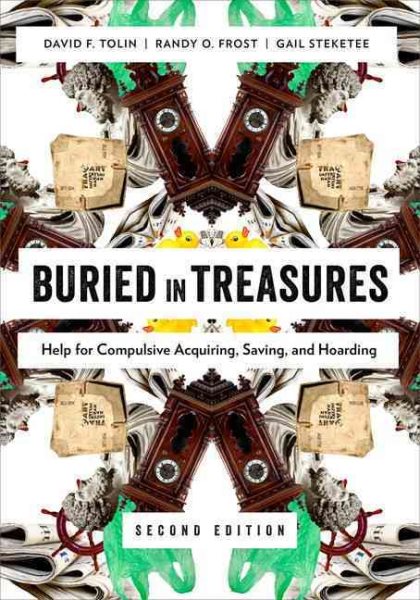 Buried In Treasures: Help for Compulsive Acquiring, Saving, and Hoarding by David F. Tolin, Randy O. Frost and Gail Steketee

Formats Available: Print

"While most people find it relatively easy to manage their possessions, some find it extremely difficult. If you have a problem resisting the urge to acquire and you find your home cluttered and filled to capacity with items many people would find useless and unnecessary, you may suffer from a condition known as hoarding disorder. Hoarding is a behavioral problem consisting of clutter, difficulty discarding items, and excessive buying or acquiring. Hoarding is often associated with significant reduction in quality of life, and in extreme cases, it can pose serious health risks. If you or a loved one has hoarding disorder, this book can help. This fully updated Second Edition of Buried in Treasures outlines a scientifically based, effective program for helping those with hoarding disorder dig their way out of the clutter and chaos of their homes. Written by scientists and practitioners who are leaders in studying and treating hoarding disorder, this book outlines a program of skill-building, learning to think about possessions in a different way, and gradual challenges to help people manage their clutter and their lives. It also provides useful information for family and friends of people who hoard, as they struggle to understand and help. Discover the reasons for your problems with acquiring, saving, and hoarding, and learn new ways of thinking about your possessions so you can decide what you really need and what you can do without. Learn to identify the "bad guys" that cause and maintain your hoarding behavior and meet the "good guys" who can help motivate you and put you on the path to change. Useful self-assessments will help you determine the severity of your problem. Training exercises, case examples, organizing tips, and motivation boosters help change the way you think and behave toward your possessions. This book provides easy-to-understand strategies and techniques that anyone can use." - Publisher Description

The Hoarder in You: How to Live a Happier, Healthier, Uncluttered Life by Dr. Robin Zasio

Formats Available: Print | eBook | eAudiobook

The once little known condition of hoarding has become a household phrase-- in part due to the popularity of the Emmy Award-- winning television show Hoarders, which has captivated audiences with its stark and heartbreaking look at the people who suffer from this paralyzing condition. Our fascination with hoarding stems, according to Dr. Robin Zasio, from the fact that we all fall somewhere on the hoarding continuum. From compulsive shoppers to hobbyists and collectors to ordinary, run-of-the-mill pack rats-- to some degree or another, we all hoard. Dr. Zasio shares behind-the-scenes stories from the show, including some of the most serious cases of hoarding that she has encountered-- and explains how we can learn from these extreme examples. She also shares psychological and practical advice for de-cluttering and organizing, including how to: tame the emotional pull of acquiring additional things-- make order out of chaos by getting a handle on clutter -create an organizational system that reduces stress and anxiety.
Children of Hoarders: How to Minimize Conflict, Reduce the Clutter, and Improve Your Relationship by Fugen Neziroglu and Katharine Donnelly

Formats Available: Print

"Growing up with a hoarder can be a confusing, painful, and sometimes dangerous experience. And when it comes to finding help for a hoarder parent, many adult children find themselves taking on the exhausting role of caretaker. As the child of a hoarder, you may be wondering what resources are available to you. Written by nationally recognized obsessive compulsive disorder (OCD) expert Fugen Neziroglu, a regular on the popular TLC television series, Hoarders, Children of Hoarders explores strategies for communicating with hoarder parents and outlines practical intervention skills. In addition, the book shows readers how to let go of the personal shame and guilt associated with being the child of a hoarder. Using mindfulness, acceptance, assertiveness and validation skills, this is the first book written specifically for adult children of hoarders that focuses on the interpersonal effects of hoarding. Inside, you will learn to communicate with your loved ones in a way that minimizes conflict, while still dealing with the logistical and organizational issues that arise when living with or witnessing hoarding behavior. The book also includes tips for reclaiming living space, strategies for ensuring that the health and safety of residents is not compromised by the hoarder's living conditions, and organizational tactics for sorting through the clutter after the death of a parent who hoards. As the child of a hoarder, sometimes it can be helpful to know that you are not alone. In Children of Hoarders, you will get the support that you need to deal with your hoarder parent, and reclaim your own life in the process." - Publisher Description
Articles
Compulsive Hoarding Poses Safety and Psychological Risks - University of Michigan Health System
Could You Be A Compulsive Hoarder? 9 Signs of Hoarding - Everyday Health
5 Famous Hoarding Cases - How Stuff Works
Hoarding: How Collecting Stuff Can Destroy Your Life - Time Magazine
Inside the Hoarder's Brain: A Unique Problem with Decision-Making - Time Magazine
When It Isn't Just Clutter Anymore - The New York Times
Why Do People Hoard - Oprah.com
---
Featured Image Credit: Song Dong, Waste Not, 2015 - Flickr (Creative Commons license). Waste Not is an exhibit by Chinese artist Song Dong that displays over 10,000 domestic objects formerly owned by his late mother, who refused to throw anything away if she could possibly reuse it.