Blog
The Blog of Toledo Lucas County Public Library
Eat Local
Posted over 2 years ago by April S
Posted in Business and Investing, Cooking, Garden and Home, eBooks and Audiobooks and Nonfiction | Tagged with community supported agriculture, CSA, family farms, Farmers' Markets, local economy, locavores, seasonal cooking, slow food movement, sustainable agriculture and sustainable living
---
In recent years, there's been a growing movement to eat local in this country. There are many things consumers can do to support this movement and it's easier than you might think. This may take many forms - dine at a locally owned restaurant that supports sustainable agriculture, buy locally grown produce, maintain a garden at home or support community gardens.
If you're committed to supporting locally grown food, then start out by buying as local as possible. Instead of purchasing fruits and vegetables grown outside of the United States – why not buy produce grown in California or Florida if you have the option. If you think about what one might eat in a typical day it's easy to see that the typical American diet has an incredibly large carbon footprint, because many times the food we eat has traversed the globe before it makes it to our dinner table. What kind of impact would it make on the local economy and environment if everyone made a concerted effort to eat local?
Why Eat Local?
According to the Sustainable Table, there are many reasons to eat local, buy local and be local:

It supports the local economy, because farmers are local business owners.
It's better for your pocketbook, because in-season produce tends to be less expensive.
It's better for the environment, because the food travels less distance.
It tastes better and is better for you, because locally grown fruits and vegetables are usually sold within 24 hours of being harvested.
In the video below, food journalist Michael Pollan encourages buying local food to conserve energy, support farmers and preserve the natural landscape.
What is a Locavore?
A locavore is "one who eats foods grown locally whenever possible." There has been a very heated debate in the past few years in regards to locally grown food versus organic. On the one hand organic is a great choice, because it's free of pesticides. However, if the organic food is being shipped hundreds if not thousands of miles. it seems like the better choice would be the locally grown produce. After all, it does support the local economy, and that's a priority for many consumers these days.
What is a CSA?
CSA stands for Community Supported Agriculture, and according to Local Harvest, CSAs have advantages for both farmers and consumers. With the financial backing of local consumers, farmers are able to devote more time to marketing during the off-season. Consumers are able to enjoy really fresh food, which packs a more substantial nutritional punch than produce picked early for long-distance shipment. Furthermore, relationships between farmers and consumers are developed and a sense of community is born.
In the video below, Ohio State University Extension explain the benefits of supporting local foods.
How can I find locally grown food in my area?
Check out the USDA website, where you'll find lots of helpful information as well as local food directories. Or try one of the resources below:
What is Sustainable Agriculture?
In recent years, there's also been a growing movement to support sustainable agriculture, but what does that mean? According to Northeast SARE, sustainable agriculture practices should be both economically and ecologically sound, and over the long term:
Satisfy human food and fiber needs.
Enhance environmental quality and the natural resource base upon which the agricultural economy depends.
Make the most efficient use of nonrenewable resources and on-farm resources and integrate, where appropriate, natural biological cycles and controls.
Sustain the economic viability of farm operations.
Enhance the quality of life for farmers and society as a whole.
Books on the Local Food Movement
Locavore Adventures: One Chef's Slow Food Journey by Jim Weaver

In Locavore Adventures, acclaimed New Jersey chef and restaurateur Jim Weaver shares his personal story of how he came to solve this problem—building a local slow food culture that is ecologically responsible and also yields delicious results. Weaver tells of his odyssey founding the Central New Jersey chapter of Slow Food, connecting local farmers, food producers, and chefs with the public to forge communities that value the region's unique bounty.

More than forty recipes throughout the book, from Hot Smoked Brook Trout with Asparagus Puree and Pickled Cippollini Onions to Zuppa di Mozzarella, will inspire readers to be creative in their own kitchens.Locavore Adventures is a thoughtful memoir about growing a sustainable food culture and a guide to slowing down, savoring locally grown food, and celebrating life.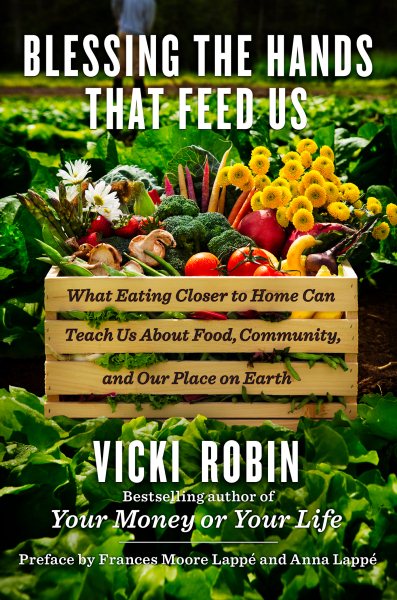 Blessing The Hands That Feed Us: What Eating Closer to Home Can Teach Us About Food, Community, and Our Place On Earth by Vicki Robin

Taking the locavore movement to heart, bestselling author and social innovator Vicki Robin pledged for one month to eat only food sourced within a 10-mile radius of her home on Whidbey Island in Puget Sound, Washington. Her sustainable diet not only brings to light society's unhealthy dependency on mass-produced, prepackaged foods but also helps her reconnect with her body and her environment.

Robin's journey is also one of community as she befriends all the neighboring farmers who epitomize the sustainable lifestyle. Featuring recipes throughout, along with practical tips on adopting your own locally sourced diet, Blessing the Hands That Feed Us is an inspirational guide and testimonial to the locavore movement and a healthy food future. Available in Print and eBook.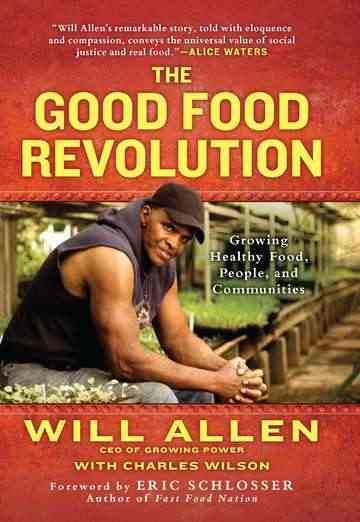 The Good Food Revolution: Growing Healthy Food, People, and Communities by Will Allen with Charles Wilson

A pioneering urban farmer and MacArthur "Genius Award" winner points the way to building a new food system that can feed—and heal—broken communities.

The son of a sharecropper, Will Allen had no intention of ever becoming a farmer himself. But after years in professional basketball and as an executive for Kentucky Fried Chicken and Procter & Gamble, Allen cashed in his retirement fund for a two-acre plot a half mile away from Milwaukee's largest public housing project. The area was a food desert with only convenience stores and fast-food restaurants to serve the needs of local residents.

In the face of financial challenges and daunting odds, Allen built the country's preeminent urban farm—a food and educational center that now produces enough vegetables and fish year-round to feed thousands of people. Employing young people from the neighboring housing project and community, Growing Power has sought to prove that local food systems can help troubled youths, dismantle racism, create jobs, bring urban and rural communities closer together, and improve public health. Today, Allen's organization helps develop community food systems across the country.

An eco-classic in the making, The Good Food Revolution is the story of Will's personal journey, the lives he has touched, and a grassroots movement that is changing the way our nation eats.
Gaining Ground: A Story of Farmers' Markets, Local Food, and Saving the Family Farm by Forrest Pritchard

With humor and pathos, Forrest Pritchard recounts his ambitious and often hilarious endeavors to save his family's seventh-generation farm in the Shenandoah Valley. Through many a trial and error, he not only saves Smith Meadows from insolvency but turns it into a leading light in the sustainable, grass-fed, organic farm-to-market community.

There is nothing young Farmer Pritchard won't try. Whether he's selling firewood and straw, raising free-range chickens and hogs, or acquiring a flock of Barbados Blackbelly sheep, his learning curve is steep and always entertaining. Pritchard's world crackles with colorful local characters—farm hands, butchers, market managers, customers, fellow vendors, pet goats, policemen—bringing the story to warm, communal life. His most important ally, however, is his renegade father, who initially questions his son's career choice and eschews organic foods for the generic kinds that wreak havoc on his health. Soon after his father's death, the farm becomes a recognized success and Pritchard must make a vital decision: to continue serving the local community or answer the exploding demand for his wares with lucrative Internet sales and shipping deals.

More than a charming story of honest food cultivation and farmers' markets, Gaining Ground tugs on the heartstrings, reconnecting us to the land and the many lives that feed us.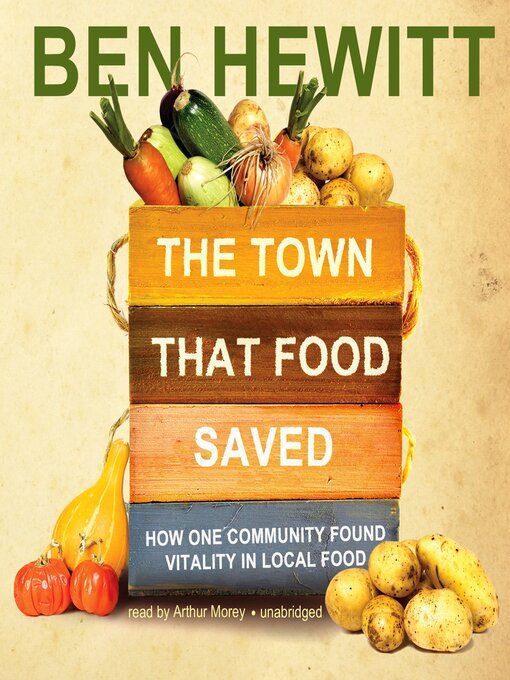 The Town That Food Saved: How One Community Found Vitality in Local Food by Ben Hewitt

Over the past several years, Hardwick, Vermont, a typical hardscrabble farming community of three thousand residents, has jump-started its economy and redefined its self-image through a local, self-sustaining food system unlike anything else in America. Even as the recent financial downturn threatens to cripple small businesses and privately owned farms, a stunning number of food-based businesses have grown in the region—Vermont Soy, Jasper Hill Farm, Pete's Greens, Patchwork Farm & Bakery, Applecheek Farm, Claire's Restaurant and Bar, and Bonnieview Farm, to name only a few. The mostly young entrepreneurs have created a network of community support, meeting regularly to share advice, equipment, and business plans and to loan each other capital. Hardwick is fast becoming a model for other communities hoping to replicate its success. Available in Print, Audiobook and eAudiobook.
Even more books related to the local food movement you may enjoy ...
Looking for more information on the topics featured in this blog post?
Try searching our catalog using the following terms:
Local Foods
Seasonal Cooking
Sustainable Living
Sustainable Agriculture
Food Crops
Food Supply
Food Supply -- Social Aspects
Locavores
Slow Food Movement
Community Gardens
Agriculture, Cooperative
Agriculture — Economic Aspects
Agriculture — Environmental Aspects
Collective Farms
Cooking (Natural foods)
Urban Agriculture
---
Featured Image Credit: Farmers Local Market (Pixabay, Creative Commons license).