Blog
The Blog of Toledo Lucas County Public Library
Top 10 Summer Reads for 2016
Posted over 2 years ago by April S
Posted in eBooks and Audiobooks, Fiction, Graphic Novels and Poetry, New: Books and Movies and Romance | Tagged with Beach Reads, book lists, Summer Reads and women authors - fiction
---
Summer is just around the corner, so you may be thinking about what you'll be reading this summer. There are so many books to choose from every year and it's really hard to say what constitutes the best or even the best of the best. However, it's a pretty good sign when several sources recommend the same books over and over again.
Below you'll find a selection of titles that were repeatedly recommended by multiple sources online. There's also a few book lists to help you discover even more great reads this summer and beyond.
Sweetbitter by Stephanie Danler

Formats: Print

A lush, thrilling debut--a publishing event already the subject of an article in The New York Times--about a year in the life of a uniquely beguiling young woman, set in the wild, alluring world of a famous downtown New York restaurant. "Let's say I was born when I came over the George Washington Bridge..." This is how we meet unforgettable Tess, the 22-year-old at the heart of this stunning debut. Shot like a bullet from a mundane past, she's come to New York to escape the provincial, to take on her destiny. After she stumbles into a coveted job at a renowned Union Square restaurant, we spend the year with her as she learns the chaotic, punishing, privileged life of a "backwaiter," on and off duty. Her appetites are awakened, for food, wine, knowledge and experience; and she's pulled into the thrall of two other servers--a handsome bartender she falls hard for, and an older woman whose connection to both young lovers is murky, sensual, and overpowering. These two will prove to be Tess's hardest lesson of all. Sweetbitter is a story about discovery, enchantment, and the power of what remains after disillusionment.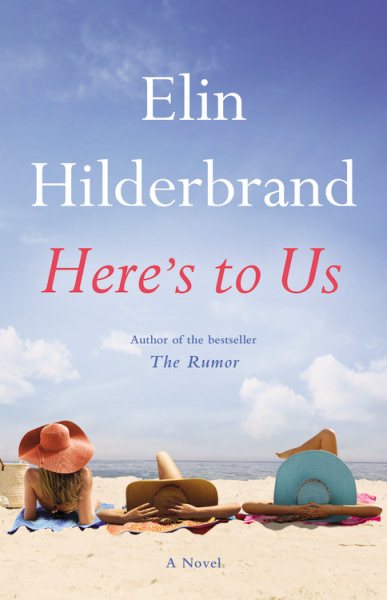 Here's To Us by Elin Hilderbrand

Formats: Print | Large Print

Celebrity chef Deacon Rowe is struggling with addiction, depression and not one, but two scandals. As summer nears, he travels to the idyllic Eastern bluff of Nantucket, where he takes his own life. In the shocking wake of Deacon's suicide, his first wife and childhood sweetheart, Laurel Rowe, sets out to gather Deacon's far-flung family--including Deacon and Laurel's son, and Deacon's other ex-wives and children--on the island.
Falling by Jane Green

Formats: Print

The New York Times bestselling author of The Beach House, Jemima J, and Summer Secrets presents a novel about the pleasure and meaning of finding a home -- and family -- where you least expect them ... When Emma Montague left the strict confines of upper-crust British life for New York, she felt sure it would make her happy. Away from her parents and expectations, she felt liberated, throwing herself into Manhattan life replete with a high-paying job, a gorgeous apartment, and a string of successful boyfriends.
What We Find by Robyn Carr

Formats: Print | Large Print | eBook

Join Robyn Carr, #1 New York Times bestselling author of the Virgin River and Thunder Point series, as she explores the healing powers of rural Colorado in a brand-new story of fresh starts, budding relationships and one woman's journey to finding the happiness she's long been missing.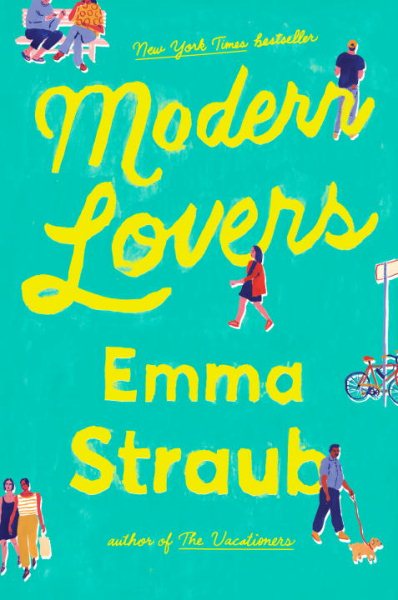 Modern Lovers by Emma Straub

Formats: Print

From the New York Times' bestselling author of The Vacationers, a smart, highly entertaining novel about a tight-knit group of friends from college--their own kids now going to college--and what it means to finally grow up well after adulthood has set in. Friends and former college bandmates Elizabeth and Andrew and Zoe have watched one another marry, buy real estate, and start businesses and families, all while trying to hold on to the identities of their youth.
The Weekenders by Mary Kay Andrews

Formats: Print | Book On CD | eAudiobook

Some people stay all summer long on the idyllic island of Belle Isle, North Carolina. Some people come only for the weekends-and it's something they look forward to all week long. When Riley Griggs is waiting for her husband to arrive at the ferry one Friday afternoon, she is instead served with papers informing her that her island home is being foreclosed.
Island House by Nancy Thayer

Formats: Print | Large Print

Soak up the sun with this delightful novel from New York Times bestselling author Nancy Thayer! Every summer since college, twenty-nine-year-old Courtney has traded the familiarity of the Midwest for the allure of Nantucket. Now an established university professor, she finds herself caught between two lifestyles and two very different men. Because this summer has taken an unexpected turn and now she must decide what she really wants.
All Summer Long by Dorothea Benton Frank

Formats: Print | Large Print

This is a story of people whose lives are changing - a southern gentleman returning home to lead a more peaceful life and his talented New York wife who is not quite sure she is ready to make the transition. They are moving north to south, fast pace versus slow pace, downsizing. And while they are doing this, they are getting glimpses into other people's lives over the course of a summer, holidays that will amuse, shock and transform them.
Flight Patterns by Karen White

Formats: Print

Tells the story of a woman coming home to the family she left behind and to the woman she always wanted to be. Georgia Chambers has spent her life sifting through other people's pasts while trying to forget her own. But then her work as an expert on fine china especially Limoges requires her to return to the one place she swore she'd never revisit. It has been thirteen years since Georgia left her family home on the coast of Florida, and nothing much has changed except that there are fewer oysters and more tourists. She finds solace in seeing her grandfather still toiling away in the apiary where she spent much of her childhood, but encountering her estranged mother and sister leaves her rattled. Seeing them after all this time makes Georgia realize that something has been missing and unless she finds a way to heal these rifts, she will forever be living vicariously through other people's remnants. To embrace her own life mistakes and all she will have to find the courage to confront the ghosts of her past and the secrets she was forced to keep.
Eligible: a modern retelling of Pride and Prejudice by Curtis Sittenfeld

Formats: Print | Large Print | Book On CD | Pocket Audiobook | eBook | eAudiobook

This version of the Bennet family—and Mr. Darcy—is one that you have and haven't met before: Liz is a magazine writer in her late thirties who, like her yoga instructor older sister, Jane, lives in New York City. When their father has a health scare, they return to their childhood home in Cincinnati to help—and discover that the sprawling Tudor they grew up in is crumbling and the family is in disarray. Youngest sisters Kitty and Lydia are too busy with their CrossFit workouts and Paleo diets to get jobs. Mary, the middle sister, is earning her third online master's degree and barely leaves her room, except for those mysterious Tuesday-night outings she won't discuss. And Mrs. Bennet has one thing on her mind: how to marry off her daughters, especially as Jane's fortieth birthday fast approaches. Enter Chip Bingley, a handsome new-in-town doctor who recently appeared on the juggernaut reality TV dating show Eligible. At a Fourth of July barbecue, Chip takes an immediate interest in Jane, but Chip's friend neurosurgeon Fitzwilliam Darcy reveals himself to Liz to be much less charming... And yet, first impressions can be deceiving.
Looking for more great summer reads?
Check out our Summer Reads board on Pinterest and check out the book lists below.
Summer Reads 2016 - Book Lists
Best Summer Books 2016 - Publisher's Weekly
20 Books Perfect For Your Summer Vacay - Refinery 29
21 Books by Women You Have to Read This Summer - Redbook
19 Summer Books That Everyone Will Be Talking About - ELLE
Over 30 Options For Your Ultimate Summer Reading List - POPSUGAR