100 Years of West Toledo Branch
Posted on September 27, 2023
There's so much more to learn about West Toledo Branch Library than the fraction I've covered in this blog. If you're interested in celebrating this momentous occasion, join us and some community partners for fun activities, games, and even food trucks at the West Toledo 100th Anniversary Celebration on (Sa) Sept. 30 from 11 a.m. to 3 p.m.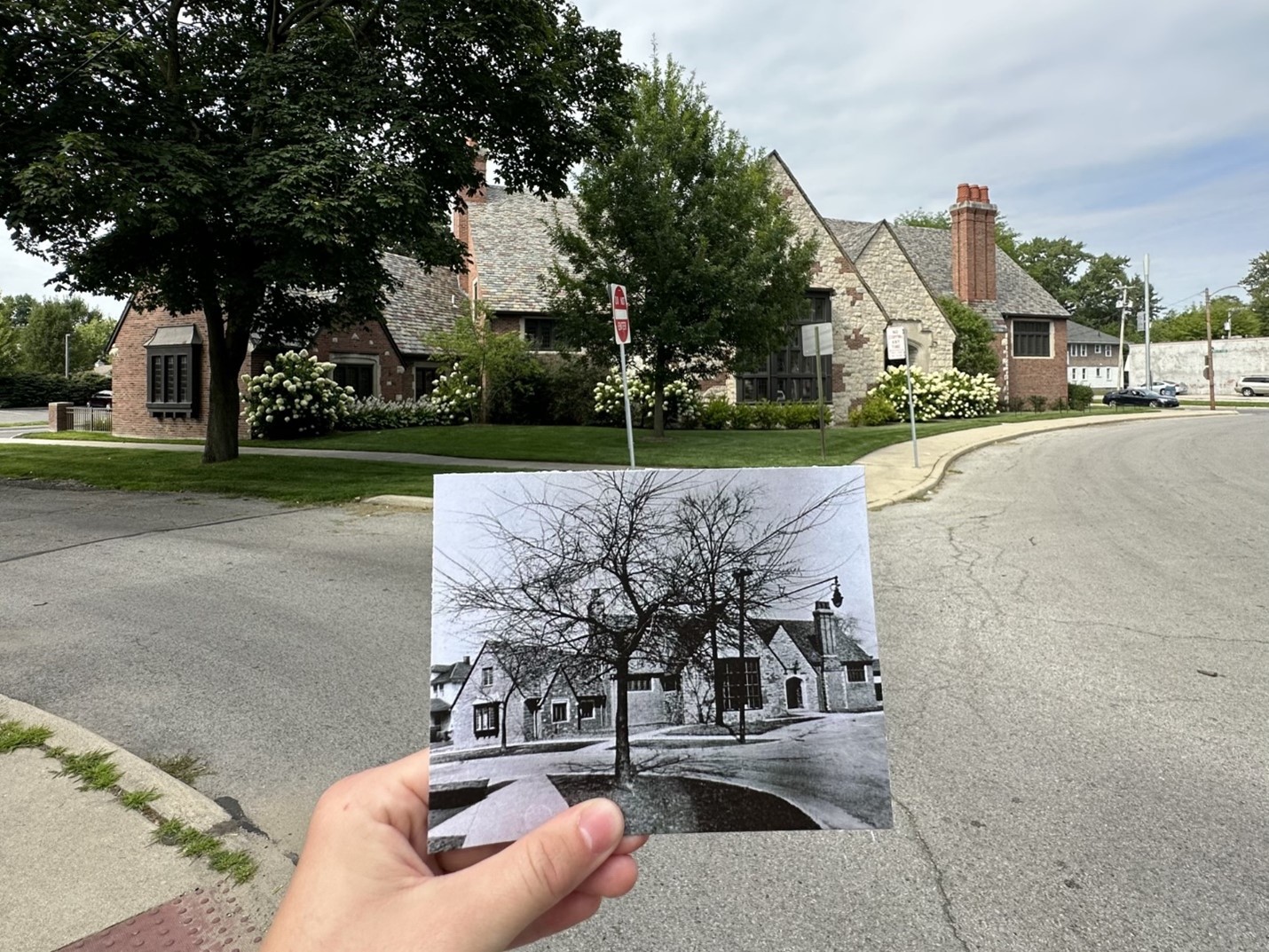 Do you recognize this place? Our Local History department has tons of material about– you guessed it– the history of Lucas County! This photograph from 1930 is just one of the treasures available in our collection.
Read on to learn more about the history of the West Toledo Branch, see how it has changed, and get book recommendations from some of our current librarians ahead of its centennial celebration!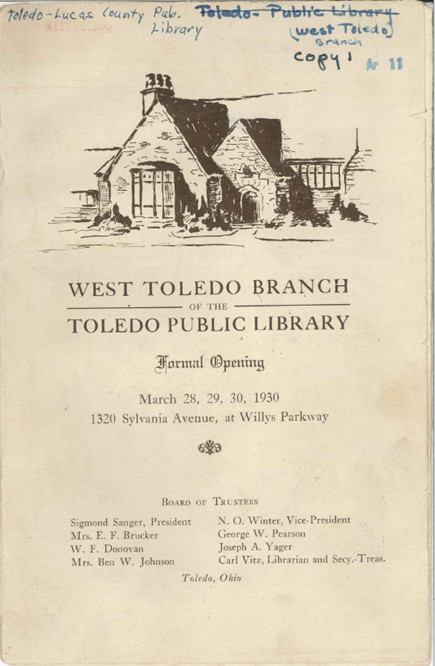 This branch, located at 1320 Sylvania Ave, is celebrating a century of serving Lucas County! The lot upon which the Library stands was purchased in 1923, but it took several years to allocate the funds for the building we use today. After using rented space for seven years, the West Toledo Branch Library officially opened its doors on March 28, 1930.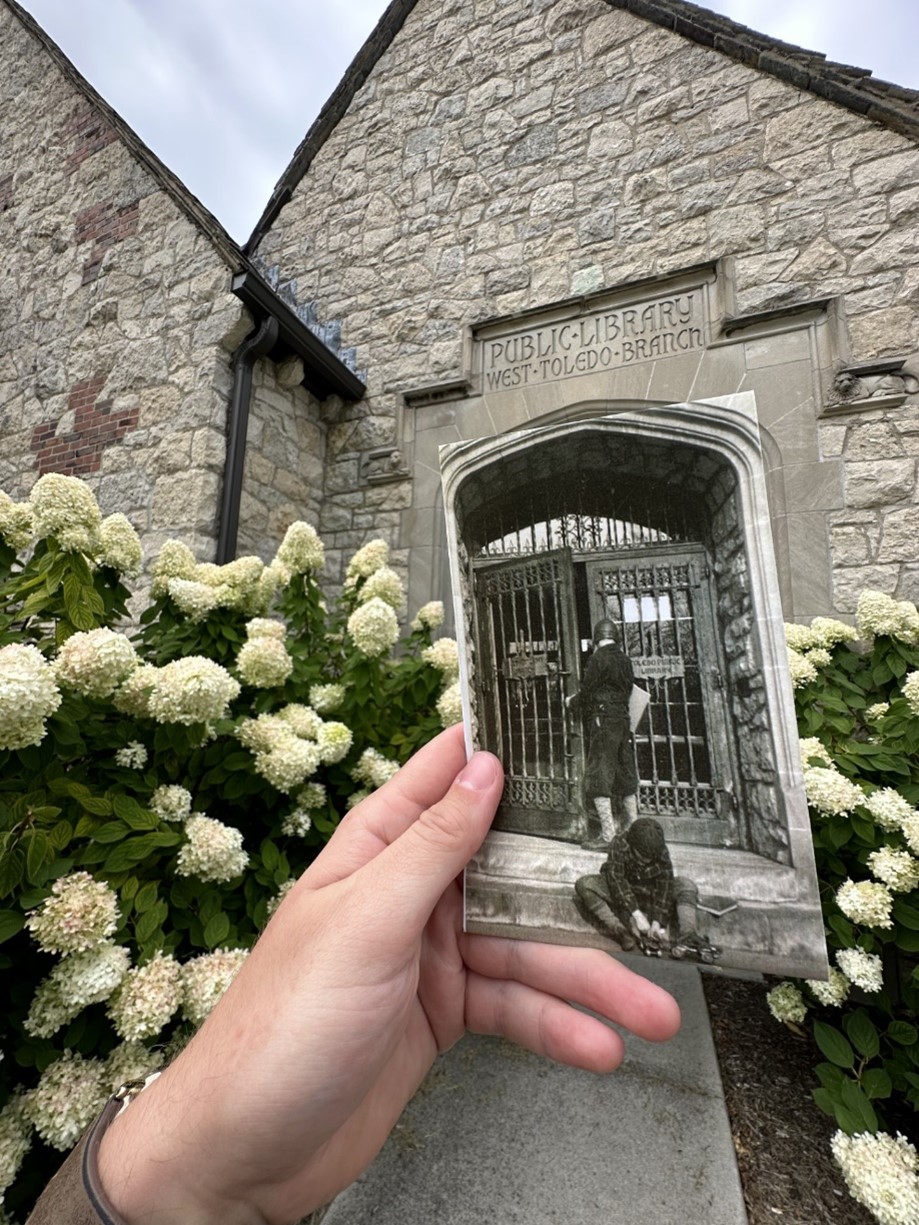 At Toledo Lucas County Public Library, we strive to be welcoming to all, as libraries are for everyone, but I'm going to highlight the strengths of how the branch has served youth and their caregivers over the years. Mostly because I am a children's librarian, but also because this branch is popular with younger library users.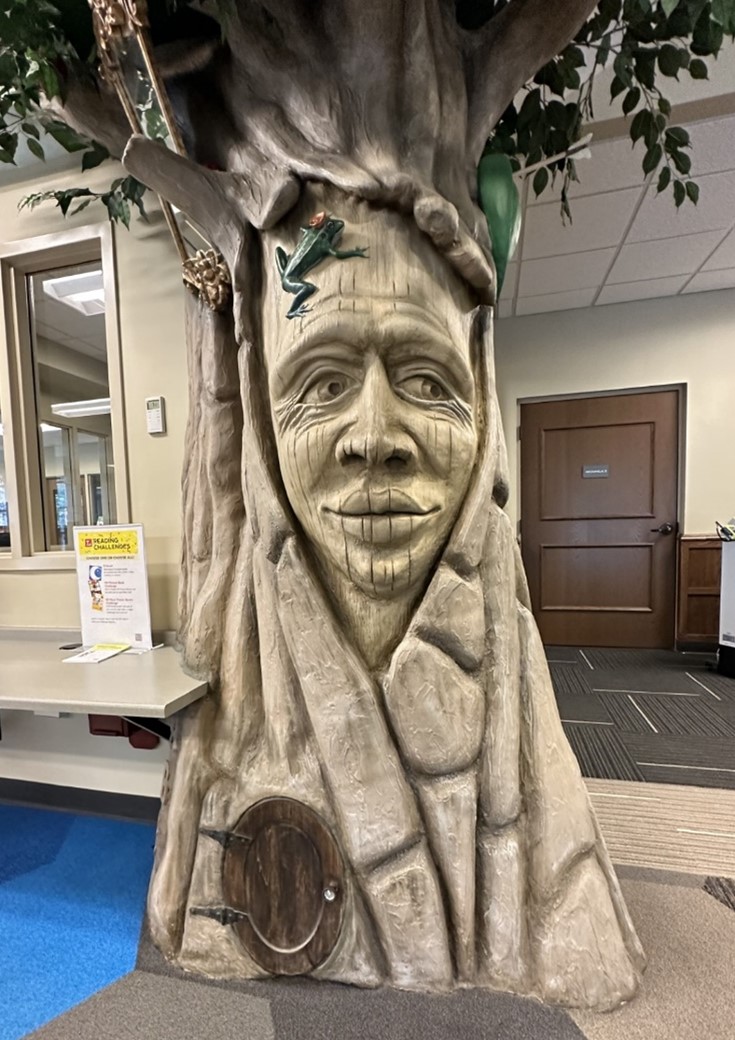 The children's spaces throughout our system all strive to be fun and welcoming, but West Toledo has its own greeter! Perhaps you've met the tree which stands sentry to the children's area when you were little, or maybe you're bringing your own little ones around now. It was made right here in Toledo by local company, Graphite Design + Build.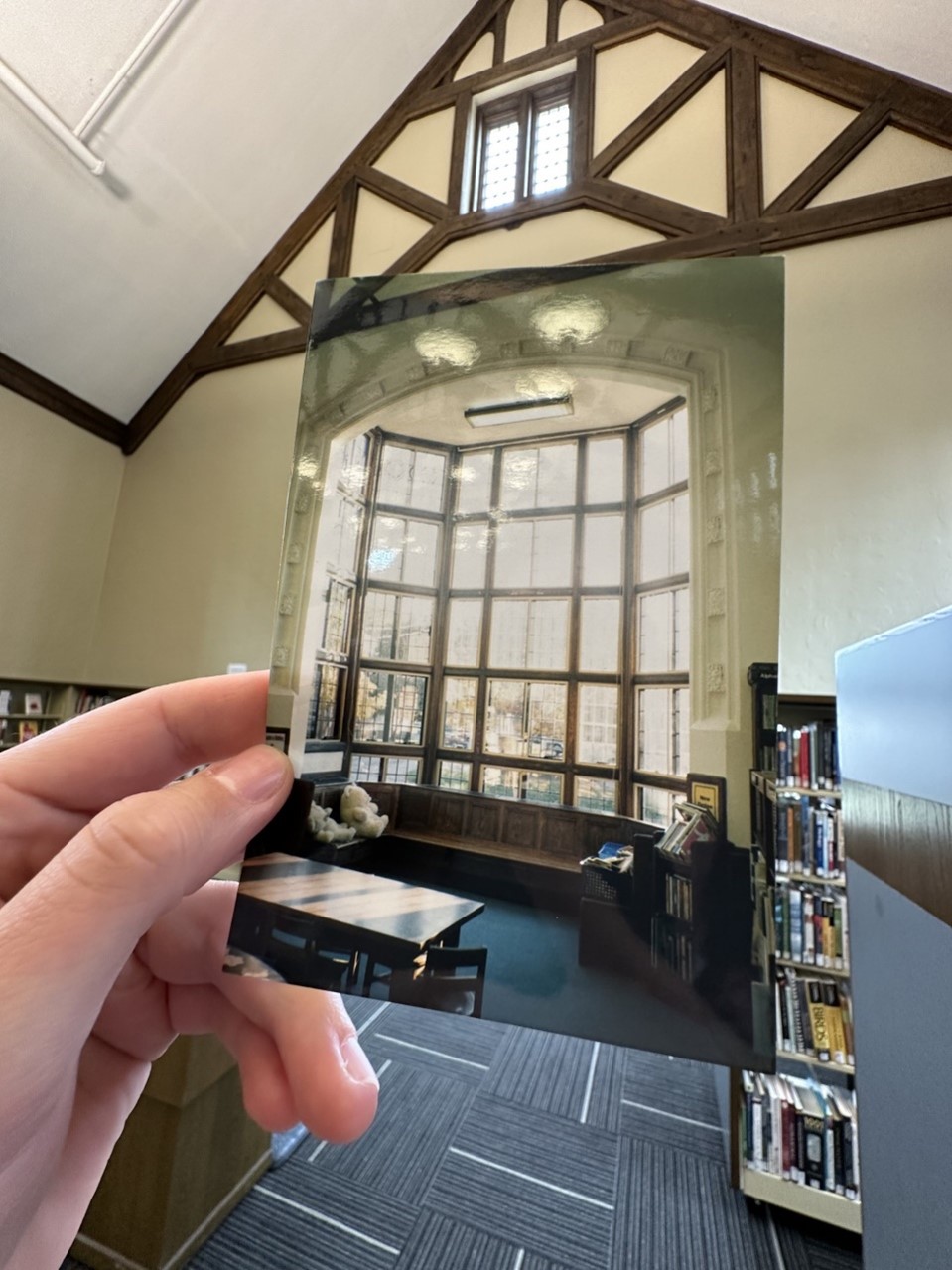 Of course, a lot can change in 100 years. The Children's section didn't exist in its current capacity. Rather, the children's literature—a fraction of what is available today– was situated near the bay window where the computers are in present day.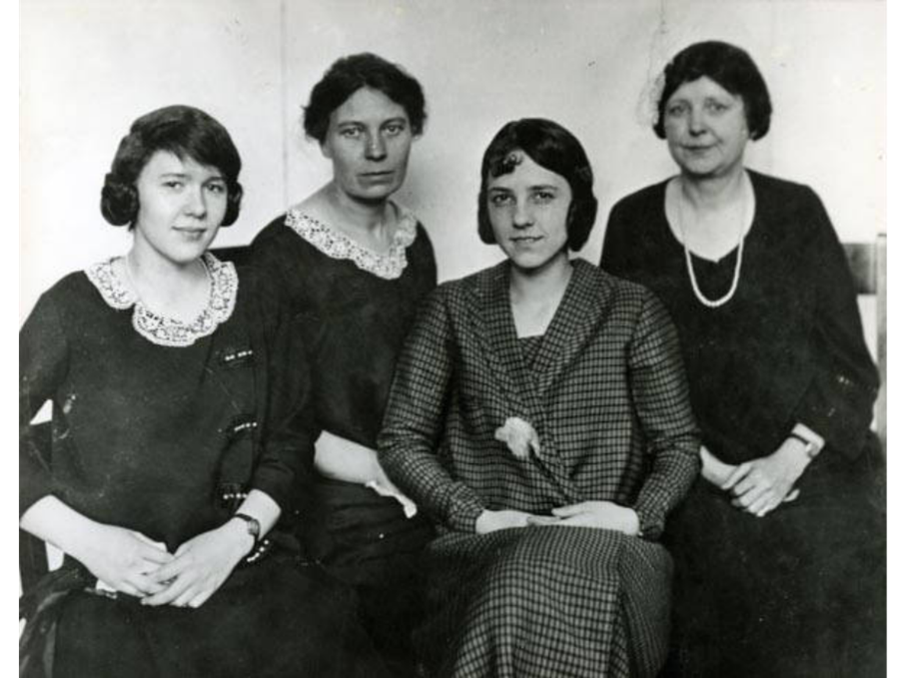 In honor of the original librarians of West Toledo, some of the current Youth Services Librarians– who look a bit different than their predecessors– offer some of their own book recommendations.
By Hiromu Arakawa
After a horrific alchemy experiment goes wrong, brothers Ed and Alphonse search for a way to get their bodies back. Their search centers them in a conspiracy that threatens the world they know. With the help of some unlikely allies, Ed and Alphonse will have to work together to save their nation. – Nicole C.
By Becca Fitzpatrick
eBook  |  eAudiobook  |  hoopla
When her backpacking trip is interrupted by an unexpected blizzard, Britt is forced to accept the hospitality of two strangers who let her into their cabin. Not long after, Britt is taken hostage by the two strangers and is forced to guide them off the mountain. In this fast-paced thriller, everyone is keeping secrets. – Nicole C.
By Alice Oseman
eBook  |  Spanish eBook  |  hoopla
In this coming-of-age story, readers watch as Nick and Charlie slowly fall in love. Nick and Charlie must learn what it takes to let their budding romance grow while navigating the ups and downs of high school. – Nicole C.
By Joe Hill
eBook  |  Spanish eBook  |  hoopla eBook  |  Spanish hoopla eBook  |  Comics Plus
After the murder of their father, the Locke siblings move back into their family's home, Keyhouse, hoping for a fresh start. Keyhouse, however, seems to have other plans. With dark magic lurking around every corner, the Locke siblings must fight for the peaceful life they'd hoped for. – Nicole C.
By Philip Ardagh
This hilarious picture book rhymes its way through a chaotic beach adventure. Bunnies, boats, surf, sand, and airplanes! It has it all. – Jessica H.
By Kari Percival
This picture book features digital woodcut illustrations.  How to Say Hello to a Worm asks and answers questions about gardening and features the joy children feel when they work together, being outdoors, and enjoying food they've grown themselves.
By Alexandra Penfold
The heart of this book is celebrating diversity on a global scale. Alongside colorful illustrations that represent children from all walks of life, the mantra "all are welcome here" is repeated throughout the story. – Jessica H.
By Christopher Franceschelli
Abrams Block Books are great foundational board books that feature engaging artwork, simple text, and fold out elements that make each story an adventure. – Jessica H.
By Ezra Jack Keats
eBook  |   eAudiobook  |  hoopla eAudiobook  |  hoopla Video
Recipient of the 1963 Caldecott Medal, The Snowy Day is a book selection in our 101 Picture Book Challenge and rightfully so because this timeless children's story follows young Peter on his adventure through a very snowy city—something Toledo is no stranger to! – Jessica H.
By Joseph Coelho
Joseph Coehlo is the 2022-2024 Children's Laureate and has won several awards for his work. Contained within Courage Out Loud are twenty-five poems intended to inspire and empower children to use their voices. – Jessica H.
Did you like this blog post? Keep up to date with all of our posts by subscribing to the Library's newsletters!