Celebrating Black History
Posted on January 31, 2020
Black History Month puts a spotlight on African American history and accomplishments as a people and culture. Our past, present and future can be researched, read about and discovered at your local Library.In order to truly understand a culture, you must learn about their history, and events they have experienced which created their point of view. Experiences in life form how you make a decision, your reaction to situations and how you process things. Knowledge is power, and the Library offers resources that can broaden your understanding of your fellow human being. The Library offers access to research databases, books and programs that promote awareness and diversity.

As Black History Month approaches, here are some picture books that show representation and diversity and that you can check out at your Toledo Lucas County Public Library.
Zuri's hair has a mind of its own. It kinks, coils and curls every which way. When Daddy steps in to style it for an extra special occasion, he has a lot to learn. Tender and empowering, Hair Love is an ode to loving your natural hair — and a celebration of daddies and daughters everywhere.
This lyrical, empowering poem celebrates black children and seeks to inspire all young people to dream big and achieve their goals.
When Parker Curry came face-to-face with Amy Sherald's transcendent portrait of First Lady Michelle Obama at the National Portrait Gallery, she didn't just see the First Lady of the United States. She saw a queen — one with dynamic self-assurance, regality, beauty and truth who captured this young girl's imagination. Inspired by this visit, Parker, and her mother, Jessica Curry, tell the story of a young girl and her family, whose trip to a museum becomes an extraordinary moment, in a moving picture book.
A collection of 52 icons from the past and present in this celebration of inspirational achievement the stories about changemakers to encourage, inspire and empower the next generation of changemakers.
Sulwe has skin the color of midnight. She is darker than everyone in her family. She is darker than anyone in her school. Sulwe just wants to be beautiful and bright, like her mother and sister. Then a magical journey in the night sky opens her eyes and changes everything.
In this stunning debut picture book, actress Lupita Nyong'o creates a whimsical and heartwarming story to inspire children to see their own unique beauty.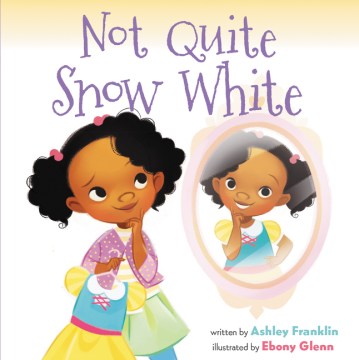 Tameika is a girl who belongs on the stage. She loves to act, sing and dance — and she's pretty good at it, too. When her school announces their Snow White musical, Tameika auditions for the lead princess role. But the other kids think she's "not quite" right to play the role. They whisper, they snicker and they glare. Will Tameika let their harsh words be her final curtain call?
Janet Collins wanted to be a ballerina in the 1930s and 40s, a time when racial segregation was widespread in the United States. Janet pursued dance with a passion, despite being rejected from discriminatory dance schools. From her early childhood lessons to the height of her success as the first African American prima ballerina in the Metropolitan Opera.
Grace loves stories, whether they're from books, movies or the kind her grandmother tells. When she gets a chance to play a part in Peter Pan, she knows exactly who she wants to be. Remarkable watercolor illustrations give full expression to Grace's high-flying imagination.
The inspiring true story of mathematician Katherine Johnson — made famous by the award-winning film Hidden Figures — who counted and computed her way to NASA and helped put a man on the moon!
Originally performed for ESPN's The Undefeated, this poem is a love letter to black life in the United States. It highlights the unspeakable trauma of slavery, the faith and fire of the civil rights movement and the grit, passion and perseverance of some of the world's greatest heroes.
The Library continues to offer programs that celebrate diversity. During the month of February, you can come and enjoy programs that celebrate Black History Month.
I would like to end with a poem that came to me in a dream….
My Skin
The skin that I love.
Every morning I wash and moisture my beautiful skin.
The skin that I love.
As I hydrate it with shea butter, it becomes smooth & glistening.
The skin that I love.
It seems to be iridescent in different shades of blues, reds, purples, and greens.
The skin that I love.
I pray for extra protection that my shea butter can't provide.
The skin that I love.
There are side effects for having soft beautiful melanated skin.
The skin that I love.
It glistens and makes me look adolescent.
The skin that I love.
I consider it to be a blessing.
The skin that I love.
But I am discriminated against.
For the skin that I love.
I am isolated.
For the skin that I love.
I am underappreciated.
For the skin that I love.
I am alienated.
For the skin that I love.
I am targeted.
For the skin that I love.
Something that is so beautiful brings so much hatred.
The skin that I love.
Colleen McBride 2020
Melanated = individuals full of melanin
"Even if it makes others uncomfortable, I will Love who I am."
Janelle Mon'ae
Toledo Lucas County Public Library's vision is to continue evolving Library services to best meet the needs of the many and diverse communities we serve and be a catalyst for positive change in all corners of Toledo and Lucas County.
Did you like this blog post? Keep up to date with all of our posts by subscribing to the Library's newsletters!