DIY Lava Lamps
At the West Toledo Branch Library, we like to do what we call "pop up programs." These are activities that we pull out at different times during the week so kids visiting our branch have something to do. Each week we try out a different activity. So far, our favorite has been the Bubbly Lava Lamps.
The day we did the lava lamps I took 13 kids down to the auditorium to a tune of excited chatter. I carefully poured the vegetable oil in jars while the kids got a cup of water and added different combinations of food coloring to it. Pouring the water into the oil is when the fun really got started. The initial reaction of the mix was exciting to the kids. Many did not know that water and oil don't mix together so we briefly discussed how they have different densities. I also had the kids add the lid to their jar and shake it up to watch it separate again. There was even more excitement when we added the Alka-Seltzer tablets to the water. The Alka-Seltzer reacted with the water to create bubbles. Those bubbles floated through the vegetable oil to create the lava lamp effect. We used the library's light box to watch the reaction light up in the dark like a real lava lamp.
The kids loved the lava lamps, and the ones who weren't there are asking if they can make one too. This was such a fun and simple project that provides continuous enjoyment well after they leave the library. Just drop another Alka-Seltzer into the mixture and watch the magic all over again.
---
Related Books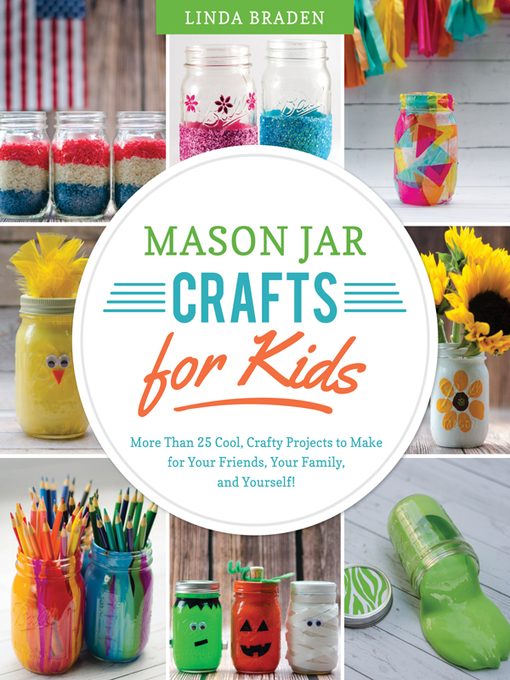 Mason Jar Crafts for Kids: More Than 25 Cool, Crafty Projects to Make for Your Friends, Your Family, and Yourself! by Linda Z. Braden [eBook]

Mason jars are no longer just for canning. Today we use them to drink from, to cook inside, and—with almost limitless possibilities—to craft with. In this fabulous new book, Linda Braden, author and owner of MasonJarCraftsLove.com and ItAllStartedWithPaint.com, offers up a collection of fun and creative Mason jar crafts for kids. Her ideas include everything from wild science experiments and delicious edible treats to holiday decor and gifts for the whole family. Kids won't want to miss the fireworks in a jar or the lava lamp jar projects. And who could resist a Mason jar cupcake or a rainbow Jell-O jar? There are instructions for how to make your own lantern jars, snow globes, and even a Mason jar terrarium. This book will keep little hands busy all year round, with dozens of easy do-it-yourself projects.

Accompanied by photo tutorials and helpful step-by-step instructions, these projects are kid-friendly and offer a variety of options for both beginning and more advanced DIY fans. Each project is complete with age recommendations, a list of supplies you will need, and safety precautions. These projects are great for crafting with a big group or alone with your child, and perfect for long summer days, rainy weekends, and holiday preparation. Be inspired and discover the endless possibilities with the world's most famous jar!
Tinkerlab: A Hands-On Guide For Little Inventors by Rachelle Doorley

55 playful experiments that encourage tinkering, curiosity, and creative thinking from the creator of Tinkerlab.com—hands-on activities that explore art, science, and more. For children two and up.

Kids are natural tinkerers. They experiment, explore, test, and play, and they learn a great deal about problem-solving through questions and hands-on experiments. They don't see lines between disciplines; rather, they notice interesting materials and ideas that are worth exploring. This book is about creative experiments, in all fields, that help kids explore the world.

Children gravitate toward sensory experiences (playing with slime), figuring out how things work (taking toys apart), and testing the limits of materials (mixing a tray of paint together until it makes a solid mass of brown). They're not limited by their imaginations, and a wooden spoon can become a magic wand as quickly as a bag of pom-poms can become a hot bowl of soup. This book is about helping parents and teachers of babies, toddlers, and preschoolers understand and tap into this natural energy with engaging, kid-tested, easy-to-implement projects that value process over product. The creative experiments shared in this book foster curiosity, promote creative and critical thinking, and encourage tinkering–mindsets that are important to children growing up in a world that values independent thinking.

In addition to offering a host of activities that parents and teachers can put to use right away, this book also includes a buffet of recipes (magic potions, different kinds of play dough, silly putty, and homemade butter) and a detailed list of materials to include in the art pantry.

Includes a section on DIY Lava Lamp.
---
Featured Image Credit: DIY Lava Lamps by Katherine H.
Did you like this blog post? Keep up to date with all of our posts by subscribing to the Library's newsletters!