Homemade Ice Cream
Nothing says summer quite like ice cream! While it's a lot of fun to visit local ice cream stands, there's also something special about making your own frozen treats at home. Homemade ice cream tastes just as delicious (if not more so) than store-bought. And the sky's the limit on flavor combinations. You can make ice cream at home even if you don't have an ice cream machine. If you're tempted to try your hand at making homemade ice cream this summer, we've put together some cookbooks and online recipes to inspire you.
No-Churn Ice Cream: Over 100 Simply Delicious No-Machine Frozen Treats by Leslie Bilderback

Discover how to make homemade ice cream and other desserts! In every country you'll find people eating ice cream on street corners, in markets, and in fancy restaurants. But the number of people who make it at home is much smaller. The reason? Making this sweet treat yourself is kind of a pain. Ice cream machines can be expensive, bulky and hard to store, or cheap and inefficient. But what if you could make your own ice cream at home without all of the fuss, for a fraction of the cost of buying it, and without any special equipment? No-Churn Ice Cream is a mouthwatering collection of shortcuts and classic culinary techniques that help you achieve delicious, artisanal results. All you need to make your quick and easy no-churn ice cream are the following simple tools: A freezer; A whisk or electric mixer; A can opener; A bowl and a freezeable container – such as a loaf pan; A sweet tooth! Inside you'll find recipes for all the basic flavors, plus more complex and exciting flavors such as Pineapple-Peppercorn and Sweet Potato Marshmallow Swirl. Treat yourself with a decadent Stracciatella gelato or Bananas Foster sorbet, or cool off with some Lavender-Almond sherbet. Your flavor variations are limited only by your imagination. Why not add some bacon to that batch of chocolate-caramel ice cream? Leslie Bilderback, author of Mug Cakes, is here to show you how.
Scoop: 125 Specialty Ice Creams from the Nation's Best Creameries by Ellen Brown

Summertime's here, and 'tis the season for making ice cream at home for parties, backyard barbecues, and beach getaways. A guide to more than two dozen of the nation's best artisan dairies, Scoop takes you on a colorful tour with photos, stories, and histories of these mom-and-pop shops. Author Ellen Brown has reinterpreted classic frozen recipes for the home cook, each fitted to the most popular ice cream freezers on the market. Explore the nation's favorite ice cream shops with a plethora of delectable photographs and 150 recipes–featuring ice cream, gelato, sorbet, and more. This is the must-have guide for the at-home ice cream connoisseur.

This title is also available as an eBook.
The Ice Creamery Cookbook: Recipes for Frozen Treats, Toppings, Mix-Ins & More by Shelly Kaldunski

The Ice Creamery Cookbook features more than 40 tempting recipes for a wide range of frozen desserts from the traditional to the unexpected. With tips for using either homemade or store-bought ingredients to personalize your desserts; delicious sauces, cones, and toppings; creative serving options; and inspired mix-and-match suggestions; the possibilities are endless. Served in a bowl or cone, sandwiched between two cookies, or whirled into a refreshing shake, homemade ice cream, gelato, frozen yogurt, sorbet, granita, and others are always welcome treats. The recipes inside will please ice cream–lovers of all ages. The first chapter covers the basics: tempting recipes for homespun delights. The next chapter offers easy recipes for homemade accompaniments, such as cones, cookies, sauces, and toppings to enhance your chilly treats. The book concludes with a tempting selection of composed desserts, from soda fountain–style milkshakes to crowd-pleasing ice cream sandwiches, to kid-friendly sundaes using the recipes from the earlier chapters or, for the busy cook, purchased components from the store. With this beautifully photographed book as your inspiration, you can make frozen confections that will have everyone screaming for more!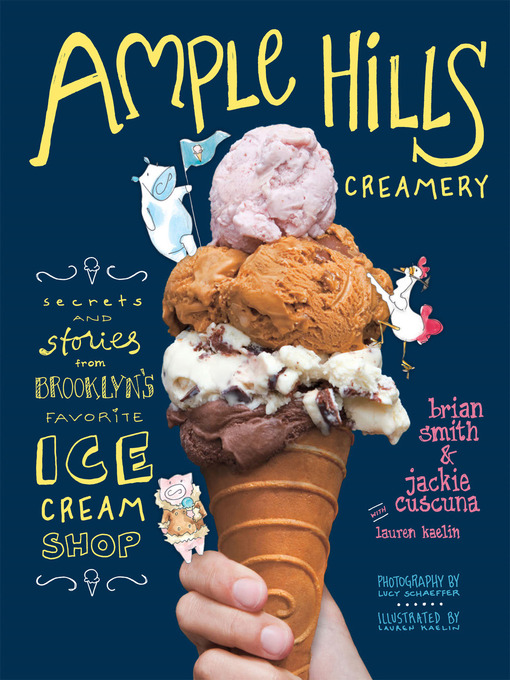 Ample Hills Creamery: Secrets and Stories from Brooklyn's Favorite Ice Cream Shop by Brian Smith [eBook]

Ample Hills Creamery is an ice-cream destination that attracts thousands of customers each day from near and far to Prospect Heights, Brooklyn. Lines wind around the block, spurred on by the chance to try one of their unforgettable flavors, and these and countless others will be dreamed up in kitchens across the country with the help of Ample Hills Creamery. Featuring recipes for the most sought-after flavors—including Salted Crack Caramel, Ooey Gooey, and the Munchies—the book is organized by mood. Are you feeling nostalgic? Try a scoop of Black Cow Float. Or maybe you need a drink? Daddy's Sundae, made with bourbon, will set you right. For kids and kids-at-heart, stories, activities, and hand-drawn characters appear throughout each chapter, offering games, helpful tips, and inspiration for creating new flavors. With mouthwatering photography and charming illustrations, Ample Hills Creamery is a definitive, cow-filled guide to making exceptionally delicious ice cream at home.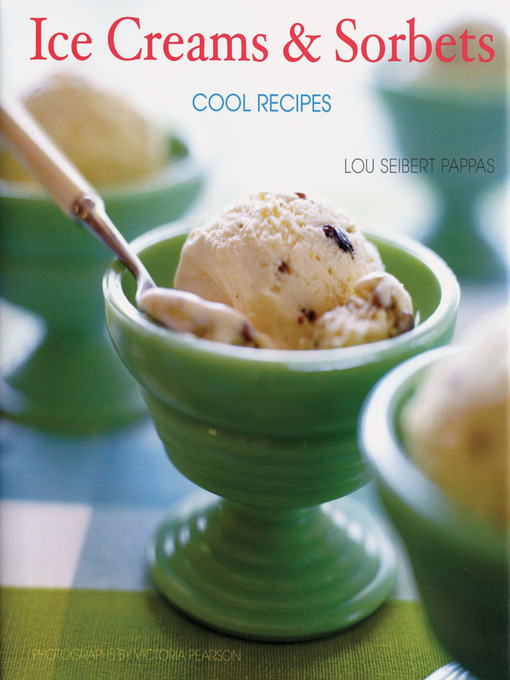 Ice Creams and Sorbets: Cool Recipes by Lou Seibert Pappas [eBook]

Nothing beats homemade ice cream, and making it from scratch is a charming summertime tradition whose time has come again. Ice Creams & Sorbets offers nearly 50 recipes for simple and sophisticated frozen desserts: old-fashioned classics such as vanilla bean, strawberry, and bittersweet chocolate; contemporary delights such as Lavender-Honey Ice Cream and Lemongrass-Wine Ice; and sinfully exquisite treats like White Chocolate-Framboise Truffle Gelato. With handy ingredient guides, serving tips, and the rundown on how to select and use ice cream makers, this fabulous book is a recipe for delicious new-fashioned fun.
Making Vegan Frozen Treats: 50 Recipes for Nondairy Ice Creams, Sorbets, Granitas, and Other Delicious Desserts by Nicole Weston

With these 50 irresistible recipes, it's easy to make delicious vegan "ice creams" with soy, almond, or coconut milk or to create refreshing sorbets, granitas, and frozen pops! This Storey Basics book offers ice creams ranging from the classics (vanilla, chocolate, coffee, strawberry) to innovative flavors like chai tea, mocha almond fudge, peanut butter and banana, horchata, and coconut-raspberry-lime. The sorbets include peach melba, tangerine and olive oil, and spiced cranberry, and you'll love the fresh and interesting granitas, such as honeydew and mint, Meyer lemon, and pear and cinnamon. You'll also find 12 recipes for frozen pops (including blueberry-balsamic pops, mojito pops, and lots of pudding pops), cookies for making ice cream sandwiches, and sauces and toppings for sundaes — all completely vegan and completely delicious.
Ice Pops!: 50 Delicious, Fresh and Fabulous Icy Treats by Cesar Roden and Nadia Roden

Meet the hottest ices in town: 50 artisanal ice pops, lovingly made with fresh fruit and bursting with spices, herbs, coffee, chocolate, and nuts! Along with their unique recipes, authors Nadia and Cesar Roden—an aunt-and-nephew team—give fun techniques for working with molds, choosing sticks, creating stripes and swirls, suspending ingredients, and adding decorations. The lusciously lickable treats include Lemon and Ginger, Drenched Watermelon, Sweet Sherry & Raisin, Butterscotch, Minted Milk, Vietnamese Coffee, and (for the purist) a simple, delicious Chocolate.
More Frozen Treats …
And here are some delicious recipes you can find online …
30 Delicious Ice Cream Recipes to Try – Brown Eyed Baker 6 Ways to Make Ice Cream Without an Ice Cream Machine – The Kitchn Dark Chocolate Dipped Sugar Cones – Joy The Baker 30 Delicious Homemade Ice Cream Recipes – Country Living
If you're craving something decadent:
Cookie No Dough Ice Cream – Joy The Baker Fluffernutter Chip Ice Cream – How Sweet It Is Cinnamon Ice Cream – The Pioneer Woman Red Velvet Ice Cream – Brown Eyed Baker S'Mores Ice Cream – Brown Eyed Baker
If you'd prefer a lighter option:
Chocolate Chip Cherry Garcia Frozen Yogurt – Chocolate Covered Katie Banana Soft Serve – Eating Rules Pumpkin Frozen Yogurt – Peanut Butter and Peppers Piña Colada Frozen Yogurt with Pineapple and Coconut – Creative Culinary 10 Healthy Ice Creams You Can Make In Your Blender – Prevention
Or if you've got a taste for something more unusual:
Avocado Ice Cream – Eating Well Ricotta and Honey Ice Cream – Travelers Lunch Box Green Tea /Matcha Ice Cream – Manus Menu Olive Oil Ice Cream – Bon Appetit
---
Featured Image Credit: Ice Cream (Pixabay Image 1440830, Creative Commons license).