Honoring the Toledo Troopers – The Winningest Team In Pro Football History
Posted on September 19, 2022
Thanks to a generous donation from  Bowling Green emeritus professor and photographer Ronald J. Jacomini, our Toledo Troopers Collection is growing again!
The images in the photos and contact sheets were taken during Troopers' 1976 season, and after developing them years ago, they remained in Mr. Jacomini's possession until recently. Jacomini released his collection initially to the producers of a documentary about the Toledo Troopers, a companion to the book just published by Stephen Guinan titled We Are the Troopers: The Women of the Winningest Team in Pro Football History.  After the documentary's pre-release event they came to reside in the Local History and Genealogy Department at the Main Library.
In a recent phone conversation, Jacomini recalled his involvement with the team which began during his teaching career at Bowling Green State University (BGSU). A dear friend and fellow BGSU alumni who had relocated to Toledo proposed that Jacomini photograph the team. He was given free reign at the sidelines of games and worked at a variety of locations including indoor and outdoor practices and the 1976 National Women's Football League (NWFL) championship game held at the University of Toledo's Glass Bowl Stadium.
Jacomini explained that since the team's games were always played at night, in which he travelled with the team by bus, games were difficult to shoot. Although he had to shoot using faster film to capture the nighttime images, it is a difficult balance to get the right exposure without losing clarity. Fortunately, due to his expertise and even the addition of a new camera to his toolkit at the time, he produced the beautifully detailed images we are now proud to share!
The images that follow are a small sample of the 52 original photographs and 21 contact sheets he has gifted our community. A larger exhibit featuring selected photos will be on display at the Local History and Genealogy Department and the complete collection is now available online at TLCPL's host site for digital collections, Ohio Memory. Stephen Guinan and Toledo Troopers players will be visiting the Main Library for an Author's Event on Thursday, September 22, 2022 at 5:30 pm. It will be featuring Guinan's previously mentioned book.
The Library's online exhibit featuring items loaned from Mitchi Collette, Pam Hardy Fisher, Linda Jefferson, Gloria Jimenez, Beverly Severance, Guy Stout, Mike Stout, Eunice White is available here.
Further Toledo Troopers images are available via Ohio Memory.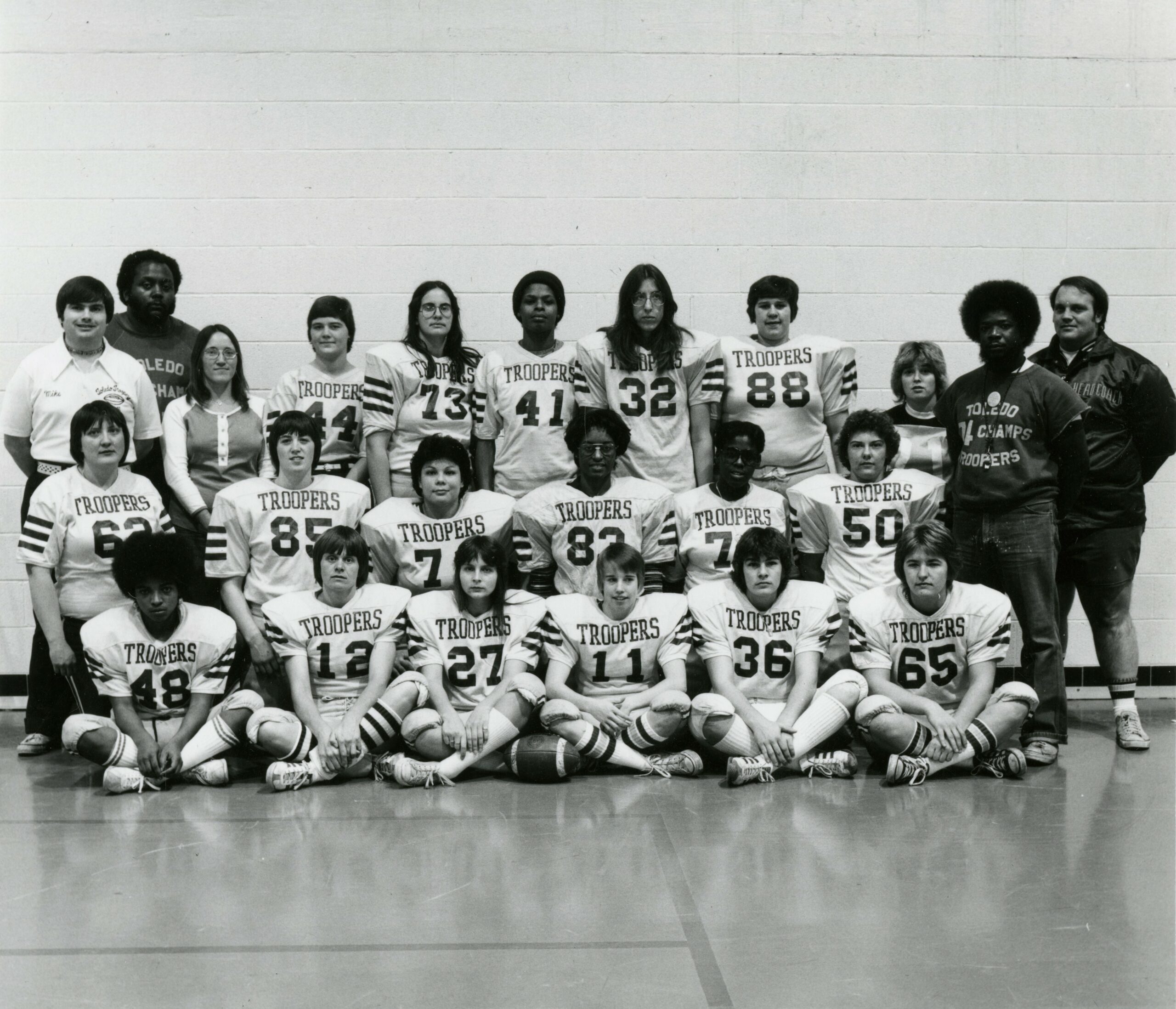 This image showing the Toledo Troopers 1976 team was taken at Springfield High School.
Sitting, left to right, front row, are: Linda Jefferson, Brigitte Hartz, Ruth Zuccarell, Pam Hardy Fisher, Verna Henderson, and Pam Nagel.
Kneeling, left to right, second row, are: Aldah Wilhelms, Mitchi Collette, Gloria Jimenez, Jackie Allen, Iris Smith, and Joellyn Opfer.
Standing, left to right, third row, are: Coach Mike Stout, Coach Carl Hamilton, Sheila Brown, Kathy Sanders, Pam Schwartz, Sunday Jones, Barbara Church, Vickie Steel, Dorothy Parma, Coach Jerry Davis, and Coach Bill Stout.
The players not included in the photograph are Brenda Baskins, Ernestine Davis, Cathy Cupp, Janell Palmer, Eula Streeter, and Eunice White.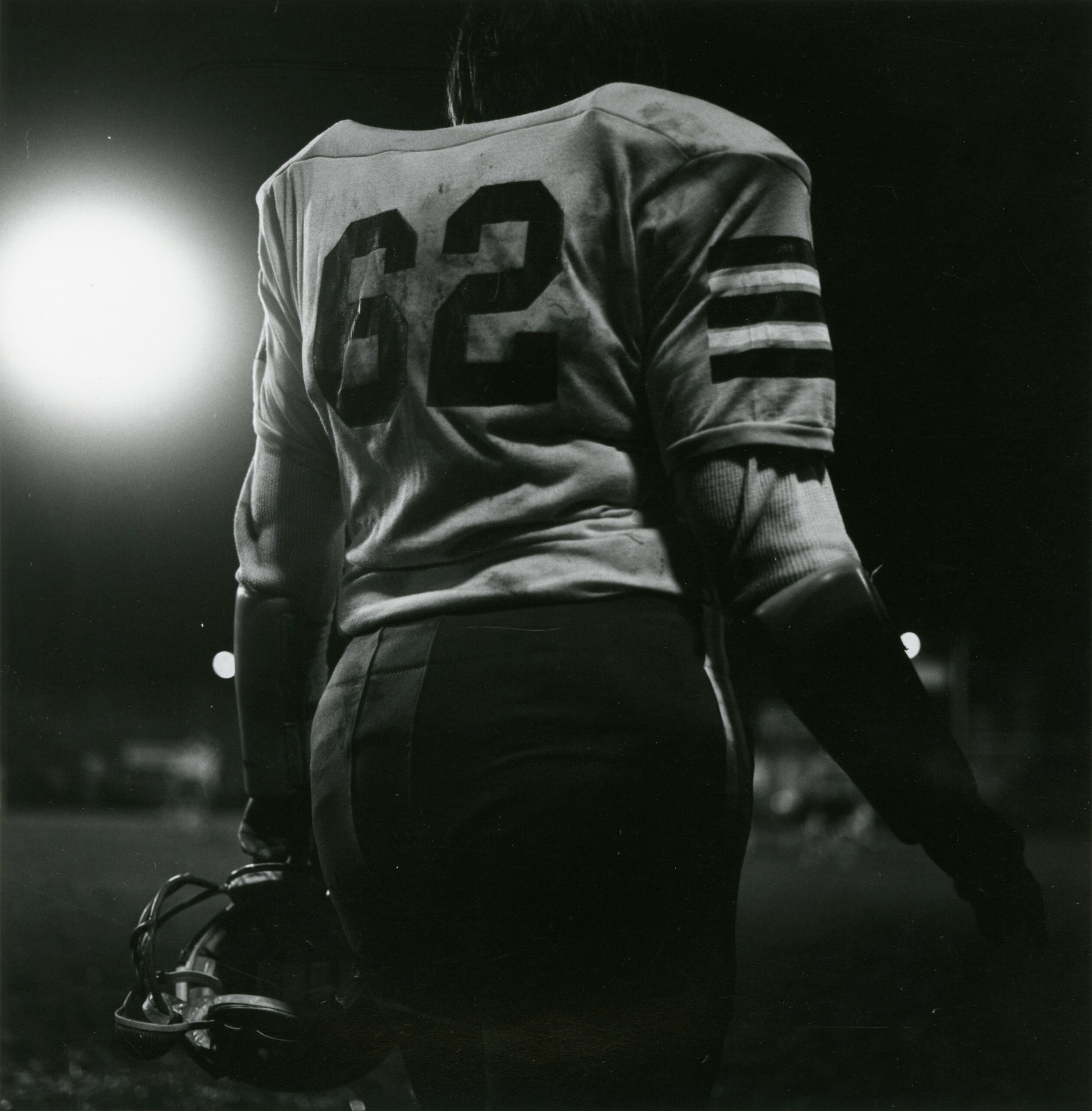 According to the Toledo Troopers Home Game Schedule of 1976, most of the Troopers' home games were on Saturday nights. Jacomini's nighttime image of player Aldah Wilhelms shows an example of the new way society was seeing women as strong, capable athletes.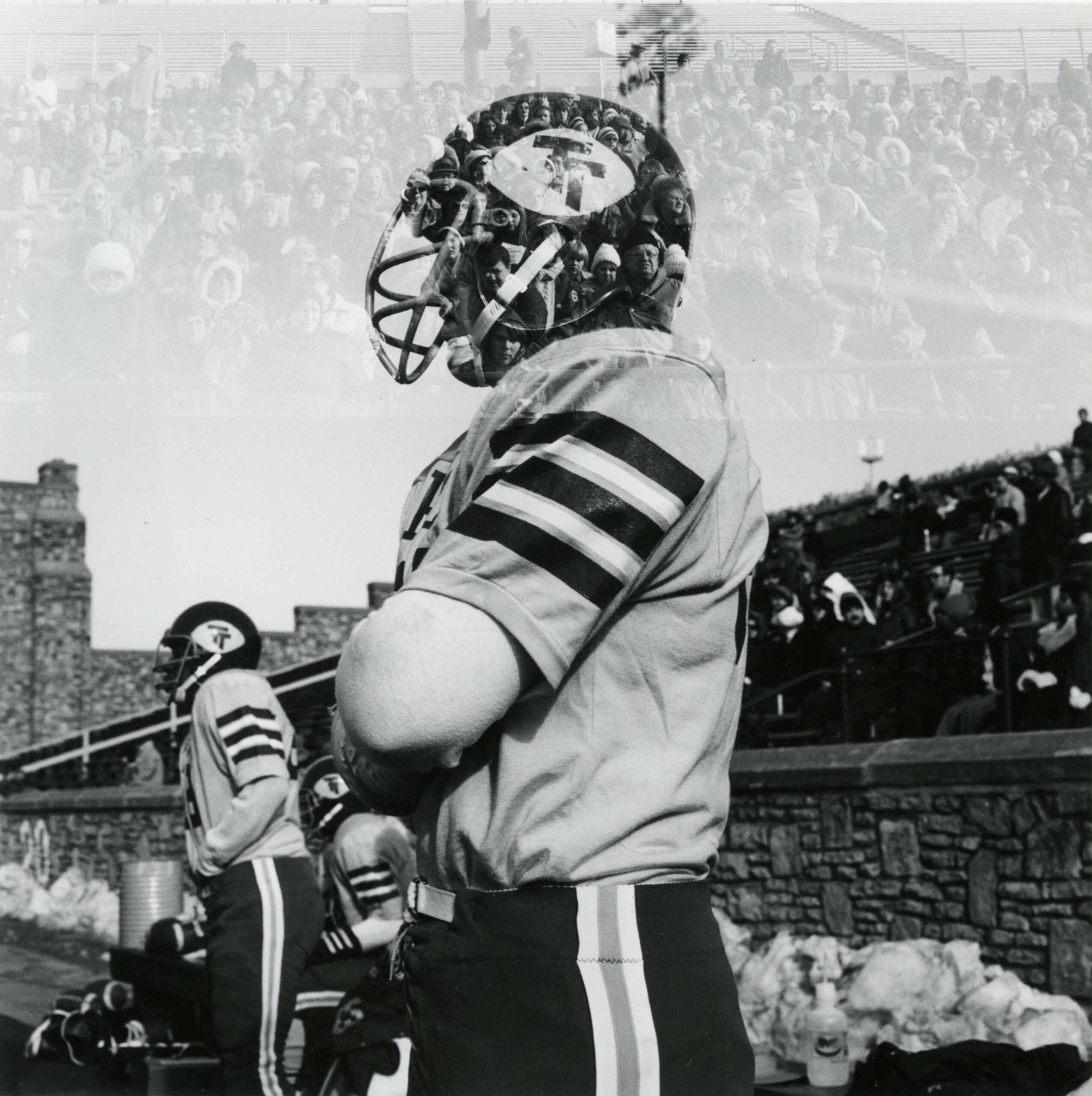 This photograph was taken on the sideline during the National Women's Football League championship game at University of Toledo Glass Bowl Stadium on December 11, 1976. The viewing crowds in the stands are superimposed on an image showing players watching the field.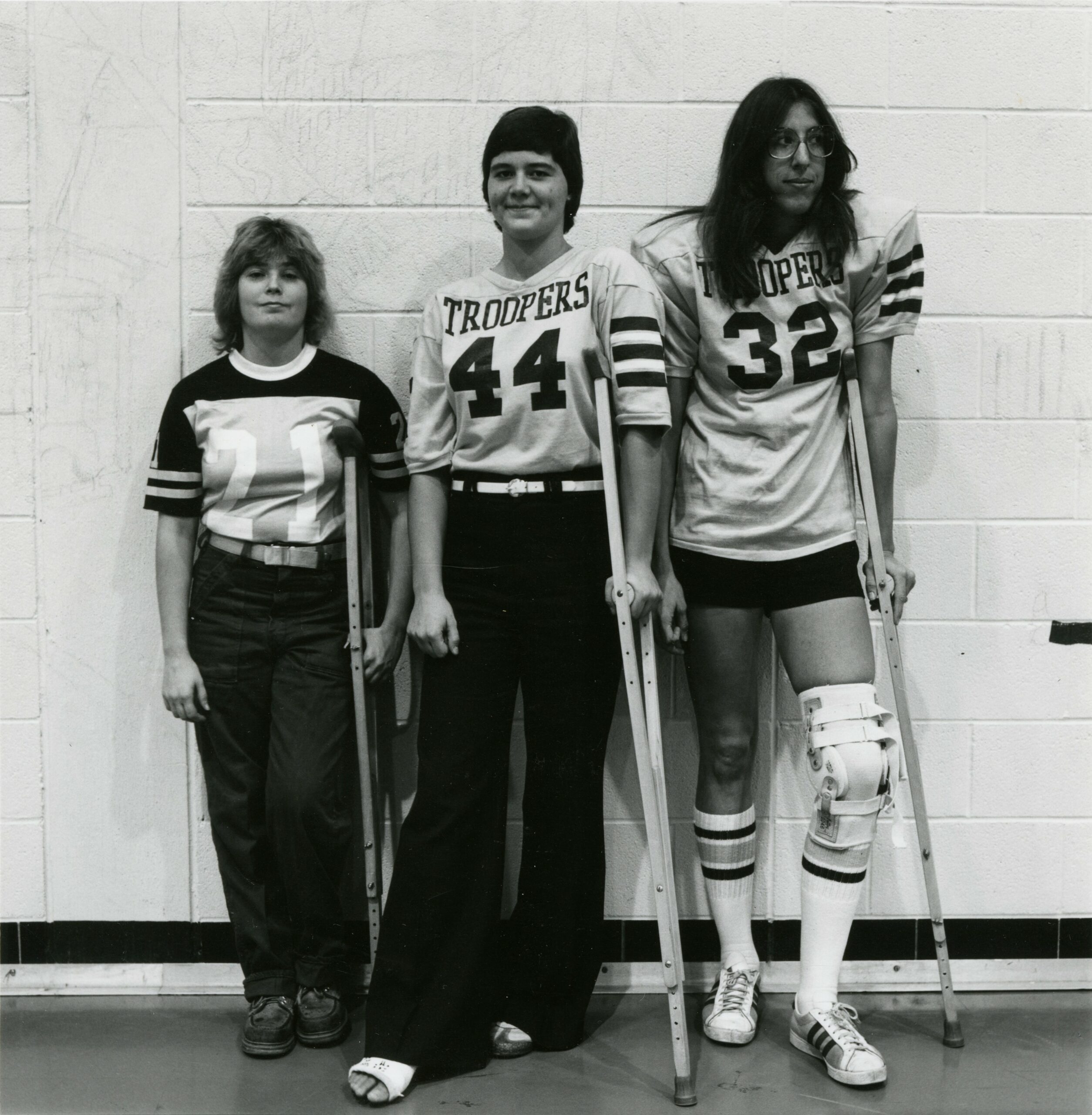 The gap between accolades male and female athletes was astronomical in the 1970s. Basic medical coverage to help female athletes deal with their inevitable injuries was non-existent. This image shows three injured Toledo Troopers players taken at Springfield High School in 1976. Pictured from left to right: Dorothy Parma, Kathy Sanders, and Barbara Church.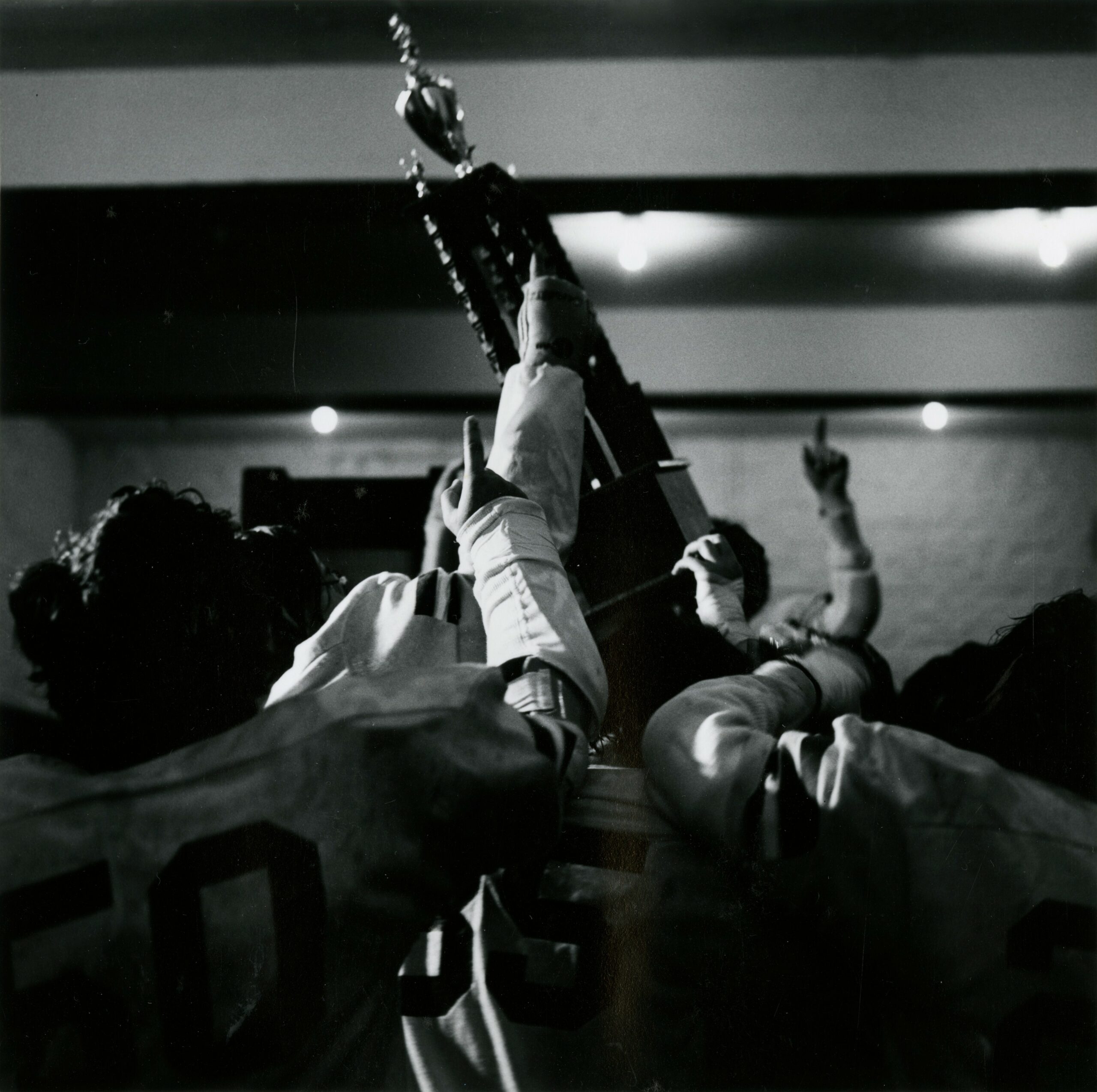 This photograph was taken of Toledo Troopers football team players holding up their trophy after their victory of the National Women's Football League championship game at the University of Toledo Glass Bowl Stadium on December 11, 1976.
Did you like this blog post? Keep up to date with all of our posts by subscribing to the Library's newsletters!