New Year's Romances
Posted on December 22, 2020
As a reader of all genres, the flood of new holiday romances each year is overwhelming. Christmas is the most popular holiday featured in romances, but some New Year's Eve titles have been released in recent years. Here are some unique stories that differ from the usual holiday tropes and themes.
Large Print
|
eBook
|
eAudiobook
While this book appears to be a Christmas romance at first glance, New Year's Eve and New Year's goals play a prominent role. Vivian Forest hasn't taken a vacation in years when she travels to England with her daughter for Christmas. While Vivian's daughter is working as a stylist for the royal duchess, Vivian forms a bond with Her Majesty's private secretary, Malcolm. This mid-life romance has it all: royalty, New Year's Eve fireworks, and handwritten letters. Swoon.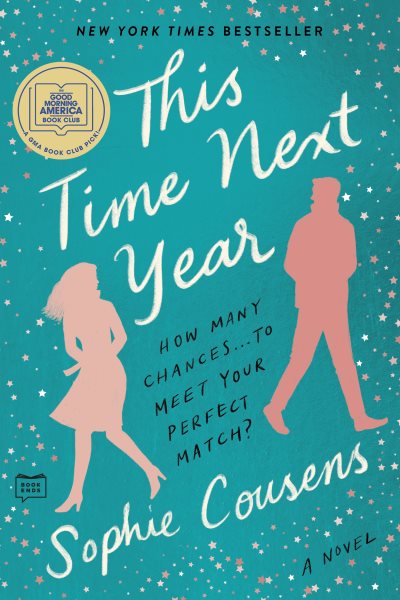 eBook
|
eAudiobook
Minnie Cooper and Quinn Hamilton were born on New Year's Day just after midnight only minutes apart. The family of the first baby born in London 1990 received a cash prize- and Quinn beat Minnie. Minnie has felt unlucky since birth and is convinced it started with Quinn winning that prize money in 1990. Through a series of random occurrences, Minnie find that years later, Quinn is living a charmed life while she's on the brink of financial ruin. Is there a reason they keep bumping into each other?
For the Young Adult inclined, this romance features two sisters at a snowy lodge in Vermont. While neither sister is happy to be there, a chance encounter with a handsome stranger encourages shy Tess to create an end-of-year bucket list. After facing her fears by skiing down a black diamond and singing in public, will she find her dream guy to share a magical kiss with as the ball drops?
Large Print
|
Spoken CD
|
eBook
|
eAudiobook
While this is not a traditional New Year's romance, it does take place at the end of December. New York lawyer Danielle Kohan has it all: her dream job, dream fiancée, and dream apartment. She goes to sleep one night and wakes up five years later. She recognizes nothing of her life: she's wearing an engagement ring that isn't hers, in an apartment that she's never seen, and is with a man she's never met. After an hour in 2025, she is suddenly brought back to the life she recognizes in 2020. This is a story of joy and heartbreak and serves as a reminder that life is unpredictable.
Large Print
|
eBook
|
eAudiobook
|
Playaway
Alright, hear me out… again, this is not a traditional romance (some might describe it as science fiction). However, New Year's Eve plays a pivotal role in Oona's life. In 1982 at age nineteen, Oona is on the verge of making a huge decision: should she follow her dream of attending the London School of Economics or stay home with the love of her life? Once midnight strikes, she finds herself in another decade and an older body. Oona has traveled 32 years in future. This begins the rest of Oona's life, which she lives out of order. Love, heartbreak, many pop culture fads, and difficulties lay ahead for Oona in this addicting tale of time travel. If you read and loved this story, join our Online Fiction Book Group for discussion on January 6th at 6:30pm!
Enjoy one of these New Year's romances this winter! Maybe you'll be inspired to fall in love, create a bucket list, or even travel through time.
Did you like this blog post? Keep up to date with all of our posts by subscribing to the Library's newsletters!