Novel Novellas Round 2
I couldn't stop with just one blog about all the wonderful weird little books there are to read, so here is another list of some of my favorite books that are just a little out there and under 200 pages long. Enjoy!
After a viral outbreak that leaves its victims unable to sleep, Slumber Corps is erected in order harvest sleep from willing donors and transfer it to the newly insomniac. This book is eerily reminiscent of our current pandemic so if you're looking for escapism, it may be best to hold off on reading this one for now.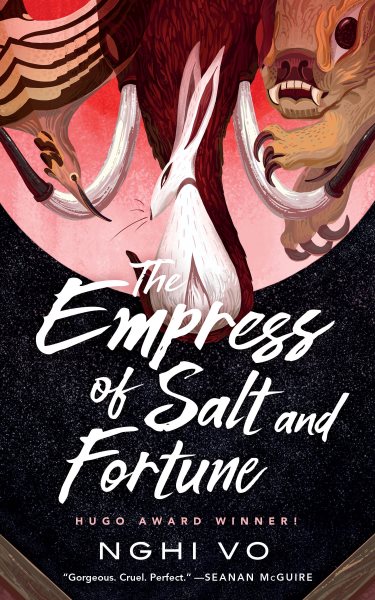 eBook
|
eAudiobook
|
hoopla
This is the first book in the Singing Hills Cycle series. The story combines high fantasy with a splash of feminism. Here we follow the rise of a young empress who, with the help of her handmaiden, must work to overturn her exile from the far North and defeat her enemies.
This is the first book in Margaret Killjoy's Danielle Cain series. Danielle, our protagonist, is a wanderer whose travels lead her to the hipster utopia of Freedom, Iowa. She will soon discover though, that living in this little haven comes at a cost… as the summoning of an ancient protector spirit has gone horribly, horribly wrong.
eBook
|
hoopla
This is book two of Martha Wells' Murderbot Diaries series (I discussed book one in my previous novella blog). It has all the sci-fi adventure and intrigue of the first book, with the addition of some wonderful new characters including ART, a sentient teaching and research vessel whose cool intellect proves a constant irritation to Murderbot.

eBook
|
hoopla
The work of Stephen Graham Jones varies wildly in tone from book to book. In contrast to his work Mapping the Interior (as discussed in my previous blog) which is as spooky as it is heartfelt, Night of the Mannequins is straight-up schlocky horror. But hey, nothing wrong with that if you're so inclined.
eBook
|
eAudiobook
|
hoopla
This is book two of McGuire's Wayward Children series (I discussed book one in my previous novella blog). It follows the misadventures of Twins Jack (short for Jacqueline) and Jill, who stumble from their mundane lives into the magical land of the Moors which is inhabited by vampires, mad scientists and eldritch abominations.
eBook
|
eAudiobook
This is one of the more unique stories I've read this year. Its heroine is a young woman named Sankofa who, after an encounter with a mysterious alien artifact, becomes the adopted daughter of Death himself. Here we follow Sankofa on a journey of self-discovery as she contends with those who both revere and despise her.
eBook
A unique little read that is about the shortest book on this list at only 21 pages. Our protagonist is a fox who, unlike the rest of his pack, takes a deep interest in the lives and language of humans.
Author Valérie Mréjen explores the impact of death on those who remain living. Despite its dark subject matter, this book is written with a huge amount of love and even humor. It's a lovely little read that will make you think about mortality not with fear, but with hope.
eBook
|
eAudiobook
|
hoopla
For those fans of dystopian novels with heavy social commentary, I give you Riot Baby. The main protagonist is Ella, a young woman with precognitive abilities. When her brother Kev is wrongly incarcerated, Ella will use all the power at her disposal to help him free himself… at any cost.
Beowulf: A New Translation By Maria Dahvana Headley
eAudiobook
I've always been a sucker for Beowulf and similar tales of adventure and testosterone-fueled exploits. So, when I coworker of mine told me about this modern retelling I just had to read it. And I was NOT disappointed. The very first word in this iteration of Beowulf is "bro." Need I say more?
I hope you have enjoyed this second curation of strange, short fiction books. While these books won't take you long to read, they will certainly stick with you long after you have turned the final page. Happy reading!
Did you like this blog post? Keep up to date with all of our posts by subscribing to the Library's newsletters!