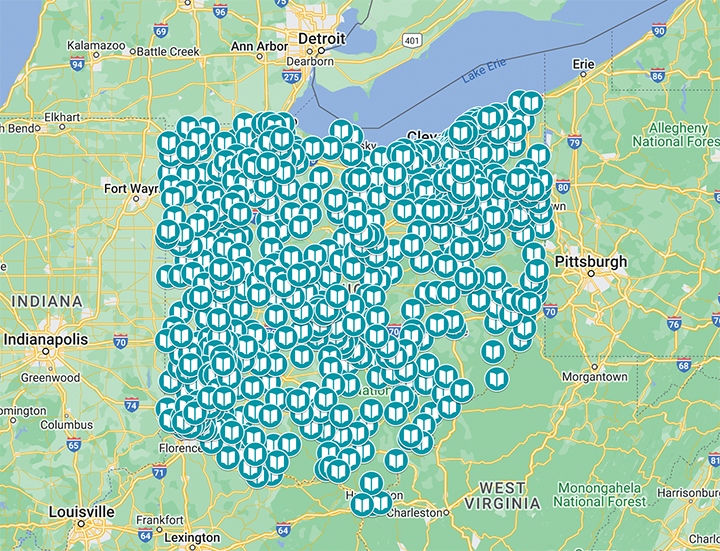 STRONG LIBRARIES, STRONG COMMUNITIES
By Lucas Camuso-Stall, Director of Government Relations and Advocacy 
As a lifelong Ohioan, I have always had a great public library to visit, from my childhood rural community to my state university, and now as a Toledo resident. My mom was even a public library branch manager, so hearing about library operations was common in our house. In the summer, there was always a sigh of relief or passing comment that we should thank the Governor for supporting our library system this budget season. 
I didn't really understand what "budget season" meant at the time. Nor did I realize how uncommon this state commitment was. But now, as a public library employee, I fully understand. 
Here in Ohio, we are incredibly fortunate that our state government helps provide a direct line of funding to all 251 public library systems across the state. 
Every two years, the sitting Governor and our state legislators in the House and Senate decide how our government funds every single agency, program, or organization that helps make a difference to Ohio citizens. It is an incredibly complicated process that can take several months, stretching from the beginning of the year to late June. 
A NATIONAL LEADER
Since 1933, Ohio's legislators have designed and implemented some sort of system that helped fund its public libraries. Today, all 251 library systems in Ohio collectively receive 1.7% of the General Revenue Fund. This allocation is aptly known as the Public Library Fund (the "PLF" for short.) 
For Toledo Lucas County Public Library, the PLF accounts for 38% of our operational budget. That means nearly one-third of everything you enjoy from the Library is made possible by state funding. Some public libraries in Ohio—49 in total—solely depend on the PLF to fund their entire budget. More often than not, these are libraries in rural Ohio, where robust resources can already be tough to find, making library access critical. 
Ohio is one of a select few states that implement this type of sound financing for their public libraries. There are a few states that allocate some sort of fluctuating funding to libraries via their budgets, almost like a granting system. But, outside of Ohio, Hawaii is the only other state that receives a specific, ongoing percentage allocation from its state budget. 
This consistent and strong funding from our state government has positioned Ohio public libraries as true library leaders in the country. Today we can clearly see how this type of investment has led to robust library engagement across the state. 
Ohioans and Lucas Countians love their libraries because we have world-class systems. Strong funding from our local communities and state government allows for the development of outstanding branches, robust physical and digital collections, and cutting-edge programming that engages children and adults alike. Without this strong support, the shining beacon that is Ohio public libraries wouldn't be possible. 
DEEP ROOTS
It is also important to note that the cultural significance, and investment in libraries, have been a longstanding national practice. 
For centuries, Americans have supported libraries and the inherent value they bring to communities. In 1731, Benjamin Franklin established "The Library Company of Philadelphia" which is argued to be the first subscription-based, book-borrowing library in the U.S. 
The first free public library in the country was opened in 1833 in Peterborough, New Hampshire. TLCPL, which, in its first iteration, was called the "The Young Men's Association Library," was established in 1838 via a charter granted by the Ohio Legislature. This was only a year after the City of Toledo itself was founded in 1837.  
On April 18, 1873, the Ohio Legislature and City Council of Toledo passed the needed bills and resolutions to officially establish the then-called, Toledo Public Library. Ongoing community leadership and support have allowed Toledo Lucas County Public Library to grow into the system we know today, with 20 locations and Mobile Services.
Support from the state, county, city, and people of Lucas County provides the resources for TLCPL staff to maintain, develop, and evolve our library system in innovative ways that meet modern-day community needs, as well as uphold our core responsibilities around literacy and education. Our strategic priorities of helping children learn to read, helping students succeed, helping adults expand their horizons, providing access to technology, providing technology skill development, and being a go-to community hub wouldn't be possible without support from voters and legislators. 
LOOKING AHEAD
This spring, the Ohio Legislature will once again bring forward and debate allocations for the state budget. Ohio libraries will, as we always do, advocate to legislators that preserving the PLF at 1.7% of the General Revenue Fund will be imperative to our general operations. This support is especially important now as public libraries continue to directly assist community members as they navigate their way out of the pandemic and reconnect with one another again. 
For our TLCPL supporters, I hope—now that you know about Ohio's leadership in funding public libraries—that you will join me in reaching out to your local state house member or state senator and thank them for supporting our public libraries. You can find and connect with your legislator, by visiting www.Legislature.Ohio.gov and using the "who represents me" tool. Your voice, as a community member and user of the Library, is so important in continuing this funding tradition.  
Together, we can uphold Ohio public libraries and the Toledo Lucas County Public Library as robust and thriving institutions for every person in our community. After all, strong libraries help build stronger communities.