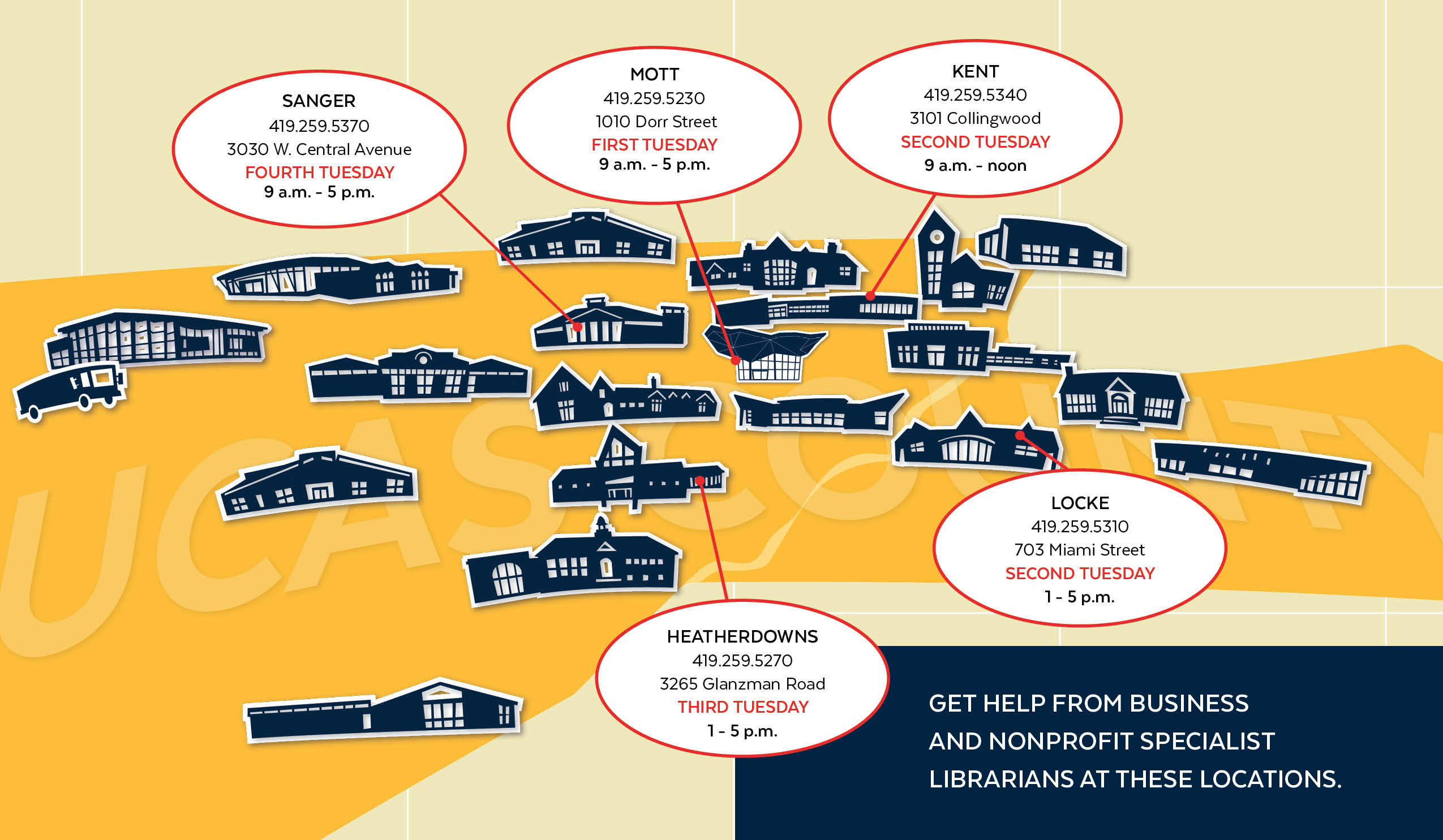 TAKE THE NEXT STEP
with the Library's small business and nonprofit know-how at a branch near you
by STEPHANIE ELTON
The inspiration for starting a small business or nonprofit can strike anytime and anywhere. Sometimes the idea is fleeting; it fades away as quickly as it came. But there are times when the 
notion of that new business or nonprofit is all-consuming. The drive to move forward, to build on that idea, is growing more and more common with the rise of the entrepreneurial class.
The United States Census Bureau estimates that over 4.4 million new small businesses were started in 2020—the highest total the Bureau has on record and a 24.3% increase from 2019. According to its website, Greater Toledo Community Foundation awarded over $18 million in grants and scholarships in 2021. 
When you take numbers like these into account, and the competition and uncertainty that can come along with them, taking that next step can be daunting. Never fear—the Toledo Library's business and nonprofit specialist librarians are here to help navigate the process.
Main Library is home to a variety of professional-grade, proprietary business research tools and materials as well as the Library's business specialist librarians, Linda Fayerweather and Zachary Huber with the Small Business and Nonprofit department. 
Understanding that accessing Main Library's location can be a challenge for some customers due to transportation and busy schedules, Fayerweather and Huber wanted to make the specialized tools and resources—along with their expertise—more accessible. They decided to host appointments at other Library locations throughout the community.

The genesis of this outreach idea can be traced back to 2018 when TLCPL's landmark downtown Toledo building was closed for renovations. During that time, the Small Business and Nonprofit department was temporarily relocated to the Heatherdowns branch.
"That was really our first experience being out at the branches and it was a great way to connect with more customers," said Fayerweather.
The COVID-19 pandemic and its continued impact on the community also played a role. For example, a disproportionate number of small business owners who were applying for COVID-relief grants were finding themselves ineligible due to a lack of business plans and historical financial records. Creating these types of foundational documents is a frequent topic in the Library's business development programs as well as a process in which these librarians are well-versed.
The pandemic also challenged the Library to think creatively on how its staff could meet and support customers one-to-one.
" A disproportionate number of small business owners who were applying for COVID-relief grants were finding themselves ineligible due to a lack of foundational documents such as business plans and historical financial records. Creating these types of foundational documents is a frequent topic in the Library's business development programs as well as a process in which these librarians are well-versed. "
"When it was safe to meet with people with masks outside," Fayerweather shared, "we began to meet with people outdoors so that we could continue our work."
With this experience to draw on, Huber proposed formalizing the initiative with a consistent schedule and the Small Business and Nonprofit assistance sessions began in Sept. 2021.
Customers can schedule a 45-minute appointment through the Library's website or by calling the Small Business and Nonprofit department. At their appointment, participants receive individualized assistance with business plans, industry research, nonprofit grants, and donor research. Whatever customers need assistance with, Fayerweather and Huber are there to help and to listen.
"On the nonprofit side, most of the time customers are looking for grants or want to know how to do grant writing," said Huber.
"Other times," stated Fayerweather, "it is just helping the customer understand the business process."
Huber added, "There are times, too, when the appointment turns into a referral to one of the Library's community partners on the business side. We are really lucky to be a part of a collaborative of 13 or so partners so we can make in-depth referrals."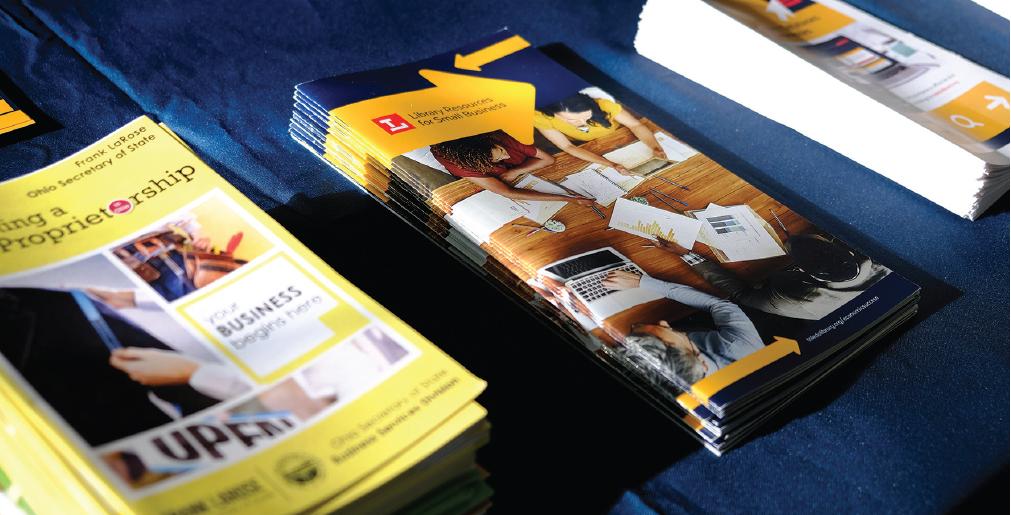 Within the first four months of the initiative, Fayerweather and Huber attended over 100 appointments (See By the Numbers chart on page 15.) But their assistance does not end at the conclusion of the appointment.
"We do a lot of follow up. Librarians are trained to be listeners," said Huber. "If someone is thinking about starting a business or nonprofit, they need to do a lot of research and we can help."
The learning at the early sessions was reciprocal. Fayerweather and Huber gained insights to further evolve the initiative to meet customers' needs.
"When we first launched this program, we offered 30-minute appointments," said Huber. "Those 30 minutes go by so quickly, so we extended the appointments to 45 minutes."
Assistance sessions will continue to be held on Tuesdays in 2022, but beginning in the new year, expanded morning and afternoon sessions are available. (See map on page 14 for locations and times.)
Fayerweather and Huber want Library customers to know that their help is not relegated to just Tuesdays. They are available to assist anytime and can be reached by email (business@toledolibrary.org), the contact form available at toledolibrary.org/business, or by phone (419.259.5244).
"The services we provide," Fayerweather shared, "are always available. These one-on-one sessions on Tuesdays are a part of our outreach, a part of our whole offering of support."
For more information about the Library's Small Business and Nonprofit Assistance services, or to schedule an appointment session, visit toledolibrary.org/business.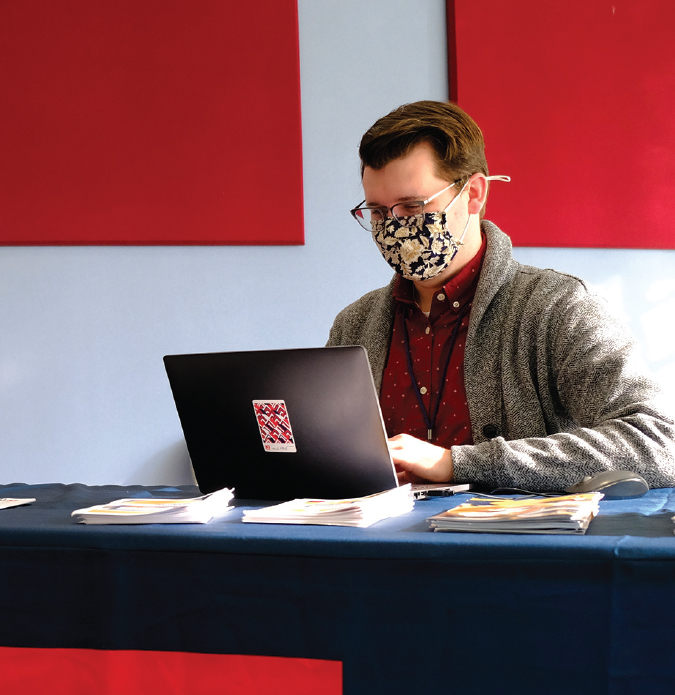 RELATED PROGRAMS
In addition to the assistance sessions, our business and nonprofit specialist librarians host a variety of programs throughout the month. Find more information about these recurring programs at events.toledolibrary.org.
Ask a Patent/Copyright/Trademark Attorney Have questions about intellectual property? Then this free, monthly program is for you!
Business Boost An introduction to several research databases that will help give your business an edge over the competition.
Grants Lab A series of 45-minute workshops geared toward nonprofit employees and aspiring grant writers.
Minding Your Own Business Master the basics of business finance during four weekly consecutive sessions.
Year One Action Plan for Success A four-part series perfect for solo entrepreneurs, sole proprietors, micro businesses, and homebased-businesses.
MORE BUSINESS AND NONPROFIT RESOURCES
Get even more business and nonprofit support with these resource recommendations from our specialist librarians. All you need is a Library card to get started!
D&B Hoovers Gain a deeper understanding of your market opportunities to make informed decisions, stay ahead of the competition, and close more deals.
Foundation Directory Online The smartest, fastest way to win more funding. Provides the most exhaustive and up-to-date knowledge and insights to fuel any fundraising mission.
Gale eBooks Access hundreds of books and publications within 21 different topics including business, law, and technology.
Legal GPS A gamified platform that helps new and existing businesses "do legal" without having to hire a lawyer.
Mergent Intellect Access private and public U.S and international business data, industry news, facts and figures, executive contact information, industry profiles, and much more.
The Only Grant Writing Book You'll Ever Need by Ellen Karsh and Arlen Sue Fox The title says it all. Available in print and as an ebook!
How to Start Your Own Business: And Make it Work by DK This uniquely visual guide equips you with everything you need to know about making your start-up stand out from the crowd.
Reference Solutions A powerful online reference and research tool that provides instant, real-time access to accurate, in-depth information on 59 million U.S. businesses.