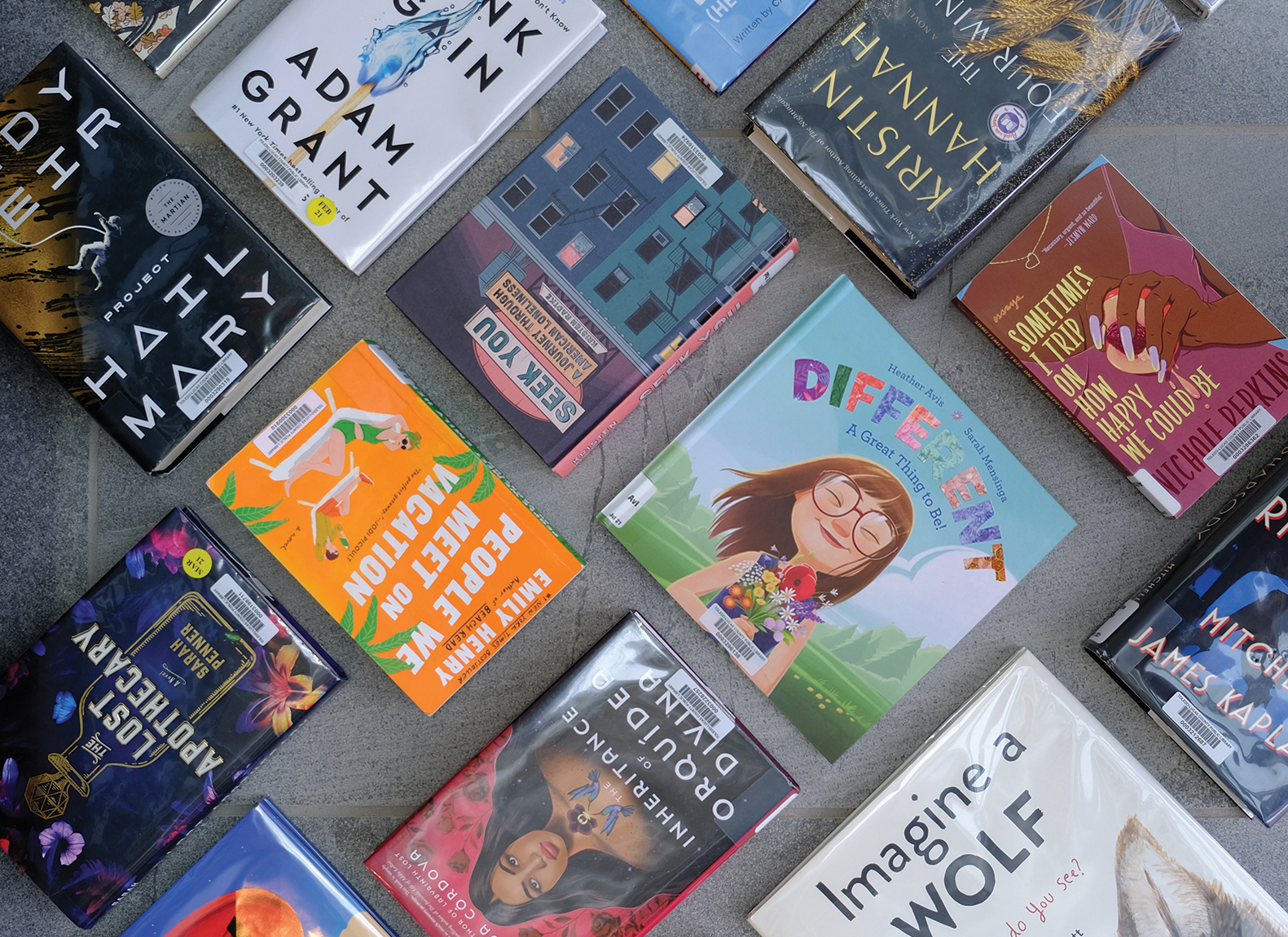 TLCPL'S BEST BOOKS OF 2021
It will come as a surprise to absolutely no one that, as library employees, we read a lot of books.
Shocking, we know.
And for avid readers like ourselves (and we're assuming you, reading a magazine produced by a library…) one of the best times of year is when the Best of the Year Book Lists are published. Here at the Library, we pass Best Books lists around like gossipy notes when the teacher's back is turned, combing through them to find the books we missed that will be added to our TBR (To Be Read) pile and the books we didn't miss that we now get to brag about discovering before some reviewer told us we should like them. It's truly a magical time.
This year, staff at the Toledo Library joined the fun with our own list. Who better to recommend books than the very people who consider helping people find their next read to be one of the best parts of their jobs? There are few things more satisfying than digging into our knowledge of the written word to find the perfect title to fit a customer's needs, wants, or whims.
So for all of our amazing customers, here is a selection (in no particular order) of TLCPL's Best Books of 2021.
Happy reading,
The entire TLCPL team!
Sometimes I Trip on How Happy I Could Be | Nichole Perkins | Essays
Told through the eyes of a Southern black woman, this book of essays is the perfect mix of pop culture, comedy, and memoir with commentary ranging from Kermit and Miss Piggy's abusive relationship to the #relationshipgoals of Frasier's Niles and Daphne. – Katie M, Lagrange
A Master of Djinn | P. Djeli Clark | Adult Science Fiction
A re-imagined early 1900s Cairo where colonialism never happened, magic is real, an evil plot to control said magic, and an incredible female protagonist to save the day. A Master of Djinn establishes P. Djeli Clark's Dead Djinn Universe as a literary force to be reckoned with. – Franco V, Mobile Services
Crisis Zone | Simon Hanselmann | Graphic Novel
In the wake of Covid-19, cartoonist Simon Hanselmann embarked on a daily webcomic featuring his characters Megg the witch, Mogg the cat, and their band of unruly friends. Collected in this edition, Crisis Zone ranges from grotesquely vulgar to overwhelming heartfelt, offering a refreshingly frank glimpse into addiction, mental illness, toxic relationships, and the general sense of dread and malaise that have characterized the last two years. Crisis Zone isn't pretty, but it has somehow risen to become a beautifully imperfect reflection of living through a pandemic. – Eric S, Main Library
The Lincoln Highway | Amor Towles | Adult Fiction
It's 1954 in middle America and 18-year-old Emmett has just been released from a work farm. His parents and home are gone, but he has a car, an eight-year-old brother, and a plan. Part road-trip novel, part mystery, part coming of age story, this novel will keep you engaged for every mile of the detour-filled journey.  – Susan S, Maumee
The Final Revival of Opal & Nev | Dawnie Walton | Adult Fiction
Music! Mystery! The 1970s! Three of my favorite things come together in this story of a musical duo who might be reuniting after decades apart. The reporter documenting the melodrama has more than a professional interest in what happened the last time Opal and Nev performed together. If you liked Daisy Jones and the Six, you will love this more. – Susan S, Maumee
The Whiteness of Wealth: How the Tax System Impoverishes Black Americans–and How We Can Fix It | Dorothy A. Brown | Adult Nonfiction
Growing up in South Bronx, Dorothy A. Brown hoped to escape the racism she experienced in her childhood by going to law school, where it was (supposed to be) all about numbers. However, a closer look at America's tax code revealed that it was far from color-blind. Meticulously researched, Whiteness of Wealth examines how Black Americans face financial inequality across the economic spectrum. – Eric S, Main Library
The Night Always Comes | Willy Vlautin | Adult Fiction
Lynnette lives in relative poverty and has worked so hard to buy the house she rents with her mother. She's very close to doing so, with the help of her mother, only to find out her mother no longer wants to make the purchase. Thus begins the wildest two nights of Lynnette's life as she tries to scrounge up enough cash to make the down payment on her own. – Franco V, Mobile Services
A Small Kindness | Stacy McAnulty | Picture Book
Follow along with Ms. Jones as kindness spreads throughout her class. This book shows how even the smallest acts of kindness can bring joy to one another, and in the end, everyone wins! – Alyssa M, Oregon
Amari and the Night Brothers | B. B. Alston | Juvenile Fiction
A fast-paced adventure from start to finish – Amari learns of a secret world involving magic and unique talents all while solving a mystery and finding her own self. Amari proves that even through adversity a young girl can succeed with a good heart and perseverance. Once you finish, you'll be craving the next in the series! – Beth W, Main Library
The Vanished Days | Susanna Kearsley | Adult Fiction
Set in 1700s Scotland, The Vanished Days captures the turmoil of the Jacobite revolution. A young widow needs to prove that she was married to collect her husband's pension and a soldier is recruited to find the truth. After I finished this carefully crafted mystery, I wanted to start reading it again from the beginning. – Regina S, Main Library
The Nature of Witches | Rachel Griffin | Teen Fiction
A genre-blending of cli-fi fiction and teen fantasy. Witches have controlled the climate for ages, but their abilities are waning due to climate change. Clara, a rare breed of Everwitch, has magic that can control every season…can she save the Earth? – Adrienne A, Waterville 
Hour of the Witch | Chris Bohjalian | Adult Fiction
A thrilling tale of a Puritan wife's attempt to escape from her abusive marriage and the stigma of witchcraft thrust upon her by jealous neighbors. Mary Deerfield is young, beautiful, and too outspoken and logical for the times she lives in. How in the world can she divorce her cruel husband in the face of bigoted and misogynistic elders who hold her fate in their hands? And who is placing the Devil's idols in and around her home, causing rumors of her being a witch? – Patti L, Waterville
Bewilderment | Richard Powers | Adult Fiction
Powers connects our current world, one that is feverishly saturated with climate change, to the relationship between a father and his nine-year-old son. Questions of how to raise a child in a world that is out of balance are deftly presented as questions from Robin, the son. As Robin asks his questions, the reader will laugh, maybe even cry, and experience feelings of awe. Richard Powers won the Pulitzer Prize in fiction in 2019 for his book The Overstory and was a Pulitzer finalist in 2007 for his book The Echo Maker. – Jennifer D, Reynolds Corners
Yearbook | Seth Rogen | Memoir
This book had the Lagrange staff laughing for DAYS. You don't even have to be a Seth Rogen fan to appreciate this book. Whether he's dragging celebrities for their bizarre quirks (we're looking at you, George Lucas), regaling us with tales of doing stand-up comedy shows in bars as a 13-year-old, or describing the time he ate an 'Angry Whopper' from Burger King before flying and passed out so hard the stewardess thought he was having a seizure, trust us when we say there is something for everyone to enjoy here. Pro-tip: listen to the audiobook for this one, as Rogen offers a full cast of characters complete with sound effects! Thank us later. – Lagrange  Staff
The Inheritance of Orquídea Divina | Zoraida Córdova | Adult Fiction
I loved this book so much! It reminded me so much of how all families have a little magic and sometimes secrets – and how both leave a legacy. This book kept me wanting to read a little further each time.  – Andrea V, Lagrange
Because I'm New | Brad Sneed | Picture Book
Because I'm New is an adorable book for older siblings to understand the new baby in their family. My son enjoyed reading this book and can't wait for his little sister to be able to "play catch" and read with him soon. – Jozi H, West Toledo
Daughter of Sparta | Claire M. Andrews | Teen Fiction
Trying to fit in as an outsider in Sparta, Daphne fights and trains like any other soldier… until she runs into Artemis and is forced into a task to help save the Olympians. Journey along with her, Apollo, and her trusty friend as they make their way through Greece on a near-impossible mission. – Jozi H, West Toledo
A Court of Silver Flames | Sarah J. Maas | Adult Fiction
This indulging, romantic continuation of the popular faerie saga follows depressed and unstable, Nesta, as she battles the haunting memories of her failures, of war, and of self-loathing. Along for the ride, Cassian supports her, gives her space and consistency, and continuously holds out his hand, and eventually, Nesta takes it. This book takes a serious look at mental health and wellness with Nesta's turbulent healing journey. – Jozi H, West Toledo
My Monster and Me | Nadiya Hussain | Picture Book
Even baking celebrities have anxiety. Nadiya writes a beautiful children's book that puts a face on anxiety for both children and parents to recognize more easily. – Jozi H, West Toledo
Bad Cat! | Nicola O'Byrne | Picture Book
Fluffykins doesn't listen. Fluffykins likes to misbehave. Fluffykins is a bad cat! This hilarious picture book is a celebration of mischievous cats everywhere. – John C, Waterville
The Death of Jane Lawrence | Caitlin Starling | Adult Fiction
Crimson Peak vibes with a main character that was absolutely written to be played by Tom Hiddleston. What happens when you play with magic but aren't prepared for the consequences? – Allison F, Main Library
Lore Olympus: Volume One | Rachel Smythe | Graphic Novel
A contradiction of a book, Lore Olympus is a wildly relevant and modern take on the most classic of stories – Greek Mythology – with a focus on the tale of Hades and Persephone and their love that defied even some gods. On top of being one of the most engaging reads of 2021, it can only be described as a feast for the eyes, with Smythe's simplistic midcentury-esque illustrations illuminating the pages with highly vibrant colors that manage to convey even the most subtle of emotions with enrapturing clarity. Meant for adults and for fans of Madeline Miller and Katee Robert, you will not be able to put this one down. – Allison F, Main Library
Where the Deer and the Antelope Play: The Pastoral Observations of One Ignorant American Who Loves to Walk Outside | Nick Offerman | Adult Nonfiction
Nick Offerman, Jeff Tweedy, and George Saunders walk into a park…and so begin the many adventures of Offerman and his friends as he discusses both the merits of nature and the nature of the world we live in. I feel like Nick and I are besties after reading this, not because I'm particularly drawn to hiking long distances, but because he is able to utilize his love of nature to share about himself in a way that makes you feel like part of his inner circle. For anyone who loves Ron Swanson, this will not disappoint. – Allison F, Main Library
The Spanish Love Deception | Elena Armas | Adult Fiction
I'm a sucker for an enemies-to-lovers story and this one has it ALL. Grumpy/sunshine, office romance, fake dating, and the kicker- international shenanigans. My favorite romance of the year by far. – Allison F, Main Library
The Love Hypothesis | Ali Hazelwood | Adult Fiction
Ph.D. candidate Olive Smith needs a fake relationship to convince her bestie that she has moved on from a crush. So, Olive does what any self-respecting woman does: kiss the first man she sees. Unfortunately (or fortunately?) for Olive, that man happens to be the most stubborn and famous professor at her university, Dr. Adam Carlsen. Antics ensue at a big science conference, leading Olive to consider that maybe her feelings are real…just like Adam's six-pack abs and black henleys. Ali Hazelwood wrote Reylo (Rey/Kylo Ren from Star Wars) fanfiction so excellent it became an instant New York Times bestseller- and the best romance of 2021. – Abby B and Becca M, Oregon
Imagine a Wolf: What Do You See? | Lucky Platt | Picture Book
This book really makes you think about making snap judgements about other people. Looking at ways the wolf has been misjudged makes the reader sympathetic to the character. This is a great picture book with vibrant, unique illustrations and life lessons for all ages! – Kelly P, Reynolds Corners
"Close your eyes and imagine a wolf…" so starts this book that will have both children and adults questioning their own lens of how they view the world. The wolf in this story is not as you might imagine. Beautifully textured illustrations will delight the reader page after page. – Jennifer D, Reynolds Corners
Crying in H Mart | Michelle Zauner | Memoir
Author and musician Michelle Zauner (stage name: Japanese Breakfast) has turned her grief into a masterpiece. Growing up the child of a Korean mother and a white father, the author grappled with her identity and felt she could never fully belong. In this memoir, she explores her complicated relationship with her mother and Korean identity. After her mother falls sick from cancer, she decides to drop everything and move from Philadelphia to the West coast to act as her full-time caretaker. The author learns to cook traditional Korean dishes to connect with and commemorate her mother as well as preserve her cultural heritage. This book will make you cry, but it will also make you very, very hungry. Dig in. – Katie M, Lagrange
The Lost Apothecary | Sarah Penner | Adult Fiction
A female apothecary secretly dispenses poisons to liberate women from the men who have wronged them — setting three lives across centuries on a dangerous collision course. – Ambrosia M, Reynolds Corners
Nothing But Blackened Teeth | Cassandra Khaw | Adult Fiction
Cassandra Khaw's Nothing But Blackened Teeth is a gorgeously creepy haunted house tale, steeped in Japanese folklore and full of devastating twists. A Heian-era mansion stands abandoned, its foundations resting on the bones of a bride and its walls packed with the remains of the girls sacrificed to keep her company. It's the perfect venue for a group of thrill-seeking friends, brought back together to celebrate a wedding. A night of food, drinks, and games quickly spirals into a nightmare as secrets get dragged out and relationships are tested. – Ambrosia M, Reynolds Corners
Rock from the Sky | Jon Klassen | Picture Book
A story of how sometimes the perfect place to stand isn't and you never know what will happen next. Humorous and suspenseful! – Cathy B, Main Library
Northern Spy | Flynn Berry | Adult Fiction
Set in Northern Ireland, a reporter's sister goes missing and she discovers that her sister has been living a secret life as an IRA Member. The reporter is torn between her loyalty to her family, her desire to find out her sister's whereabouts, and her need to protect herself from the violence of Irish politics. – Kristie L, Main Library
Drive the Race Car | Dave Mottram | Board Book
This cleverly designed board book is shaped like a steering wheel, making it the perfect choice for an interactive read-a-loud with your toddler. Rhyming text and colorful illustrations put you in the front seat of a race car! – John C, Waterville
 Things to Do in Toledo Before You Die | Tedd Long | Adult Nonfiction
Who says Toledo is boring? This book is a treasure trove of must-see and do locations in the Toledo area. Perfect for planning a daily outing or a staycation. – Adrienne A, Waterville
Madam | Phoebe Wynne | Adult Fiction
Rose Christie can't believe her luck…she has been hired to teach Classics at the exclusive Scottish boarding school for girls, Caldonbrae Hall. Little does she know the dark secrets and agenda of this esteemed institution. Perfect for fans of "dark academia." – Adrienne A, Waterville  
Feral Creatures | Kira Jane Buxton | Adult Fiction
Sequel to Hollow Kingdom, one of my all-time favs. Hilarious, irreverent, and thoroughly touching.  – Pete H, Sylvania
Project Hail Mary | Andy Weir | Adult Science Fiction
Ryland Grace is the sole survivor of a failed space mission. How does one save the universe from extinction? Pair up with an alien stuck in the same situation, of course. Technically brilliant and heart-wrenching all at the same time. A must-read. – Pete H, Sylvania
We Want a Dog | Lo Cole | Picture Book
With a fun rhyming text and hilarious illustrations in black, white, and red all the reasons for better or worse that we love dogs and want one for our very own, or do we… – Cathy B, Main Library
Stick and Stone Best Friends Forever! | Beth Ferry | Picture Book
A new adventure for best friends Stick and Stone as Stick searches for his family tree. Will it be an oak or maybe a maple? During the journey that gets kind of scary in the dark forest, Stick finds out that family is the people that love you. – Cathy B, Main Library
Seek You: A Journey Through American Loneliness | Kristen Radtke | Graphic Memoir
Somehow, Kristen Radtke has created a documentary film in a book. Radtke explores how the space between us has created a new epidemic in America: loneliness. Through exquisite illustrations and a perfectly woven blend of history and current events, Radke writes about our most vulnerable moments. – Abby B, Oregon
Kristen Radtke covers a lot of ground in this graphic novel about the loneliness epidemic in the United States, which COVID-19 has only exacerbated. Pulling from personal experiences as well as anecdotes from history (including some very, very disturbing experiments on monkeys) the author outlines how in a world with more people than ever before, we've come to feel so alone. – Katie M, Lagrange
The Guncle | Steven Rowley | Adult Fiction
Patrick has always adored his niece and nephew, Maisie and Grant, for their short visits. When Maisie and Grant's mother dies, GUP (Gay Uncle Patrick) must step into the role of their primary guardian. Put on your favorite caftan, pour yourself a drink, and get ready to laugh and cry in this humorous and heartwarming family story. – Abby B and Lisa G, Oregon
While Justice Sleeps | Stacey Abrams | Adult Fiction
When cranky Justice Wynn slips into a coma, his law clerk, Avery Keene, is informed of her status as his legal guardian and power of attorney. Enjoy this wild ride through the hall of the U.S. Supreme Court and the intricacies of Washington. – Abby B, Oregon
The Four Winds | Kristin Hannah | Adult Fiction
Set during the depression and the dust bowl migration, it's Elsa's story to tell, of her family's hardships, and means of survival in such a brutal time in our history. A compelling story of Elsa's personal journey as well as the one with her two children as they migrate to California to find work. The story also reveals what it takes to stand up for what is right, the sacrifices one makes, and how strong a mother's love can be. – Carol D, Mobile Services
This book was an education and emotional rollercoaster. Follow along with the life of Texas plains girl, Elsa, as she navigates the horrors of the dust bowl and Great Depression while taking care of her family. – Jozi H, West Toledo
Rhapsody | Mitchell James Kaplan | Adult Fiction
This is a sparkling tribute to George Gershwin and the jazz age. His tragically short life is intertwined with Kay Swift, another gifted composer of the era. There's romance, wit, and name-dropping galore. I read a lot of historical fiction, and I found this book exceptional! – Julie M, Birmingham
Our Woman in Moscow | Beatriz Williams | Adult Fiction
Russian espionage in a post-World War II setting, romance, family drama – this novel has it all and you won't be able to put it down. Beatriz Williams is the master of weaving multiple narratives over time, revealing clues all the way to a suspenseful conclusion. – Erin C, Main Library
Feelings | Manjit Thapp | Graphic Memoir
Manjit Thapp beautifully illustrates how feelings can mirror the seasons – from winter blues to carefree summers. You'll want to frame every page because each panel is so relatable and sheds light on your unspoken feelings. – Rebecca K, South .
Neon Gods | Katee Robert | Adult Fiction
In alternate universe city of Olympus, Persephone Dimitriou just found out she is supposed to marry Zeus, the mastermind of all evil in glittering Olympus. Instead of submitting to her fate as Zeus's next dead wife, Persephone flees the city and crosses the River Styx and into the undercity. She makes a deal with a man she thought to be a myth – Hades. This steamy retelling might have you clutching your pearls… or anxiously awaiting the sequel, coming in January 2022.  – Abby B, Oregon
It Happened One Summer | Tessa Bailey | Adult Fiction
After too much champagne leads to a night in jail, L.A. party girl Piper is sent to Westport, Washington to run her late father's dive bar. Immediately, Piper meets the local grumpy sea captain Brendan who thinks she won't last a week in the small town. Determined to prove him wrong, Piper works to remodel the dive bar and reconnect with her past – all while ignoring the sparks between her and Brendan. This spicy romcom had everything I want in a romance novel. You won't regret picking it up! – Abby B, Oregon
Malibu Rising | Taylor Jenkins Reid | Adult Fiction
Taylor Jenkins Reid writes the BEST books about fictional famous people and Malibu Rising is no exception. Told over the course of 24 hours (and some backstory, of course), four famous siblings prep to throw their annual end-of-the-summer party. In the final hours, the party will be out of control, the famous Riva mansion will burst into flames, and family secrets will spill. – Abby B, Oregon
Golden Girl | Elin Hilderbrand | Adult Fiction
A hit and run accident lands Vivi in the Beyond, where she has been granted one summer to look upon her children, and three "nudges" to influence their decisions. Golden Girl might make you laugh, and it might make you cry, but it will definitely make you fall in love with the characters and their stories throughout this golden summer. I loved this book because it was a good mystery and family drama all wrapped up in one addicting read.  – Alyssa M, Oregon
The Push | Ashley Audrain | Adult Fiction
What if motherhood is not everything you've hoped for, but instead it turns out to be everything you've ever feared? The Push is a psychological suspense that will leave you on the edge of your seat. This book was glued to my hands from beginning to end, I could not put it down!  – Alyssa M, Oregon
That Summer | Jennifer Weiner | Adult Fiction
I've recommended this surprisingly deep read to many people over the past several months with one caveat: make it until page 100 before you decide you want to quit. What seems like a breezy beach read set in Cape Cod is really a twisty mystery perfect for the Me-Too era. Trust me on this one – it's worth the wait! – Abby B, Oregon  
Winter's Orbit | Everina Maxwell | Adult Science Fiction
A Dune-style space odyssey with queer romance thrown in? I'm here for it.
Political intrigue and a mysterious death force Jainan and Kiem into an arranged marriage intended to settle the unease between their two worlds, and yet as secrets come to the surface, everything from the treaties that ease tensions to the romance that…does the opposite…keep you turning pages and guessing. Everina Maxwell somehow managed to write a sci-fi story for the most hardcore of fans that doubles as a romcom. – Allison F, Main Library
Playing the Cards You're Dealt | Varian Johnson | Juvenile Fiction
Playing spades and winning the town tournament is all 10-year-old Ant Joplin can think about. When family secrets come to light, should he keep quiet to protect those he loves? Smooth writing tackling heavy subjects while remaining appropriate for kids reinforces the idea that sometimes, you just have to play the hand you're dealt! – Mary R-M, Main Library
How the Word is Passed: A Reckoning With the History of Slavery Across America | Clint Smith | Adult Nonfiction
Smith grapples with the legacy of American slavery by visiting some of the physical locations where that brutal institution left marks: the Angola penitentiary, Jefferson's Monticello, the Whitney Plantation in Louisiana. Many locations are now monuments and museums which struggle to make sense of tragedy through tours and gift shops, but others – like New York City's financial district – are places where the remnants of their entanglements with slavery are nearly invisible. By combining personal travelogue with library research and interviews with other ordinary Americans, Smith creates a compelling investigation that's notable for its readability, its humility, and ultimately a kind of optimism. – Eric P, Washington
Black Boy Joy | Kwame Mbalia | Juvenile Fiction
It was the cover for me. A young black boy simply smiling. A smile so big and bright, you can see his future by looking at his eyes. After reading these 17 short stories celebrating Black Boyhood by all African American male writers, I felt the joy, I experienced the joy, and now I can't stop smiling too! – Kimberley F, Lagrange
The Good Sister | Sally Hepworth | Adult Fiction
A terrible thing happened when twin sisters, Rose and Fern, were just 12-years-old and this secret bonds them close. This suspenseful and twisty psychological thriller is set in Australia and includes quirky and surprising characters, a library setting, and a surrogacy plan. It was so good that I listened to the audiobook twice. – Nancy E, Main Library
Bodies are Cool | Tyler Feder | Picture Book
This picture book is a work of art, just like our bodies! Poetic and descriptive language is paired with inclusive imagery to make readers feel SEEN in the body they live in. Described by the publisher as a 'joyful body-positivity anthem,' this book is appropriate for any human in the mood to celebrate their body in all its glory. At Lagrange, we were pouring over the pages for days, pointing out and admiring the hidden details found within the illustrations. – Lagrange  Staff
Don't Hug Doug | Carrie Finison | Picture Book
Don't hug Doug (he doesn't like it.) Some people love hugs. Lots of people don't. And lots of people are somewhere in the middle. This book explains who you can hug and who you can't hug and when in doubt just ask if it's ok to hug. – Colleen M, Holland
Different: A Great Thing to Be! | Heather Avis | Picture Book
This story is about a kind and friendly girl named Macy who has Down Syndrome. Macy helps other children see that being different is a great thing to be! – Alyssa M, Oregon
Kafka and the Doll | Larissa Theule | Picture Book
This charming and softly illustrated book tells the story of an unlikely friendship between a novelist and a young girl. In 1924, during the last months of his life, Franz Kafka begins writing letters to a girl named Irma who has lost her favorite doll. What follows is a heartwarming work of fiction based on historical events. – Juliette H, Holland
The Madness of Crowds | Louise Penny | Adult Mystery
I began reading the Chief Inspector Gamache series at the beginning of the pandemic. It seems only fitting that the most recent one deals with the aftermath of a post-pandemic lockdown. As with all her stories, her books are very thought-provoking; a study in human nature and emotions that may lead one to murder. You'll enjoy the building of relationships, the growth of characters, and the whimsical humor. – Carol D, Mobile Services
The Rose Code | Kate Quinn | Adult Fiction
A fascinating historical fiction about the experiences of three women who worked together as codebreakers at Bletchley Park during WWII. It explores their relationships as well as their unlikely friendship. It draws you in as to what event(s) pulled them apart. What will it take to restore their bonds of friendship and to reveal the identity of a spy that had worked alongside them? – Carol D, Mobile Services
The Man with the Silver Saab | Alexander McCall Smith | Adult Fiction
This is the third book in the Detective Varg Series. Det. Ulf Varg works in the Department of Sensitive Crimes where most days are uneventful and lends themselves to philosophical discussions among his coworkers. The wit and quirky moments add charm to this latest installment. – Carol D, Mobile Services
The Box in the Woods | Maureen Johnson | Teen Fiction
This is the fourth (standalone) book that follows a trilogy involving a teen, Stevie Bell, and her friends you meet in the first set of books. She is a true-crime podcast follower and loves nothing more than a good old murder mystery which she successfully manages to solve every time. Maureen Johnson is great writer that has a pulse on teen attitudes, language, and relationships. – Carol D, Mobile Services
Change Sings: A Children's Anthem | Amanda Gorman | Picture Book
When a National Youth Poet Laureate teams up with an amazing bestselling illustrator, something magical happens. Follow along on a musical adventure as a young girl gathers a host of others to join the song for change. Readers of all ages are encouraged to find their own voice and use their abilities to make a difference in their communities. – Kate M, Main Library
Unspeakable: The Tulsa Race Massacre | Carole Boston Weatherford | Juvenile Nonfiction
A too often unspoken event in history is brought to life by author-winning author Carole Boston Weatherford and illustrator Floyd Cooper. Unspeakable begins with great detail describing the thriving African American community that was dubbed the Black Wall Street. It then goes on to chronicle the sequence of events between May 31 and June 1, 1921, that resulted in the destruction of that community. Author and Illustrator Notes provide their own personal connection to the story, illustrating why these unspeakable events cannot be silenced from history. – Kate M, Main Library
Flip!: How the Frisbee Took Flight | Margaret Muirhead| Picture Book
Frisbees are a ubiquitous sight at parks, beaches, and backyards across the world, but the history of these flying discs is relatively unknown. This well-researched picture book tells the incredible story of the popular American invention: the frisbee! – John C, Waterville
Living with Mochi | Gemma Gene | Graphic Novel
With Gemma Gene's Instagram comics growing in popularity, she decided to put out this collection of adorable illustrations about what it's like living with her pug, Mochi. As a pug owner myself, it's some of the most relatable content I've come across, but anyone will enjoy the humor and Mochi's little face. – Sam P, Main Library
Razorblade Tears | S.A. Cosby | Adult Fiction
Not for the faint of heart, Cosby's follow-up to Blacktop Wasteland is a riveting thriller that is as beautiful as it is violent; as thought-provoking as it is hilarious. Razorblade Tears takes the ingredients of a buddy cop movie and layers race, class, gender, and geography over top to create a compelling story of revenge and reflection. – Jason K, Main Library
The Shape of Thunder | Jasmine Warga | Juvenile Fiction
This book looks deeply at friendship, family, grief, and healing when the unthinkable happens to two best friends. Told in alternating points of view, Warga shows us how differently people and families process grief, and unspeakable acts touch an entire community. – Brooke C, King Road
Outlawed | Anna North | Adult Fiction
"In the year of our Lord 1894, I became an outlaw."
In a town where barren women are hanged as witches, Ada leaves behind everything she knows and joins the notorious Hole in the Wall Gang as a means of survival after her young marriage fails to result in a pregnancy. Led by the mercurial outlaw known only as the Kid, the Gang is fearsome and dangerous — and more than meets the eye. Outlawed is a riveting, complex story that explores themes of gender, race, agency, and chosen family. It pays homage to the traditional Western (yes, there are heists and shootouts, rugged landscapes, a no-good sheriff, and a feisty nun) while also upending it with its feminist take on the genre. – Stephanie E, Main Library
People We Meet on Vacation | Emily Henry | Adult Fiction
This book is the perfect getaway… well, a more realistic one: two best friends who don't quite match but somehow complete each other despite it all. Lay back in your backyard cabana and drift away on a summer vacation you won't want to miss. – Leigh D, Reynolds Corners
Dial A for Aunties | Jesse Q. Sutanto | Adult Fiction
Meddlin Chan, her mother, and three aunties run a prominent wedding planning business in southern California. When Meddlin accidentally kills her blind date on the eve of an important wedding, her meddling family swoops in to protect their dear niece. If you're looking for a cozy mystery in the style of Crazy Rich Asians, look no further! – Oregon  Staff
Blush | Jamie Brenner | Adult Fiction
Hollander Estates Vineyard has been in operation on Long Island's North Fork since 1970 and is the premier location for lavish events and romantic afternoons on the veranda. When the dire state of the vineyard's finances comes to light, three generations of women come together to try to save their family legacy. This book has it all: lush descriptions, forbidden love, family secrets, a hidden diary, trashy 80s romance novels, and a women-only book club. Pour yourself a glass of rosé and settle in for a perfect read. – Abby B, Oregon
Blacktounge Thief | Christopher Buehlman | Adult Fiction
This is a wonderful adventure fantasy written by a fantastic storyteller, Christopher Buehlman. I tried my hardest to not read it too quickly, but I found I couldn't put it down and now I have to wait for the next book. For fans of epic adventures, Joe Abercrombie, Glen Cook, and Daniel Abraham. – Adam T, Mobile Services
Think Again | Adam Grant | Adult Nonfiction
"Changing your mind doesn't make you a flip-flopper or a hypocrite. It means you were open to learning." This book celebrates curiosity and provides practical, respectful ways to push for better outcomes, both professionally and personally. It also gave me a huge reading list of more materials (which are all available at the Library) to challenge the status quo.  – Terri C, Main Library
Concrete Rose | Angie Thomas | Teen Fiction
Everything is coming up roses for Maverick Carter. He's got a great girlfriend, a tight-knit family, and is almost finished with high school. But when his cousin is murdered and Maverick finds out he has a baby on the way, his life is uprooted. This prequel to The Hate U Give gives us a look into the beginning of the Carter family and how different their story could've been. – Lauren H, Lagrange 
READING YOUR WAY
Request print copies online – pick up at your preferred location during open hours OR pick up in the 24/7 lockers at select locations by choosing a "Lobby Locker" location during your request.
hoopla or Overdrive to get audiobook or ebook format.
Request the book as a Playaway – a pocket audiobook with a headphone jack that is preloaded with a book. No other device, technology, or WiFi is needed to use a Playaway.