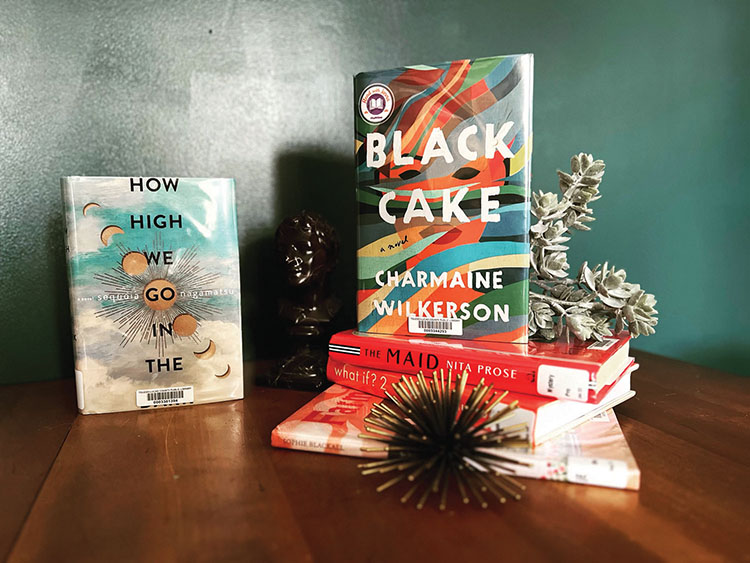 TLCPL'S BEST BOOKS OF 2022
By Katie Midgley, Manager, Lagrange Branch
As someone obsessed with books (I'm a librarian, don't act surprised), I can say the end of the year is a magical time for me, and it has absolutely nothing to do with the holidays. No, I'm not interested in movie marathons of Elf or Home Alone, for me, it's all about the BOOK LISTS. At the end of December, I dedicate an entire day to sifting through the multitude of lists highlighting the year's best titles. Then, I log on to my Goodreads account (where I track what I have read and what I want to read) and feverishly add at least 100 more books to my TBR (to be read) list. If I lived to be 300 years old, I still wouldn't have enough time to read all the books I've added. And yet, the list continues to grow each year. I'm powerless against it.
My greatest hope for you, dear reader, is to add a healthy number of books to your own ever-growing TBR list. To assist with this, TLCPL has joined the fun and created our own list of favorite books from 2022.
You'll find something for every taste on this list, and we've narrowed it down to several categories: Youth and Young Adult, Graphic Novels, Adult Fiction, and Adult Nonfiction. For a full list of our recommendations, check our extended recommendations below. Happy reading!
YOUTH AND YOUNG ADULT
Farmhouse | Sophie Blackall
This is a beautiful story of a family and their home. Inspired by the author's experience with an old farmhouse, she created the illustrations using layers of paper and other scraps from the house. Flip through the pages, then read the author's note at the back. It's a feast for the eyes! Abby Byers, Waterville
Knight Owl | Christopher Denise
A fun story of a small owl who has always wanted to be a sword-wielding, armor-wearing, dragon-facing knight. He overcomes his physical challenges and helps to save the day, all the while staying true to himself. Joe Cowley, Locke
My Parents Won't Stop Talking | Emma Hunsinger
A delightful insight into what kids feel when "the adults are talking" and not paying attention to them. I particularly love how Molly's imagination overcomes her surroundings entirely until she's snapped back to reality when the adults are finally done doing whatever it is they do. Kids will be able to identify, and parents will enjoy the subtext of the parent conversation. Patrick Cook, King Road
Mina | Matthew Forsythe
Stunningly illustrated and charming. When something bad happens to Mina, she learns that it will be okay in the end. A good tale for an anxious kid. Sadira Heer, Sanger
Noodle and the No Bones Day | Jonathan Graziano
The hearts of millions have been captured by the sweet prince himself, Noodle. With his sage wisdom of 16 years, Noodle has taken social media by storm with his intuitive predictions on how the day is going to go. With the help of his person, Jonathan, they created this book to explain that it's perfectly okay to have No Bones days—to treat yourself with care and take life one day at a time. Sam Ponke, Main Children's Library
My Fade is Fresh | Shauntay Grant
Grant has written yet another book about how important it is to have a village that supports you. This book reminds adults to listen to children and what they want for themselves, along with what it can look like when a child receives the love and compassion they need. You can't read this book and not smile from ear to ear! Holley Jackson, Holland
Jennifer Chan Is Not Alone | Tae Keller
This book had me from the opening scene when people watching a school orchestra concert start to get texts about Jennifer Chan, who has gone missing. Mallory wonders if the disappearance has something to do with "the incident." Did she and her friends go too far? She is determined to use Jennifer's journals to find out. Regina Stevenson-Healy, Children's Library
How To Survive Your Murder | Danielle Valentine
If you enjoy 90's slasher film vibes, you'll enjoy this book. The protagonist is coming to terms with the death of her sister. She travels back in time to watch the murder play out and comes across the chance to intervene. Joyce Souva, Teen Library
Whiteout | Dhonielle Clayton, Tiffany D. Jackson, Nic Stone, Angie Thomas, Ashley Woodfolk, Nicola Yoon
A colossal snowstorm has hit the streets of Atlanta. No one was prepared for the city's complete shutdown. Now 12 friends must fight the snow and possibly each other to help their friends find love. From the authors of 2021 New York Times Best Seller Blackout, this collection of interwoven stories is filled with hope, friendship, and unconditional love. Kimberley Fisher, Lagrange
GRAPHIC NOVELS
Frizzy | Claribel A. Ortega
Frizzy is an excellent graphic novel about a middle schooler named Marlene. Marlene has fabulous, curly hair that she loves. However, her mother insists she go to the salon every week to get it straightened so she can look "presentable." This graphic touches on the negative impact of beauty standards placed on young women, learning to embrace your natural curls, and the importance of having people in our lives who accept us as we are. Olivia Drees, Holland
Fantastic Four: Full Circle | Alex Ross
Comic legend Alex Ross returns to Marvel Comics with a new take on a classic Fantastic Four story from the 1960s. Each page is brimming with awe-inspiring cosmic imagery as the Fantastic Four venture deep into the heart of the Negative Zone. The action is fast, but Ross keeps the story grounded with crisp dialog and well-placed humor. Fantastic Four: Full Circle keeps the spirit of Stan Lee and Jack Kirby alive while introducing fresh concepts for a new generation of readers. John Cook, Waterville
Ducks: Two Years in the Oil Sands | Kate Beaton
Ducks is a graphic novel memoir of Katie, a Canadian forced to leave her home to work the oil sands of Alberta to survive financially. Illustrated to perfection, Katie's longing for home and the stark nature of the oil fields is captured beautifully. Adrienne Amborski, Waterville
ADULT FICTION
Tomorrow, and Tomorrow, and Tomorrow | Gabrielle Zevin
Gabrielle Zevin plumbs deeply into lifelong friendship and love via fictional video game designers who hit it big in the early days of gaming. Read this book and you may love Sam and Sadie just as much as I did, despite their very human flaws. And if you know video gaming, bonus! Susan Skitowski, Maumee
What Moves the Dead | T. Kingfisher
This short retelling of Edgar Allan Poe's The Fall of the House of Usher, puts a new twist on a classic. When an old war veteran, Alex Easton, finds out that their childhood friend has fallen deathly ill, they rush across the country to say their final goodbyes. Despite Easton's years of bloody battle experience, even they are not prepared for what they find at the House of Usher. Nicole Cook, West Toledo
Book Lovers | Emily Henry
Very much like other Emily Henry novels, this book has complex family relationships that entangle the character's love lives. Other than a happy ending, you can always appreciate that the characters diversify themselves from the stereotypes set up at the beginning of the novel. Andy Lechlak, Communications, Innovation, and Strategy
Thank You for Listening | Julia Whelan
A must read for audiobook lovers. Sewanee Chester is an audiobook narrator that gets roped into recording one last romance audiobook, with the mysterious and infamous narrator that goes by the stage name, Brock McNight. Sewanee has tried to distance herself from romance novels, and romance itself, but she's pulled back in when she connects with Brock over more than narration. Rebecca Kramer, South
Olga Dies Dreaming | Xochitl Gonzalez
Olga and her brother Pietro were abandoned by their mother in their teens. As successful adults in Brooklyn, Olga as a wedding planner, Pietro as a congressperson, they are now facing long-held family secrets as Puerto Rico is devastated by Hurricane Maria. Puerto Rico's history and struggle provides a backdrop to this beautifully written family drama. Ricki Brisbin, Administration
The Maid | Nita Prose
A mystery delightfully narrated by Molly, a maid at a posh hotel who finds a prominent guest dead in his bed and then is accused of the murder. An intriguing whodunit but also a heartwarming story of accepting differences and empathy for others. Patti Lusher, Waterville
Mercy Street | Jennifer Haigh
Told from two points of view, the first from a woman who has worked at a low-income health care clinic that also provides abortions. The other from a man who actively works to stop women and the clinic from providing those services. The motivations and consequences of each narrator are unique and not what you would expect from two characters that could be reduced to stereotypes. Kristie Lanzotti, Collection Development
The Daughter of Doctor Moreau | Silvia Moreno-Garcia
Silvia Moreno-Garcia delivers a beautifully detailed story of the daughter of genius, or perhaps insane, Doctor Moreau. Growing up isolated from the world in the lush Yucatan in 19th century Mexico, Carlota tries to unravel the mysteries of her father's work. This book will have you imagining the sounds, tastes, and smells of its setting and will undoubtedly keep you intrigued until the end. Andrea Vallejo, Lagrange
The Bullet That Missed | Richard Osman
Senior sleuthing is alive and well at the luxurious Cooper's Chase retirement village in this third installment of the popular Thursday Murder Club series. Our four perspicacious and intrepid retirees investigate the cold case disappearance of a local TV reporter and fast-paced fun and adventure ensue! Jennifer Green, Main Circulation
Mickey7 | Edward Ashton
Mickey7 is an Expendable: a disposable employee sent to colonize a distant world. After one iteration dies, a new body is regenerated with most of his memories intact. After six deaths, Mickey7 understands why they sent a disposable person. On a routine mission, Mickey7 is (again) left for dead but gets rescued by a sentient native species on the verge of being destroyed by the colonists. By the time he returns to base, Mickey8 has been created. Now both have a real problem: there can be only one Mickey at a time. This is also a film in development starring Robert Pattinson, Toni Collette, and Mark Ruffalo. Amy Hartmann, Collection Development
ADULT NONFICTION
I'm Glad My Mom Died | Jennette McCurdy
Like most people, the book's title caught my eye and made me so curious, I just HAD to put my name on the holds list. I am so lucky I did. I'm Glad My Mom Died is a rare memoir that reads like a novel. It is raw, hard to read at times, and quite funny. If you are not offended by the title, I highly recommend reading this book. Lindsey Crego, Computers and Media
Dilla Time: The Life and Afterlife of J Dilla, the Hip-Hop Producer Who Reinvented Rhythm | Dan Charnas
Dilla Time is the first book to define and put into historical perspective the musical achievement of the hip hop producer J Dilla (James Yancey). Dan Charnas deftly navigates music theory, J Dilla's life, and the legacy he left behind in a way that is easily digestible for casual listeners and sufficient for musicians and those whose lives have been changed by J Dilla. Finally, we get a proper book about the man who reinvented rhythm. James Keith, Kent
Running While Black | Alison Mariella Desir
"In my experience there is nothing this country loves more than myths rooted in exclusion and privilege. It is just so peak American to disregard what is clearly rooted in oppression and elitism as somehow neutral," says author Alison Mariella Desir (@alisonmdesir). The simple act of running has never been simple for people of color and the author's personal story will make you laugh and cry. Jennifer Day, Reynolds Corners
Finding Me | Viola Davis
Viola Davis's memoir is deep and real and shares the good, bad, and ugly. It will leave you with an even deeper respect for her talents, and newfound respect for her perseverance and determination. Brooke Cox, Birmingham
We are the Troopers | Stephen Guinan
Guinan is a great storyteller! His retelling of the Troopers' experience includes in-depth looks at the coaches and players, both their family backgrounds and often individual portraits, along with game details that are remarkable. It is an extraordinary story that fleshes out a pivotal era in Toledo during the dawn of Title IX. Gayle Harmon-Hebert, Local History
Traveling Black: A Story of Race and Resistance | Mia Bay
Traveling Black explores and details the reality of, and responses to, key facets of structural racism in the United States ("Jim Crow" cars, sundown towns, etc.) that have historically impeded the movement, the very FREEDOM, of Black folks in the United States. Profound, timely, and timeless. Brett Collins, Kent
What My Bones Know | Stephanie Foo
Foo explores her diagnosis of complex PTSD, a condition from trauma occurring continuously over years. She delves into her life before, during, and after her diagnosis in hopes of understanding how complex PTSD affects her life, and how she can begin to move forward with that knowledge. Rebecca Kramer, South
Hello, Molly! | Molly Shannon
Fans of Saturday Night Live may assume Molly Shannon's memoir, Hello, Molly! is simply a backstage pass to the series' most beloved recurring characters, Mary Katherine Gallagher, and Sally O'Malley. But it's so much more. In addition to her time on SNL, Shannon takes you through her early life story and the unfortunate heartbreak that helped her develop these comedic staples. As a reader, you can't help but applaud Shannon, and her ability to keep being funny, despite all that life has thrown at her. Lucas Camuso-Stall, Administration
EXPANDED ONLINE RECOMMENDATIONS
YOUTH and YOUNG ADULT 
Hey, Bruce!: An Interactive Book | Ryan T. Higgins 
A silly continuation of the Mother Bruce series—the mice Rupert, Thistle, and Nibbs star as the guides to this fun-loving interactive story. As you follow the mice's instructions, the reluctant Bruce is dragged along into ever-sillier actions. Joe Cowley, Locke 
The Three Billy Goats Gruff | Mac Barnett 
A retelling of the classic fairy tale, this hilarious twist has the three clever goats tricking the scary troll. With dark and fun illustrations, this book breathes new life into the vintage story. Joe Cowley, Locke
Chirp! | Mary Murphy 
A joyous welcoming to a new day's dawn by noisy birds. They all sing out in their different voices in this colorful picture book for young children. Patti Lusher, Waterville 
Creepy Crayon! | Aaron Reynolds 
Jasper Rabbit from Creepy Carrots! is back! When Jasper finds a purple crayon that will do his schoolwork for him, he is excited. Be careful what you wish for! Adrienne Amborski, Waterville 
I Am Thinking My Life | Allysun Atwater 
The power of positivity is a present theme in this picture book. A young girl believes in herself and discovers what she loves by engaging with the world around her. Molly Evans-Penn, Children's Library 
Alphabedtime | Susanna Leonard Hill 
An absolutely adorable bedtime ABC book. The rhyming text matched with large bold illustrations makes this a perfect book to be shared with young children. Brooke Cox, Birmingham 
Angry Me | Sandra V. Feder 
Navigating your feelings is hard. Feder helps little ones find nuance in anger by naming emotions: sad, frustrated, tired, and hurt. Once the anger passes, there's room for new emotions. A great introduction to understanding and communicating complex emotions. Rebecca Kramer, South 
Bad Drawer | Seth Fishman 
This book highlights the importance of collaboration and finding personal strengths. It also features an assortment of unique and fun illustrations sure to be loved by all. Emily Vicary, Ready to Read 
Pig the Rebel | Aaron Blabey 
Pig the pug is up to his old tricks again. Because of his wild ways, Pig is headed off to obedience school. This book is filled with rhymes and good times, which will be sure to entertain all readers! Elisia Miranda, Ready to Read 
Kitty | Rebecca Jordan-Glum 
As Aristotle once said: mistaken-identity comedy is the best kind of comedy. If someone's a raccoon, it's even better. Eric Pfeffinger, Fact and Fiction 
Not that Pet | Smriti Prasadam-Halls 
Mabel wants a pet, but not just any pet will do. When hyenas are too giggly, bears are too growly, and wolves are too howly, which animal will be right for their family? This book is perfect for story time with its rhythmic cadence and unexpected pets on each page. Morgan Rinckey, Lagrange 
I'm a Unicorn | Helen Yoon 
This book is funny, inspiring, and motivational. It reminds us that we define who we are and tells children to not just create their own path, but also to be supportive of others when they go after what they want! Holley Jackson, Holland 
Parfait, Not Parfait | Scott Rothman 
The problem with some picture books is that they make too much sense. This one doesn't fall into that trap. Eric Pfeffinger, Fact and Fiction 
Bearnard Writes a Book | Deborah Underwood 
In the sequel to Bearnard's Book, Bearnard the bear decides that his friend Gertie the Goose needs a book written about her. So Bearnard sets out on a creative exploration of Gertie's life. What ensues is a charming and fun look at the writing process. A lovely book! Peter Wicks, Kent 
Who Will Kiss the Crocodile | Suzy Senior 
A funny, rhyming retelling of the fairy tale Sleeping Beauty. An angry fairy, not invited to the ball, casts a spell that turns the princess into a crocodile. Only a kiss will break the spell, but who would dare kiss a crocodile? A delightful tale with an important message of female empowerment. Cathy Bartel, Public Services 
If You Find a Leaf | Aimée Sicuro 
A creative and playful approach to imagining how the leaves around us can be so much more. Perfect for a little artist or explorer. Rebecca Kramer, South 
Pizza! A Slice of History | Greg Pizzoli 
In the United States, we eat 350 slices of pizza every second! This is a fun, fact-filled history of pizza and its spread around the world. The colorful illustrations and engaging text show the variety of ways that people throughout the world like their pizza. Cathy Bartel, Public Service 
I'm a Volcano! | Bridget Heos 
The second book in the Science Buddies series, a volcano takes readers through the formation and life of an active volcano. With simple text and funny, informative illustrations, young readers can learn a lot about these exploding wonders. Cathy Bartel, Public Services 
So This Is Ever After | F.T. Lukens  
A funny, subversive romantic fantasy about what happens *after* the evil ruler is defeated, and the good guys are way out of their wheelhouse. Kelsi Roth, Holland 
Firekeeper's Daughter | Angeline Boulley 
Daunis, who is part Ojibwe, defers attending the University of Michigan to care for her mother and reluctantly becomes involved in an investigation. It's part coming of age, part thriller! Erin Connolly, Sylvania  
These Twisted Bonds | Lexi Ryan 
This sequel to These Hollow Vows lands us back with Abriella in the world of the fae and caught in the middle of a love triangle. Besides being entangled with two princes, Abriella is struggling to free her sister from the all-powerful fae king holding her captive. There may only be one way to get herself out, by any means necessary. Lauren Howald, King Road  
Me (Moth) | Amber McBride 
I'm all in for powerful, unforgettable journeys, and that is what Me (Moth) is about. Moth lives with her aunt after losing her family in an accident, and she feels alone and uprooted. She meets a boy named Sani, and the two take a road trip together, chasing ghosts and searching for ancestors! Joyce Souva, Teen Library 
GRAPHIC NOVELS: 
Wingbearer | Marjorie M Liu  
The beautiful art and fantastic worldbuilding in this graphic novel makes it stand out from the rest. I could easily see this series taking its place alongside Jeff Smith's Bone or Kazu Kibuishi's Amulet series. I look forward to reading the rest of the series. William Johnson, Point Place 
Pixels of You | Ananth Hirsh and Yuko Ota 
An almost philosophical look at the intersection between art and technology, identity, and perception. In the future, cybernetics and artificial intelligence are becoming commonplace. When an android and a cybernetically augmented human are forced to work together on a photography project, they must figure out how to navigate their relationship to their art, the artistic medium itself, and each other. Morgan Blake, Point Place 
Shuna's Journey | Hayao Miyazaki 
Beautiful and moving in that way only Hayao Miyazaki can do, Shuna's Journey is now available in English. The graphic novel follows Prince Shuna on his quest for golden seeds, a grain that could end the famine in his valley. On his journey, he encounters cannibals, slavers, magical forces, and more. Reminiscent of Princess Mononoke, Castle in the Sky, and Nausica of the Valley of the Wind, this is a must-read for fans of Miyazaki's work. Morgan Blake, Point Place 
Ain't Burned All the Bright | Jason Reynolds and Jason Griffin 
Jason Reynolds navigates the experience of a Black family living in America during societal unrest and COVID-19. The complex emotions come across through impactful verse and art. Rebecca Kramer, South 
Keeping Two | Jordan Crane 
Hopping between past, present, and imagined future, between fictional creations and terrified fantasies, the 300-page emerald-toned graphic novel Keeping Two becomes a powerful exploration of the palpable emotional reality of trauma, whether it's happening in your imagination or your memory, whether in the pages of a novel you're reading or something that's occurring right now. Eric Pfeffinger, Fact and Fiction 
A Man and His Cat, volumes 3-7 | Umi Sakurai
A Man and His Cat continues its heart-warming story of lonely pianist Mr. Kanda and his unique cat Fukumaru. After being passed over for years at the pet store, Fukumaru is finally adopted and discovers what it means to love and to be loved. This story rings true for anyone who was surprised to find themselves joying life once again after suffering a tragedy, and for all cat owners, too! Morgan Blake, Point Place 
House of Slaughter. Vol. 1: The Butcher's Mark | James Tynion IV 
For anyone who enjoyed the fast, bloody action of Something Is Killing the Children, House of Slaughter is a must-read. Exploring the history of one of the main series' side characters, House of Slaughter gives more insight into the dangerous and harsh world of monsters and monster hunters. What does it mean to be loyal and to love in a world where any sign of affection could be a weakness? Morgan Blake, Point Place 
Black Paradox | Junji Ito 
The master of horror manga, Junji Ito, is back with a new, weird, and unsettling story. Four individuals who are unhappy with their lives find themselves in the middle of a bizarre tale as they face doppelgangers, androids, and portals to…somewhere else. If like me, you need some Junji Ito to tide you over until the Uzumaki anime comes out, this really hits the spot. Morgan Blake, Point Place 
ADULT FICTION: 
Our Missing Hearts | Celeste Ng 
There's a reason Celeste Ng is a household name in the literary world, and Our Missing Hearts only adds to her legendary status. Our Missing Hearts takes place in a dystopian world, not unlike our own. For the last decade, America has been governed by laws written to preserve "American culture" and ban anything that doesn't align. Asian Americans, like our main character, Bird, have been hit particularly hard by these laws. His mother left the family and disappeared without a trace when he was nine years old. Ng unravels a stunning story about injustice, the power of words, and how to survive in a broken world. Do not miss this one. Abby Byers, Waterville 
How High We Go in the Dark | Sequoia Nagamatsu 
Archaeologists unwittingly release a worldwide plague when their dig site uncovers an ancient virus. How High We Go in the Dark deals with the societal aftermath of such an event with a series of harrowing and connected short stories focused on an array of how the world deals with what it faces, from euthanasia theme parks to funeral hotels. Franco Vitella, Fact and Fiction 
The Hacienda | Isabel Canas 
Fans of Mexican Gothic looking for another combination of Latin culture and the supernatural with subtle romance, and strong female leads, this one is for you (and anyone else who loves a modern gothic/horror!) The protagonist, Beatriz, believes her new marriage is the key to a safer, settled life after the trauma of her past. She soon learns, however, that her new station in life brings dangers of its own. With the help of a local priest, Beatriz must choose to abandon this new life or face her fears and conquer the spirits of the Hacienda. Emily Seadin, Human Resources 
See You Yesterday | Rachel Lynn Solomon
Protagonist Barrett Bloom has the worst luck of anybody on her first day of college. To make it even worse, she's stuck in a time loop with a know-it-all classmate in her physics class. I loved getting to see the two main characters, Barrett and Miles, fall in love while reliving the same day over and over. Their adventures and conversations with each other made me want to reread this book a second time! Ana Rofkar, Children's Library 
Talk Santa to Me | Linda Urban 
If you look forward to Christmas for Hallmark movies, this book is for you! Frankincense (Francie) Wood's family owns a holiday shop and a Santa school in her hometown. After losing the world's best Santa, her Grampa Chris, will she be able to save the holiday spirit in her hometown? Including a sweet love story with a boy from the tree lot, this story will not disappoint your love for the holidays. Ana Rofkar, Children's Library 
Hook, Line, and Sinker | Tessa Bailey 
Book 2 in the Bellinger Sisters series is phenomenal. The first book captured a more raw look at attraction, but the second in the series focuses on a deeply emotional romantic connection in how two people, over time, can move from friends into a relationship. If you enjoyed the first novel, the second one improves in every facet. Andy Lechlak, Communications, Innovation, and Strategy 
Sleepwalk | Dan Chaon 
For fans of road trips, The Big Lebowski, and conspiracy theories that involve international efforts to propagate the genes of a single person. Franco Vitella, Fact and Fiction  
Manhunt | Gretchen Felker-Martin 
This book is a fun, ridiculous, over-the-top, unapologetic blood bath. The heroines of this story are trans women who must fight to survive in a world terrorized by wild, cannibalistic men and by battle-ready TERFs. This book has a lot of heart and loads of style and is unlike anything I've read thus far. Juliette Hebert, Holland 
The Winners | Fredrik Backman 
The third book in the Beartown series brings the characters that Fredrik Backman has so beautifully created full circle. Hockey, family, the cold, and small-town rivalry bring people together and tear them apart. The relationships in this novel are intricate and authentic. I continued to cheer for Beartown long after I finished The Winners. Ricki Brisbin, Administration 
Funny You Should Ask | Elisa Sussman 
Based on a real-life interview between Chris Evans and an up-and-coming writer, this book is the best kind of romantic fiction. Touching and realistic, funny where it needs to be, and serious when appropriate. It explores unfair standards on both men and women, the complexities of relationships in the digital age, and what it is to truly be genuine. And oh…the romance. *swoons* Allison Fiscus, Public Service 
The Kiss Curse | Erin Sterling 
Witch Gwyn Jones is living her best life. She owns Graves Glen's popular witchcraft shop, Something Wicked, spends time with her talking cat Sir Purrcival, and mentors young witches at the local university. Enter Llewelyn "Wells" Penhallow (Esquire.) Gwyn's former colleague and now professional rival doesn't understand the witch he's going up against. Will Wells and Gwyn be able to put aside their differences (and boundless attraction for each other) to stop a mysterious new coven from draining Gwyn's power? Abby Byers, Waterville 
Trust | Hernán Díaz 
An innovative novel about money, capitalism, and the personal lives of the upper echelons of wealth. Hernan Diaz established himself as an important author with his debut novel In the Distance and continues excellent work here. Franco Vitella, Fact and Fiction. 
A Prayer for the Crown-Shy | Becky Chambers 
The second Monk and Robot book, A Prayer for the Crown-Shy continues Becky Chamber's exploration of a kinder, more satisfied, and more accepting world. Tea Monk Sibling Dex guides curious robot Mosscap through human society on a quest to answer robot-kind's question: What do people need? This is a must-read for fans of science fiction who are tired of bleak, violent depictions of the future. Morgan Blake, Point Place  
Terms and Conditions | Lauren Asher 
Book 2 of Lauren Asher's Dreamland Billionaires series is pure delight and full of your favorite tropes: the marriage of convenience, grumpy/sunshine, and workplace romance. Iris works for Declan, CFO of Dreamland (think Disney World.) When his future CEO status is in jeopardy, Iris and Declan marry to fulfill the wish of Declan's deceased grandfather. What happens when their fake marriage becomes a little too real? Abby Byers, Waterville  
Electric Idol | Katee Robert 
Let's count the tropes. 1. Grumpy/Sunshine (check) 2. Forced Proximity (check) 3. Marriage of Convenience (check) 4. Touch-Her-and-You-Die Protectiveness (check) @katee_robert is back for more Greek myth retelling, this time with the tale of Psyche and Eros. Is there anything better than a ruthless bad guy turned cinnamon roll? (No, the answer is no.) Allison Fiscus, Public Service 
The Perfect Crimes of Marian Hayes | Cat Sebastian 
This surprisingly funny historical romance follows Marian Hayes, the Duchess of Clare, who has just shot her husband. He might have deserved it, but that won't save her from the consequences. To protect herself and her infant daughter, Marian teams up with her would-be blackmailer Rob, who happens to be the most cheerful conman you could imagine. Marian and Rob are the best of "opposites attract," their dynamic is sarcastic and odd, but you still root for them until the end. Kelsi Roth, Holland 
Less is Lost | Andrew Sean Greer 
Have you missed Arthur Less? Our protagonist in (Pulitzer Prize-winning) Less from 2017 returns in Less is Lost, which is just as beautifully written and endearing. We find our hero traipsing across the U.S. on one of many missions encountering people one would refer to as 'characters' while driving a rickety travel van and seeking solace, debt relief, and the one he loves. I strongly suggest you read or re-visit Less prior to taking this one on. Rachel Stewart, Maumee 
Other Birds: A Novel | Sarah Addison Allen 
If a complete escape into fantasy isn't your jam and you like the idea of a world that is just a little softer and kinder, then join me in my favorite genre of magical realism. Sarah Addison Allen is an expert in this genre and once again delivers a welcome escape from reality where the unexpected is part of life's tapestry. Terri Carroll, Communications, Innovation, and Strategy 
Part of Your World | Abby Jiminez 
Small-town romance meets forbidden love meets a baby goat in pajamas (!?!). I LOVE ALL THESE THINGS. Abby Jiminez is back with her signature blend of love, real life, extremely admirable leading men, and the best dogs that fiction has to offer. When Dr. Alexis Montgomery crashes into a ditch (to avoid a raccoon, as one does), the last thing she expects is the unfairly hot carpenter Daniel Grant to not just save her, but also to feed her grilled cheese, introduce her to a baby goat in pajamas, and make her fall in love and question everything she *thinks* is important in life. Allison Fiscus, Public Service 
Carrie Soto Is Back | Taylor Jenkins Reid 
My TJR overall favorite, not just of 2022. The best tennis player in the world: Carrie "the Battle Axe" Soto spends her entire life chasing these seven words. And with 20 Grand Slam titles to her name, she's earned the phrase. After retiring, there's a new kid on the block that is ready to take her record. So, Carrie decides to do the unprecedented, come back to tennis at 37, and keep her record. Coached by her father, hitting partner (and maybe more?) Bowe, will Carrie be able to win in the new world of tennis? One thing's for sure: Carrie Soto is back. Lauren Howald, King Road 
Spells for Forgetting | Adrienne Young
For a book that is no less than spellbinding (see what I did there), pick up Young's latest, great for spooky season or a cozy winter read. On their island, the mysterious death of one girl in a tight-knit group of four friends leaves the group, and their town, broken. But the island has a way of calling you back to its shores, to old friendships, feelings, and secrets that have refused to stay buried. Lauren Howald, King Road 
Night of the Living Rez | Morgan Talty 
The title sounds like a horror movie, and there's a jar of teeth and a rotting carcass. But the monsters here are the poverty, addiction, and disease that ravage this Penobscot Indian Nation reservation, rendered bearable by the indomitability of Talty's characters and the pitiless deadpan of his prose. Eric Pfeffinger, Fact and Fiction 
Didn't Nobody Give a Shit What Happened to Carlotta | James Hannaham 
A trans parolee fresh out of prison after twenty years, Carlotta fumbles buoyantly through her first day of freedom in a world where everything's stacked against her. Slapstick shaggy-dog comedy is built over brutalizing trauma, like erecting an amusement park on top of a crime scene. The novel's voice is inimitable and irrepressible, its capacity for empathy boundless. Eric Pfeffinger, Fact and Fiction 
Vladimir | Julia May Jonas 
These compellingly drawn, hopelessly neurotic college professors would like to be self-actualized, sexually adventurous characters in a John Updike novel, but instead, they find themselves as self-absorbed, self-deluded figures in a #MeToo deposition. You may not want to hang out with any of these folks, but reading about them is captivating. Eric Pfeffinger, Fact and Fiction 
You Made a Fool of Death with Your Beauty | Akwaeke Emezi 
This book ripped my heart from my body, squished it around a bit, then gently placed it back where it belongs with a little pat. A navigation of death, grief, art, life, moving on, and, of course, love, all in one unconventional romance. Quick, someone give this book to Shonda so she can work her Bridgerton magic, and we can get a Netflix series. Allison Fiscus, Public Service 
Meet Me in the Margins | Melissa Ferguson 
Book culture romances are just fun! This one takes place at a small publishing company in Nashville when the big wig owner's son comes in from New York to help run the business, upsetting the apple cart. Jozlyn Heckel, Ready to Read  
The It Girl | Ruth Ware 
This book does a good job bouncing between past to present. It keeps you guessing until the end. Great read! Amber Kroggel, Public Services 
All This Could Be Different | Sarah Thankam Mathews 
With a deceptively loose structure that mirrors the rootless aimlessness of life in one's twenties, this is an unsparing and authentically literary portrait of millennial generational anxiety and the callous defects of the modern American economy. Eric Pfeffinger, Fact and Fiction 
A Very Merry Bromance | Lyssa Kay Adams 
Lyssa Kay Adams does it again with her Bromance Book Club series! A charming country music star, a determined immigration attorney, and a second chance at love, all during Christmas time. The perfect holiday rom-com! Kelsey Rader, Communications, Innovation, and Strategy 
The School for Good Mothers | Jessamine Chan 
Every parent has a difficult day…parenting is exhausting. But what kind of support do we offer mothers trying to "do it all," and are our expectations of mothers reasonable? Are we fair in the role mothers play, versus what we expect from a father? At what point is it appropriate for society to intervene in family life, and when we do so, are the child's best interests always kept in the center? This novel's prose is expertly written, but don't expect easy answers to these questions. You may want to throw the book at the wall when you're done. Julie Erhart-Walton, Main Circulation 
Demon Copperhead | Barbara Kingsolver 
A young man growing up in Appalachia has a great many cards dealt against him. Try as he might, his life is riddled with loss, trauma, addiction, poverty…the list goes on. But he does find support here and there, enough to survive and keep some faith in humanity. And we hope, eventually thrive. Kingsolver is often a writer of epics; she never shies away from creating a story with a vast scope and complicated themes, but her prose is accessible and page-turning. Demon Copperhead will certainly not disappoint her longtime fans. Julie Erhart-Walton, Main Circulation 
Black Cake | Charmaine Wilkerson 
A debut novel that spans decades from the 1950s in the Caribbean Islands to England and ending in the West Coast of the U.S. A true melting pot story of inheritance, secret identities, heritage, surfing, and a plot to kill. The Black Cake is a traditional island wedding cake that is the thread to hold stories and families together. Linda Fayerweather, Small Business and Nonprofit Support 
Anywhere You Run | Wanda M. Morris 
This is a gripping story of two sisters on the run for quite different—but not entirely dissimilar—reasons. Set in 1964, this is a murder mystery that follows one sister working for a civil rights organization and the other—pregnant, unmarried, and wanted for a murder she desperately hopes will not catch up with her. If comparisons are helpful, I'd place Anywhere You Run alongside S.A. Cosby's Razorblade Tears or Blacktop Wasteland, but Anywhere is decidedly less graphically violent. Jason Kuscma, Administration 
We Had to Remove This Post | Hannah Bervoets 
This timely novella about a team of social media content moderators, power, and conspiracies feels a little too close to home (ahem, Twitter), but serves as a thoughtful meditation on the costs and (increasingly limited) benefits of living online. Jason Kuscma, Administration 
The Marriage Portrait | Maggie O'Farrell 
Historical fiction set in the 1500s about an artistic, intuitive young aristocratic woman and her arranged marriage to a wealthy landowner. Part mystery, with beautiful descriptions of life in that time period. Kristie Lanzotti, Collection Development  
Sea of Tranquility | Emily St. John Mandel 
Set in the same world created by Mandel in Station Eleven and The Glass Hotel, this novel goes back in time from the present day and hundreds of years to the future. I think it is amazing how the author can connect vastly different characters and storylines into a cohesive and original novel. Kristie Lanzotti, Collection Development 
Pay Dirt Road | Samantha Jayne Allen 
A young woman returns home to her small Texas town after graduating from college. She works in a diner and gets involved in the family's private detective business when a coworker is found dead, and she is one of the last people to see her alive. Kristie Lanzotti, Collection Development 
Shit Cassandra Saw | Gwen E. Kirby 
Funny, fearless, exuberant, enraged. In these stories of myths and ghosts and monsters and unclaimed luggage, toxic dudes get what's coming to them. A catalog of responses to aggressions, micro- and otherwise. Eric Pfeffinger, Fact and Fiction 
The Messy Lives of Book People | Phaedra Patrick 
Have you ever owned a book you loved reading over and over and know the characters and their stories so well you dream of becoming a writer yourself? This book will take you to that place, and more. Patrick has an endearing way of weaving one's dreams, hopes, and reality with humor, and this novel is no exception. I found it to be entertaining, gratifying, and well worth one's time reading. Carole Delsignore, Sylvania  
The Kingdoms of Savannah | George Dawes Green 
This book is riveting, a rich and complex story of Savannah with its charms as well as its not-so-glorious history. Chapters are told from different characters' perspectives that uncover relationships and various connections. It's thought-provoking and a timely social commentary. I found it captivating. Carole Delsignore, Sylvania 
The Woman in the Library | Sulari Gentill 
It isn't easy to write a mystery review without giving anything away. The good development of characters and the twists and turns of a story within a story felt fresh and fascinating. It was one of the best mysteries I've read in some time. Carole Delsignore, Sylvania 
You Can Run | Rebecca Zanetti  
This is an exciting first book in a new series. Well-written with engaging characters, humor, thrills, suspense, and romance. Start it when you have some time because it is difficult to step away from it. The audiobook narration of this book was excellent. Andrea Francis, Public Services 
The Golden Enclaves | Naomi Novik 
This final book in the Scholomance series follows protagonist Galadriel Higgins on a world-hopping adventure with massive stakes to the dark academia world crafted by author Naomi Novik. It's exciting, but also reveals far more depth to the world than we were offered in the first two books, giving us answers to some of the readers' early questions before closing the series with satisfaction. Recommended for adult fans of Harry Potter, The Magicians, or Dungeons & Dragons. Patrick Cook, King Road 
Her Majesty's Royal Coven | Juno Dawson 
Her Majesty's Royal Coven had my complete attention right until the last page, especially the last page! In a world where cis women are witches, and cis men are warlocks, how will a powerful trans witch play into the mix? Will the coven change their views to let her join, or will she bring about the prophecy to summon Leviathan and end witchkind? Morgan Rinckey, Lagrange 
House of Sky and Breath | Sarah J Maas 
Maas's most ambitious series by far, Crescent City is a culmination of all the high points of ACOTAR and Throne of Glass, and she keeps the pace going with book two in the series. Plus, it really does end with the cliff hanger of all cliff hangers. Allison Fiscus, Public Services 
ADULT NONFICTION: 
Happy-Go-Lucky | David Sedaris 
Happy-Go-Lucky is the perfect telling of finding the hidden gems of laughter even in the most trying moments of life, even if those moments are laughing at yourself. With a collection of short essays, David Sedaris yet again finds humor in the darkest of times. Leigh Dorr, Mobile Services 
Voice of the Fish: A Lyric Essay | Lars Horn
A gorgeously written, dreamlike collection of essays. Horn explores the internal and external experience of living in one's body with, yes, many interludes about fish. Somehow it all makes beautiful sense and truthfully captures the author's personal experience of being trans. Janet Rhodes, Local History 
Ultimate Road Trips: USA & Canada | Andrews Collins 
Looking to hit the road for that next great vacation? It will be hard to narrow down your top choice after reading this book full of suggestions for excursions, accommodations, and top restaurant picks! Adrienne Amborski, Waterville 
If Nietzsche were a Narwhal | Justin Gregg 
Was the philosopher Friedrich Nietzsche too smart for his own good? Considering the world's changing climate, humanity's deep history of war and mass killings, and the everyday persecution of members of the human race, perhaps human intelligence isn't all it's cracked up to be. In If Nietzsche were a Narwhal, Justin Gregg, a researcher of dolphin social cognition, makes the compelling argument that humans, as well as nonhuman animals and the world at large, would be better off without human-level intelligence. Emily Seadin, Human Resources 
This Is What It Sounds Like | Susan Rogers 
This is a must-read for music lovers! The author, a professor of cognitive neuroscience and experienced sound engineer, uses science to explore why we love our favorite songs. You will learn to explore your musical personality and realize that all of us can be active, passionate listeners. Michelle Eggert, Computers and Media 
An Immense World | Ed Yong 
Yong explores how the world's species use different senses to experience the world. Dogs, for example, interpret the world mostly through their sense of smell. I appreciated the self-deprecating sense of humor with which Yong invited the reader to learn with him. I am all for an accessible science book, and this one is a gem. Regina Stevenson-Healy, Children's Library 
Stolen Focus | Johann Hari 
Hari's books generally focus on many of the mental health issues we face in the 21st century, and in this case, our inability to focus IS the focus. Sounds confusing? Stolen Focus goes in depth about why it feels like our ability to focus has decreased. As it turns out, this has been happening for hundreds of years, and the cause is way more than technology. Take a deep dive into this topic and learn about ways you can "steal" the focus back. Hannah Grohowski, Holland 
What If? 2 | Randall Munroe 
An excellent, browsable book for science buffs, and those who like a slice of weird. A sequel to the popular What If? original book, with more of the same thought-provoking prose and humor. Therese Luchsinger, Fact and Fiction 
The Nineties | Chuck Klosterman 
Full of nostalgia for those that were there and a guidebook for anyone that seeks to understand the zeitgeist of the "Oh well, whatever, never mind." decade. While Klosterman only scratches the surface of what the 90s meant, he chooses topics that cover a wide range of important moments in our culture. He amuses, informs, and attempts to explain the unexplainable. If you or someone you know used or consumed any of the following between 1990-1999, please urge them to read this immediately:  
flannel, Crystal Pepsi, Platform flip-flops, vests, AOL. Rachel Stewart, Maumee 
How to Keep House While Drowning | KC Davis 
I finally feel seen! This book introduces six principles of home care that make the SELF the priority. She removes the idea that the state of your home determines your worth, and helps you let go of the pursuit of perfection. Davis repeats the phrase, "you don't exist to serve your space; your space exists to serve you," and helps you lean into that way of living. Brooke Cox, Birmingham 
How Do I Un-Remember This? | Danny Pellegrino 
Danny Pellegrino is hilarious as he tells stories from his childhood and his family adventures. Some include his underage brother driving the family van, and others involve him having grown-up conversations with a playmate's mom. All are funny and really set the mood for when you need some levity. Holley Jackson, Holland  
Raising Lazarus | Beth Macy 
In a follow-up to her 2018 bestselling Dopesick, Beth Macy reflects on the last decade of the second opioid crisis. As she does in Dopesick, Macy distills this massive, impossible, and unprecedented national health crisis down to its core in the hardest-hit places. Macy follows the extraordinary people fighting the crisis on the ground. You'll be inspired, infuriated, and informed. Abby Byers, Waterville 
Things to Look Forward To | Sophie Blackall 
You always need something to look forward to, and Sophie Blackall reflects on a few ideas in this beautifully illustrated piece. Rebecca Kramer, South 
How to Be Perfect | Michael Schur 
From the co-creator of Parks and Rec, and the writer and producer of The Good Place, How to Be Perfect takes you through philosophical theories and scenarios of everyday life with a comedic spin. From the "Trolley Problem" to Existentialism, Schur examines how we can be better people, despite the inevitable truth that we will continue to mess up and make mistakes. You'll laugh and "hmm…" during this read! Lucas Camuso-Stall, Administration 
Sandy Hook | Elizabeth Williamson 
An insightful and unflinching chronicle of the horrific 2012 massacre and its heartbreaking aftermath, a story of families wrestling with grief and the fanatical strangers who insist they're lying about their losses. Eric Pfeffinger, Fact and Fiction 
Somebody Feed Phil the Book | Phil Rosenthal 
If you are looking for a mood-boosting family-friendly Netflix series, Somebody Feed Phil is sure to infuse feelings of friendliness, joy, and laughter as its host, Phil Rosenthal, travels the world to sample food, meet people, and learn about their culture. The book is the same, but THE RECIPES. It contains recipes. If you like to cook, enough said. Jennifer Day, Reynolds Corners 
Tell Me Everything | Erika Krouse 
The true telling of novice private investigator, Erika Krouse, hired by lawyers to find out more information about serial sexual assault on a large university campus. Her ability to get people to trust her, to tell her the truth, and to bring justice to the victims impact Krouse's personal life and brings up her own past with sexual assault. Kristie Lanzotti, Collection Development 
Reading for Our Lives | Maya Payne Smart 
Parents are their children's first teachers. Reading for Our Lives empowers parents with the tools they need to also be their children's best teachers. Based on the findings of cognitive science, Smart outlines steps to intentionally move beyond providing a literacy-rich home environment to explicitly provide the foundation instruction children need to thrive academically. Kate McGowan, Ready to Read 
Bittersweet | Susan Cain 
Do you love to play a sad song on repeat? Look forward to rainy days? Tear up a little when you see an amazing sunset? If so, you're probably someone embracing the bittersweet side of life, and you MUST read this book. Using a mixture of research and personal examples, Susan Cain explores how sorrow and longing can lead to creativity, connection, and transcendence. Katie Midgley, Lagrange 
Chasing History: A Kid in the Newsroom | Carl Bernstein 
This insightful and quick-reading memoir from one of the country's best journalists is one of my favorite reads of 2022. In 1960, Carl Bernstein was a high school student at risk of flunking out. He landed a job as a copyboy for the Evening Star (an afternoon paper in Washington D.C.) and was a reporter by the age of 19. Part of what makes this such an enjoyable read is the history that is covered: the JFK presidency, the start of the Vietnam War, and the civil rights movement. If you're an American history buff, news junkie, or love of All the President's Men, this is a must-read. Abby Byers, Waterville  
Hooked: How Crafting Saved My Life | Sutton Foster 
This "behind the scenes" looks into Sutton Foster's life and career as a Broadway star was captivating! An honest but hilarious journey into her life, Sutton takes her readers through the ups and downs and describes the craft that went with it. Christina Gaydos, Collection Development 
Alive at the End of the World | Saeed Jones 
Saeed Jones writes poems armored in defense mechanisms. Cleverness and comedy and candor and knowingness and allusiveness and autobiography marshaled to deal with a world of pain: the pain of sidewalk bigotries and mass shootings, of stolen genius and generational trauma. One poem is comprised entirely of expressions of grief structured like street-corner taunts: each stanza has the rhythm of a joke, but in the place of each punchline is sorrow. Like the predecessors he invokes in his poems—Richard Pryor, Paul Mooney, Little Richard—Jones is an entertainer, but his raw material is bruises. Eric Pfeffinger, Fact and Fiction