Top Tourist Spots Around the World
Posted on February 9, 2017
Vouchercloud has reviewed every country's top tourist destination from TripAdvisor, a user-generated website that rates all things travel related. There are 197 countries with 76 natural attractions, 54 historic attractions, 38 generic tourist attractions, and 29 religious attractions. You may want to review this list to know where to visit or avoid, depending on the type of traveler you are.
Below, you'll find a listing of some of the most beautiful and unusual attractions that you may not know about. Happy travelling!
South America
Daniel Campos Province, Bolivia
Salar de Uyuni
Bolivia holds the world's largest salt flats.
Photo by Luca Galuzzi
Paraná State, Brazil
Iguazu Falls
These falls are one of the largest waterfall systems in the world.
Photo by P.D. Tillman
Magallanes y la Antártica Chilena Region, Chile
Torres Del Paine National Park
This park has rare animals, glaciers, and mountains made of granite.
Photo by Winkyintheuk
Bolívar, Columbia
Walled City of Cartagena
The historic city was founded in 1533, but was settled by indigenous people in 4000 B.C.
Photo by Alex Rocha
North America
Coffee Gully, Barbados
Hunte's Gardens
This lush garden is full of tropical flowers, trees, foliage, statues, antiques, and more.
Photo by P. Dean
Morne Trois Pitons National Park, Dominica
Boiling Lake
This is one lake you won't want to swim in. The second largest hot spring in the world is over 197 degrees Fahrenheit.
Photo by Göran Höglund
Ilulissat, Greenland
Ilulissat Icefjord
Ilulissat Icefjord is one of the most actively growing glaciers in the world.
Photo by Greenland Travel
Roatán, Honduras
Little French Key
If you're looking for the true definition of an island paradise, look no further than Honduras. There are many activities, excellent restaurants, and lots of places to sit back and relax.
Photo by Little French Key Association
Ocho Rios, Jamaica
Island Gully Falls
One of the best swimming holes in the world.
Photo by Nick Sherman
Masaya, Nicaragua
Masaya Volcano National Park
Tourists usually have a 2 hour wait to get a 15 minute glimpse of this volcano. However, everyone says it's worth the wait.
Photo by Jorge Mejia Peralta
Africa
Belas, Angola
Miradouro da Lua
Tourists feel like they're visiting the moon when seeing these cliffs.
Photo by Paulo César Santos
Lalibela, Ethiopia
Rock Hewn Churches
There are 11 medieval churches carved out of the colossal rocks.
Photo by Rod Waddington
Cape Town, South Africa
Table Mountain
Travelers can hike or take a cable car up to the top of this prominent mountain that overlooks Cape Town.
Photo by Miquitos
El Jem, Tunisia
El Jem Amphitheatre
This 3rd-century Roman amphitheater held up to 35,000 spectators.
Photo by Dennis Jarvis
Australia/Oceantic
Central and Northern Provinces, Papua New Guinea
Kokoda Track
This historic trail was one of the battlegrounds during the Pacific War (World War II).
Photo by Nomad Tales
Coron, Philippines
Kayangan Lake
After a ten minute climb, one can find crystal clear waters concealed in the mountain walls.
Photo by Bro. Jeffrey Pioquinto, SJ
Lotofaga, Samoa
To-Sua Ocean Trench
Tourists love to swim in this grotto located on a volcanic island.
Photo by Tishamp
Tongatapu Island, Tonga
Mapu'a' Vaea Blowholes
Waves crash into the volcanic rock that forces water up and out, creating natural spouts.
Photo by Holger Behr
Luganville, Vanuatu
Millenium Cave
This experience will take you under waterfalls, swimming down rivers, rock climbing, and more.
Photo by sydneydawg2006
Asia
Thimphu, Bhutan
Taktsang Palphug
The Himalayan Buddhist temple, named Tiger's Nest, was built in the 1600s in honor of the legend of Guru Rinpoche who reportedly flew on the back of a tigress to this spot, about 10,000 feet above sea level.
Photo by Richard Hopkins
Kuala Lumpur, Malaysia
Petronas Tower
These beautiful towers were the tallest in the world from 1998 until 2004 and are currently the 8th tallest.
Photo by Juan Pablo Arancibia Medina
Bagan, Myanmar
Bagan Temples
Bagan has the largest and densest concentration of Buddhist temples in the world.
Photo by Nicholas Kenrick
Muscat, Oman
Sultan Qaboos Grand Mosque
This modern mosque can hold up to 20,000 people and has the world's second largest hand-woven carpet and chandelier.
Photo by Prasad Pillai
Lahore, Pakistan
Badshahi Mosque
Completed in 1673, this was the world's largest mosque for 313 years. Currently, this is the 7th largest in the world, but remains one of the most beautiful.
Photo by Muhammad Ashar
Darvaza, Turkmenistan
Door to Hell
An underground natural gas cavern's ceiling collapsed in 1971, releasing methane gas. Geologists set the crater, the size of a football field, on fire to prevent the toxic gas from spreading and the fire has been going ever since.
Photo by Tormod Sandtorv
Hội An, Vietnam
Ancient Town
Established in the 15th century, the antiquated buildings made of traditionally carved wood have been preserved incredibly well, which is the main reason for its popularity.
Photo by Rapidacid
Europe
Brussels, Belgium
Grand Place
The flower carpets were first created in 1971 in the town square, and the tradition continues every August on even years only.
Photo by Wouter Hagens
Blaskogabyggd, Iceland
Gullfoss Falls
The 75 foot waterfall is truly the gem of Iceland.
Photo by O. Palsson
Sintra, Portugal
Quinta da Regaleira
This romantic palace has a chapel, aquarium, grottoes, fountains, underground walkways, and wells that were not used for water, but for Tarot initiation rites. The palace is now an important national monument, and is open to the public.
Photo by Stijndon
Sinaia, Romania
Peleș Castle
Constructed from 1873-1914 for King Carol I, the style of this castle combines Gothic Revival and Neo-Renaissance architecture. Now a museum, one can witness the opulent craftsmanship and various works of art.
Photo by Tiberiu Sahlean
Città di San Marino, San Marino
Guaita
The fortress was built in the 11th century to protect citizens during sieges and house their military forces. Later, it was used as a prison and currently it serves as a museum.
Photo by Ricardo André Frantz
Saint Petersburg, Russia
Church of the Savior on Spilled Blood
This Russian Orthodox Church took 24 years to complete because of its intricate mosaics and grandiose size. The church was also used as a temporary morgue in WWII, a warehouse, and is currently a museum.
Photo by NoPlayerUfa
World Travel Books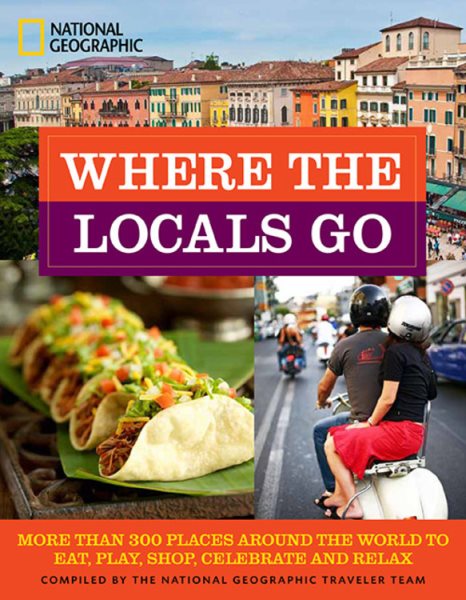 Where the Locals Go: More Than 300 Places Around the World to Eat, Play, Shop, Celebrate, and Relax compiled by the National Geographic Traveler Team

For many, the joy of travel is often an authentic, immersive experience of the local culture. Here, National Geographic's insider tips offer a unique look at the places and activities around the world that captivate the residents–from regional festivals, undiscovered local restaurants, and lesser-known art galleries, to quiet places to sit and watch another world stroll by. A bonus chapter features in-depth experiences in the top 15 greatest cities. This book goes beyond Internet basics to ensure rewarding and memorable travel for those who crave a deeper understanding of a country and its people. When in Rome, they say, do as the Romans do. Discover the soul of a place through a chance encounter, a kind word, or an unparalleled tip from a local. In Where the Locals Go, you'll find hundreds of authentic, beautifully photographed travel experiences, complemented with nuggets of entertaining and insightful text informed by locals. Now, you, too, can join the locals in Venice on their evening passeggiata; mingle with the crowds at sunset on Juhu Beach in Mumbai; sample some of France's best cheeses in the Alpine town of Annecy; and walk the ancient peak-to-peak pilgrimage on Japan's Kunisaki Peninsula. This book will inspire you to make your next trip a truly authentic travel experience.
Frommer's Places For Passion: The 75 Most Romantic Destinations in the World — and Why Every Couple Needs to Get Away by Pepper Schwartz, PhD, Janet Lever, PhD

Formats: Print

Today Show contributor, AARP Sex and Relationship Ambassador, and best-selling author Pepper Schwartz has teamed up with Janet Lever (former coauthor of Glamour's Sex and Health column) to create a guidebook to the world's sexiest destinations. Along with the detail-rich text on their top 75 picks, the authors make a solid case for why traveling together is an important factor in improving and sustaining the romance in our lives. This witty, helpful book also dishes the dirt on how to pick the right destinations, why travel can rekindle sparks, tricks and tips for passion, and ways to constructively negotiate with your significant other about vacation plans.
Epic Bike Rides of the World: Explore the Planet's Most Thrilling Cycling Routes by the Lonely Planet

Formats: Print

Discover 200 of the best places to ride a bike in this beautifully illustrated hardback. From family-friendly, sightseeing urban rides to epic adventures off the beaten track. Destinations range from France and Italy, for the world's great bike races, to the wilds of Mongolia and Patagonia. These journeys will inspire – whether you are an experienced cyclist or just getting started. Each ride is illustrated with stunning photography and a map. A toolkit of practical details – where to start and finish, how to get there, where to stay and more – helps riders plan their own trips. There are also suggestions for three more similar rides around the world for each story. Each piece shows how cycling is a fantastic way to get to know a place, a people and their culture.
Travel With Children: Family-Friendly Travel Without the Fuss by the Lonely Planet – contributors, Sophie Caupeil, Jean-Bernard Carillet, Sandrine Gallotta, Jonathan Tartour, Marie Thureau

Formats: Print

Provides tips and advice for traveling with children to over eighty countries around the world, identifying the top family-friendly attractions and experiences in each country while sharing practical travel tips.
Lonely Planet's The Best Things in Life are Free: The Ultimate Money-Saving Travel Guide by Isabel Albiston [and 39 others] ; foreword written by Tom Hall

Formats: Print

Lonely Planet's The Best Things in Life are Free is packed full of money-saving tips, tricks and recommendations for the best-value sights and experiences around the world. From parks, museums and exercise classes that are free, to insider ideas on food and experiences offered at great value, this book features over 60 major cities around the world and promises to help any traveler on a budget to make the most of their trip.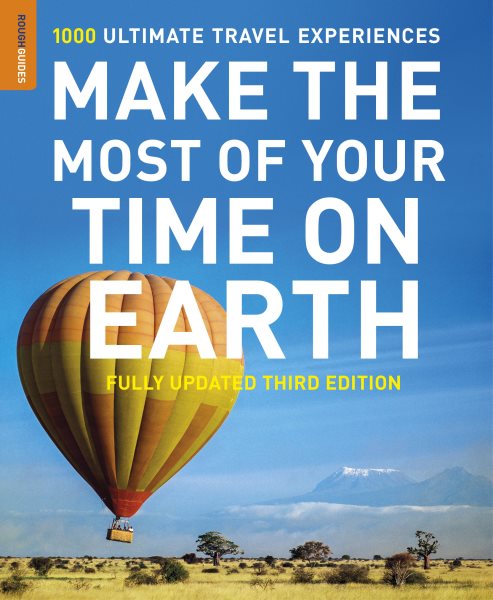 Make the Most of Your Time on Earth: The Rough Guide to the World
Formats: Print
This book contains a thousand unique experiences, taking in all seven continents and almost two hundred countries. Rough Guide writers and photographers have been traveling the globe for three decades, and this fully updated second edition – with over two hundred new pieces – is the result.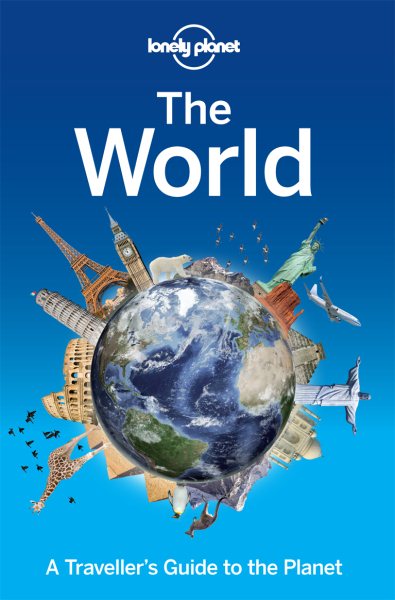 The World: A Traveller's Guide to the Planet by the Lonely Planet – contributing author, Will Gourlay; coordinating product editor, Penny Cordner

Formats: Print

We've distilled 40 years of travel know-how into the first guidebook to our entire planet. In this ultimate A to Z, every country has a detailed map, essential facts, inspirational images and its must see highlights. Discover the highlights of 221 countries in glorious colour, explore your interests, plan itineraries and find out how to get around, Our authors share travel secrets and local insights, Includes 228 maps, 700 images and 1595 highlights (approx. 2-5 pages per country).
The World's Most Romantic Destinations: 50 Dreamy Getaways, Private Retreats, and Enchanting Places to Celebrate Love by Abbie Kozolchyk

Formats: Print

National Geographic reveals 50 gloriously romantic vacations in this inspirational planner for weddings, honeymoons, anniversaries, Valentine's Day, and other amorous special occasions. Filled with more than 200 color photographs of dreamy places, from secluded beaches to exotic jungles to luxurious spas, this book offers the perfect passionate escape to those who have just found love or are celebrating a lifetime of it.
---
Featured Image Credit: Travel Map – courtesy of Vouchercloud.
---
Disclaimer: The information included in this blog post is for informational / educational purpose only. The Toledo Lucas County Public Library does not endorse any businesses featured in this blog post.
Did you like this blog post? Keep up to date with all of our posts by subscribing to the Library's newsletters!