We Shall Overcome: Great True Stories of Overcoming Hardship
Posted on February 22, 2017
Truth really can be more amazing than fiction. The Toledo Library has all kinds of true stories of people rising above overwhelming odds and managing to succeed and even thrive in spite of situations that seem impossible. Learning about their experiences, we are inspired and feel more hopeful about dealing with our own life challenges. Move over first-world-problems! Prepare for a massive dose of thrilling and awe-inspiring perspective …
Touching the Void by Joe Simpson
Movie based on book: DVD
Simpson and his friend, Simon Yates, were climbing the Andes when Simpson plunged off an ice ledge, breaking his leg. Darkness fell and a blizzard raged as Yates tried to lower his friend to safety, and eventually, Yates was forced to cut the rope, moments before he would have been pulled to his own death. Yates, certain that Simpson was dead, returned to base camp consumed with grief and guilt over abandoning him. But miraculously, Simpson survived the fall and had to find a way to reach base camp before Yates left for good.
A Hope More Powerful Than the Sea: One Refugee's Incredible Story of Love, Loss and Survival by Melissa Fleming
Adrift in a frigid sea, no land in sight―just debris from the ship's wreckage and floating corpses all around―nineteen-year-old Doaa Al Zamel floats with a small inflatable water ring around her waist and clutches two children, barely toddlers, to her body. The children had been thrust into Doaa's arms by their drowning relatives, all refugees who boarded a dangerously overcrowded ship bound for Sweden and a new life. For days, Doaa fights to stay alive and not lose hope. This is the stunning story of a young woman, an international crisis, and the triumph of the human spirit.
Wave by Sonali Deraniyagala
Print | Audiobook | eBook | eAudiobook
On the morning of December 26, 2004, on the southern coast of Sri Lanka, Sonali Deraniyagala lost her parents, her husband, and her two young sons in the tsunami she miraculously survived. In this brave and searingly frank memoir, she describes those first horrifying moments and her long journey since.
Unbroken: A World War II Story of Survival, Resilience, and Redemption by Laura Hillenbrand
Print | Large Print | Audiobook | eBook | eAudiobook
Movie based on book: DVD | Blu-ray
In 1943, an American military plane crashed into the Pacific Ocean and disappeared. The only survivor was a young lieutenant, Louis Zamperini. As a boy, he had been a clever delinquent, breaking into houses, brawling, and stealing. As a teenager, he had channeled his defiance into running, discovering a supreme talent that carried him to the Berlin Olympics. But when war came, the athlete became an airman, embarking on a journey that led to his doomed flight, and an amazing saga of survival in spite of soul-crushing odds.
127 Hours: Between a Rock and a Hard Place by Aron Ralston
Movie based on book: DVD
Hiking into the remote Utah canyon lands, Aron Ralston, was in a deep and narrow slot canyon when a boulder tumbled loose, pinning Aron's right hand and wrist against the canyon wall. Through six days of hell, with scant water, food, or warm clothing, and the terrible knowledge that no one knew where he was, Aron eliminated his escape options one by one. Then a moment of stark clarity helped him to solve the riddle of the boulder, and commit one of the most extreme and desperate acts imaginable.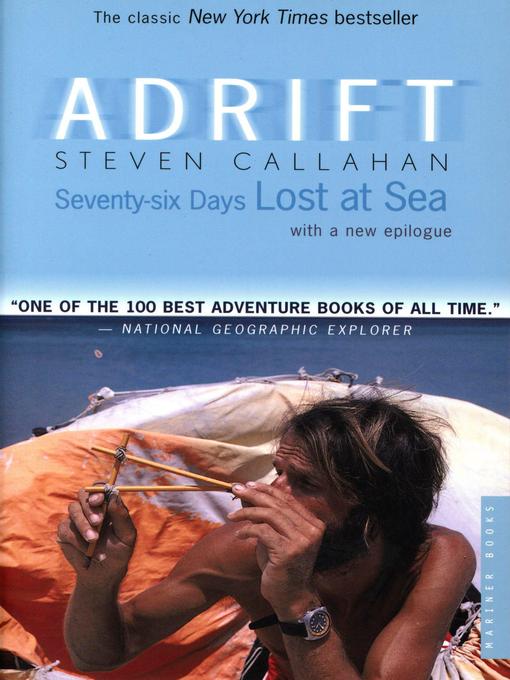 Adrift: Seventy-Six Days Lost at Sea by Steven Callahan
Before The Perfect Storm, before In the Heart of the Sea, Steven Callahan's dramatic tale of survival at sea was on the New York Times bestseller list for more than thirty-six weeks. In some ways the model for the new wave of adventure books, Adrift is an undeniable seafaring classic, a riveting firsthand account by the only man known to have survived more than a month alone at sea, fighting for his life in an inflatable raft after his small sloop capsized only six days out.
The Pursuit of Happyness by Chris Gardner
Movie based on book: DVD
In a candid, intensely personal memoir, a successful entrepreneur traces his journey from growing up with an abusive stepfather, to life on the streets as a homeless man with a small toddler in tow, to his triumphant battle to the top as a self-made millionaire.
Absolutely True Diary of a Part-time Indian by Sherman Alexie
Print | Large Print | Audiobook | eBook | eAudiobook
Alexie tells the story of Junior, a budding cartoonist growing up on the Spokane Indian Reservation. Determined to take his future into his own hands, Junior leaves his troubled school on the Res to attend an all-white farm town high school where the only other Indian is the school mascot. Heartbreaking, funny, and beautifully written, this story is based on the author's own experiences.
David and Goliath by Malcolm Gladwell
Print | Large Print | Audiobook | eBook | eAudiobook
Three thousand years ago on a battlefield in ancient Palestine, a shepherd boy felled a mighty warrior with nothing more than a stone and a sling, and ever since then the names of David and Goliath have stood for battles between underdogs and giants. David's victory was improbable and miraculous. He shouldn't have won … or should he have?
In David and Goliath, Gladwell challenges how we think about obstacles and disadvantages, offering a new interpretation of what it means to be discriminated against, or cope with a disability, or lose a parent, or attend a mediocre school, or suffer from any number of other apparent setbacks. The best-selling author of Outliers uncovers the hidden rules that shape the balance between the weak and the mighty, the powerful and the dispossessed.
Behind the Beautiful Forevers: Life, Death and Hope in a Mumbai Undercity by Katherine Boo
Print | Audiobook | eBook | eAudiobook
In this brilliant, breathtaking book by Pulitzer Prize winner Katherine Boo, a bewildering age of global change and inequality is made human through the dramatic story of families striving toward a better life in Annawadi, a makeshift settlement in the shadow of luxury hotels near the Mumbai airport.
Born a Crime: Stories from a South African Childhood by Trevor Noah
Noah tells his coming of age story during the last gasps of apartheid-era South Africa and the turbulent years that followed. Noah was born illegal–the son of a white, Dutch father and a black Xhosa mother, who had to pretend to be his nanny in the brief moments when the family came together. His brilliantly eccentric mother loomed over his life — an aggressively involved, if often seriously misguided, parent who set Noah on his bumpy path to stardom.
Cast Away: True Stories of Survival from Europe's Refugee Crisis by Charlotte McDonald-Gibson
In 2015, more than one million migrants and refugees, most fleeing war-torn countries in Africa and the Middle East, attempted to make the perilous journey into Europe. These stories have been heart-breaking front-page news, but the individuals involved often remain nameless and detailed accounts of their ordeals remain few. In one of the first works of narrative nonfiction on the ongoing refugee crisis, this book describes the agonizing stories and the impossible decisions that migrants have to make as they head toward what they hope will be a better life.
The Fix: How Nations Survive and Thrive in a World in Decline by Jonathan Tepperman
Print | eBook | eAudiobook
A provocative look at the world's most difficult, seemingly ineradicable problem and the surprising stories of the countries that solved them. Tepperman identifies 10 pervasive and seemingly impossible challenges, including immigration reform, income inequality, political corruption and Islamic terrorism, and shows that each has a solution, and not merely a hypothetical one, but one that has been proven in a real hotspot in the world.