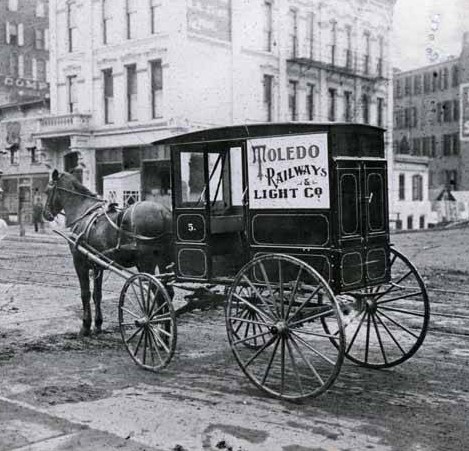 YOUR HISTORY. YOUR LIBRARY.
Books and artifacts inside the Local History & Genealogy Department lay a foundation of who we are today in Toledo and Lucas County.
– Extensive newspaper archives, yearbooks and other artifacts
– Trace your genealogy
– Discover your house history
– Read accounts of the labor movement
Family Tree Workbook. Download our workbook and begin your family history search at home.
One-to-One Appointments. Request an appointment with a librarian to assist you with resources for your question.
Contact us! Email our Local History & Genealogy Department or call 419.259.5233 with questions or to use the Rogowski-Kaptur Labor History Room.
Stay connected! Sign up for the Local History newsletter.
The Library indexes obituaries as a service to the community.
If you find the name of the individual that you are searching for, we can email a scan of the obituary to you.
Out-of-state residents pay $3 per obituary scan.
The Toledo Lucas County Public Library partners with Ohio Memory to present our growing digital archive of collections and exhibits on topics including (but not limited to):
Architecture and buildings
Genealogical records
Historical documents and photos
Toledo historical records
Updated regularly, there is always something new to explore in Digital Collections!
Our Local History Department houses a growing list of physical collections, including:
Special Collections for Lucas County
Genealogy Collections
Newspapers on Microfilm
Local Government Records on Microfilm
A diverse collection of rare and valuable items. Highlights include:
Thomas Jefferson letter dated 1800
First edition history of the Indian Tribes of North America by Thomas L. McKenny and Jones Hall
Complete set of Nancy Drew first editions written by Toledoan Mildred Benson
Original oil painting by well-known artist Edmund Osthaus (one of three the Library owns)
Ship model of the Horace S. Wilkinson
THE BLADE RARE BOOK ROOM GUIDELINES:
PLANNING YOUR VISIT
The Toledo Lucas County Public Library (TLCPL) welcomes researchers who have projects related to TLCPL collections. Materials are viewed in The Blade Rare Book Room (BRBR) under staff supervision.
Unable to visit in person? Email our Local History & Genealogy Department or call 419.259.5233 to start learning and researching today!
Please make an appointment for your visit. If you are not able to make an appointment, access to materials may depend on staffing levels at the time of your visit as a librarian will remain in the room while items are in use.
Entering The Blade Rare Book Room
All bags (including purses and laptop cases), coats, hats, umbrellas, and other personal items must be placed in the lockers adjacent to the entrance of the department.
Food, hard candy, and chewing gum are not permitted in the department. Bottled water is the only beverage permitted in the department. Food or drinks (including bottled water) are not allowed in The Blade Rare Book Room.
Only pencils are allowed in the BRBR. Customer may bring paper. Laptop computers are permitted. No personal scanners or camera tripods allowed. Library staff will inspect all items that readers take into or bring out of the BRBR.
Use of Materials
Researchers will fill out and sign the attached form and show their photo ID to the librarian.
Access to any book or other materials depends upon the item's condition.
One item from the BRBR Vault may be viewed at any one time.
One manuscript box may be accessed at a time. The librarian will take out and replace the folders from the box as the user needs them.
All materials should be viewed on the table in front of you. Book pillows or reading stands will be provided by the Library staff. Books should be supported as evenly as possible to prevent strain on the bindings. Please do not rest books on the edge of the table, prop them up against other books, hold them up off the table by the corners of the boards, or place them in your lap. All manuscript materials are to be kept in their original order and in their respective files.
Gloves are not required except when using photographs; wash and dry hands thoroughly before handling all materials.
Turn pages slowly and carefully and use extreme care when unfolding and re-folding maps and other inserts. Use care with books that are brittle; some bindings cannot be opened completely without damaging the item. If in doubt as to how to handle a specific item, please see a librarian before proceeding. Do not use any materials as a writing surface.
If bookmarks are needed, the librarian will provide acid-free paper.
If you find unopened pages, please take the item to the librarian. Do not attempt to cut the pages yourself.
Materials are not to leave the BRBR. Materials will remain in the room until you are finished.
Please bring damaged materials, missing plates, etc., to the attention of the librarian.
Notify the librarian and leave materials on the reading table when you are finished. All loose sheets will be inspected by the librarian before leaving the BRBR.
Failure to follow these guidelines will result in loss of privileges.
Digital Camera Guidelines  
Taking digital photographs of rare books and manuscript material requires permission from the librarian. The Toledo Lucas County Public Library reserves the right to regulate or prohibit photography to protect materials. Readers may take their own digital pictures with a small, handheld camera, iPad, or cell phone. Larger cameras shall be approved prior to use.
A customer may request higher resolution images if desired. Staff will determine whether a specific item can be scanned using Library equipment. This will require department staff time and Library equipment and may not be able to be completed on the same day as the user's visit. The researcher must provide complete and accurate citations (call numbers, accession numbers, ID numbers, page numbers, or box and folder numbers) for all items requested.
Duplication of Materials
All photocopying is to be performed by Library staff. If there is an original document and a photocopy of the same document and there is a notification with the materials that only the copy may be used the photocopy will be the item copied.
Researchers are obliged to comply with copyright laws when publishing or otherwise using materials from the Library's collections. Items must be identified as belonging to The Blade Rare Book Room, Toledo Lucas County Public Library or Manuscript Collections, Toledo Lucas County Public Library. Researchers are advised that the disclosure of certain information pertaining to identifiable, living individuals without the consent of those individuals may have legal ramifications.
We offer 25 free scans per quarter of unbound materials such as loose documents, letters, and photographs sized under 8.5 x 11 inches.
Need scans of larger materials or have questions? Email us or call 419.259.5233 to set up an appointment. The minimum turnaround time for digitization services is approximately four weeks.
Scanning: We scan text, books, slides and negatives, glass plate negatives, or other oversized items for you.
File Storage: Please bring a flash drive to store your digitized files.
Ask about Digitization Services (digitization@toledolibrary.org)