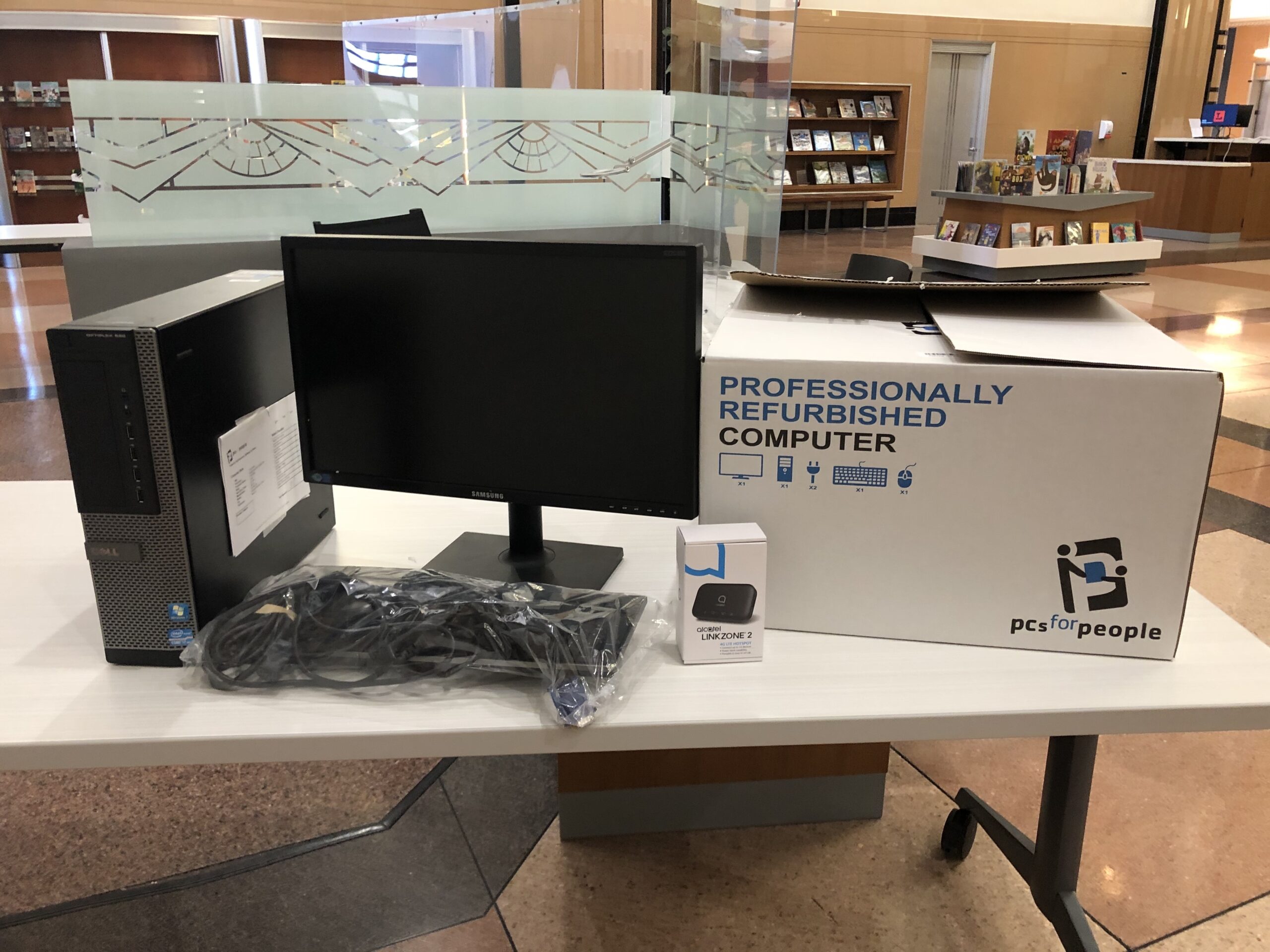 PCs for People distributes low-cost refurbished computers and internet to income-eligible individuals through an easy-to-apply online application system. Every desktop includes a mouse, keyboard, power cords and monitor cords at no additional cost.
See directions below and view this helpful video.
1. Go to pcsforpeople.org/lucas-county/
2. Choose Lucas County so you can register and apply.
Before you apply, make sure you have the following:
An active email address. The Library can help you create an email account. Visit any location or call 419.259.5200.
Documents verifying program eligibility, such as a County benefits statement or Free or Reduced Lunch letter. You will upload the document. The Library can help you upload documents. Visit any location or call 419.259.5200.
3. First you will choose your pickup location. You can choose Heatherdowns, Locke, Main, Washington or West Toledo.
4. Select the equipment or internet service you want and if you want to apply for financial aid.
5. You will then create an account.
6. Then you will check out. If you applied for financial aid, your total will show $0 while you apply for aid.
7. You will get an order confirmation. This does not mean your order is ready. The documents you submitted still have to be approved, and there may be other steps if you requested financial aid. The next steps will come to your email, so you will need to check that email account regularly.
8. Once your order has been approved, you may be on a waiting list due to high demand. Please continue to check your email for updates and you will receive an email when your order is ready for pickup
Financial aid for this program provided in part by a grant from the Williams R. Winkle Memorial Fund and the Community Resilience Fund of the Greater Toledo Community Foundation.
Call PCs for People: 216-777-4441 (voicemail line dedicated to this program) or 216-930-5741 (state/national call line, wait times vary) Email PCs for People: toledo@pcsforpeople.org Call the Library 419.259.5200 Email the Library toledolibrary.org/contact
PCs for People provides free e-waste pickup and recycling* of electronic waste from businesses, educational, governmental organizations. PCs for People is NAID AAA and R2 compliant, meaning your data is protected through strict adherence to the highest standards of information destruction, hard drive sanitization, and all recycling is environmentally responsible. PCs for People accepts nearly all electronic waste – including computers, peripherals, monitors, cables, drives, and more.
* PCs for People offers free pick up and processing with a minimum of 15 computers, and other e-waste. There is a charge for recycling CRT monitors and televisions. A single pickup can be scheduled or setup to reoccur as needed. After being scheduled, a team of workers will arrive at your location and physically remove equipment from storage areas. Contact dvalentin@pcsforpeople.org or call 216-600-0014 to schedule a pickup.