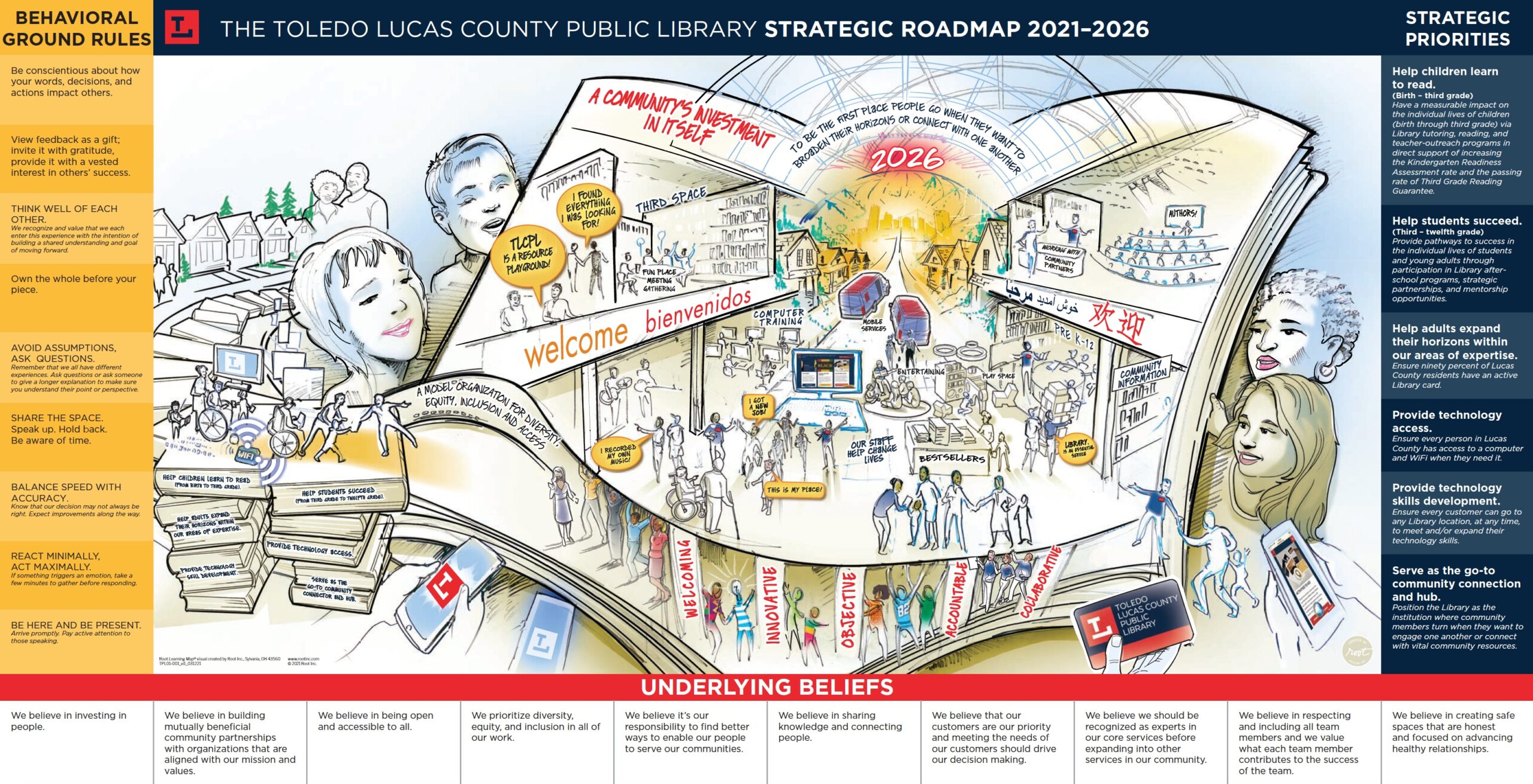 What do you see when you think about the future of Toledo and Lucas County? At the Library, we think emerging community investments, opportunities, and national recognition are changing the trajectory of our region. With our incomparable staff and resources, the Library is positioned to fuel this positive momentum. We're proud to be part of this region of makers, doers, and dreamers and invite you to join us in driving our strategic priorities to create a bright future for the community.
HELP CHILDREN LEARN TO READ. (BIRTH – THIRD GRADE)
Have a measurable impact on the individual lives of children (birth through third grade) via Library tutoring, reading, and teacher-outreach programs in direct support of increasing the Kindergarten Readiness Assessment rate and the passing rate of Third Grade Reading Guarantee.

HELP STUDENTS SUCCEED. (THIRD – TWELFTH GRADE)
Provide pathways to success in the individual lives of students and young adults through participation in Library afterschool programs, strategic partnerships, and mentorship opportunities.
HELP ADULTS EXPAND THEIR HORIZONS WITHIN OUR AREAS OF EXPERTISE.
Ensure ninety percent of Lucas County residents have an active Library card.
PROVIDE TECHNOLOGY ACCESS.
Ensure every person in Lucas County has access to a computer and WiFi when they need it.
PROVIDE TECHNOLOGY SKILLS DEVELOPMENT.
Ensure every customer can go to any Library location, at any time, to meet and/or expand their technology skills.
SERVE AS THE GO-TO COMMUNITY CONNECTION AND HUB.
Position the Library as the institution where community members turn when they want to engage one another or connect with vital community resources.
We will achieve these ambitious priorities with careful attention to our underlying beliefs that place the dignity, potential, and value of all staff and those we serve at the center of our actions.
We believe in investing in people.
We believe in building mutually beneficial community partnerships with organizations that are aligned with our mission and values.
We believe in being open and accessible to all.
We prioritize diversity, equity, and inclusion in all of our work.
We believe it's our responsibility to find better ways to enable our people to serve our communities.
We believe in sharing knowledge and connecting people.
We believe that our customers are our priority and meeting the needs of our customers should drive our decision making.
We believe we should be recognized as experts in our core services before expanding into other services in our community.
We believe in respecting and including all team members and we value what each team member contributes to the success of the team.
We believe in creating safe spaces that are honest and focused on advancing healthy relationships.
The BIG IDEA is TLCPL's action plan to build, improve and grow in the areas of inclusion, diversity, equity and access. An important part of this work is providing our community with resources and materials that inform, challenge, and inspire people to learn more about our shared human experience.
Transcript
0:00 [music]
0:08 we believe in investing in people
0:10 we believe in building mutually
0:12 beneficial community partnerships with
0:14 organizations that are aligned with our
0:15 mission and values
0:17 we believe in being open and accessible
0:20 to all we believe in ensuring diversity
0:23 equity and inclusion in all of our work
0:26 we believe it's our responsibility to
0:29 find better ways to enable our people to
0:32serve our communities
0:34 we believe in sharing knowledge and
0:35 connecting people we believe that our
0:38 customers are our priority and meeting
0:40 the needs of our customers should drive
0:42 our decision making we believe we should
0:44 be recognized as experts in our core
0:47 services before expanding into other
0:48 services within our community we believe
0:51 in respecting and including all team
0:53 members and valuing what each team
0:56 member contributes to the success of the
0:59 team we believe in creating safe spaces
1:01 that are honest and focused on advancing
1:04 healthy relationships
1:06 these underlying beliefs form the
1:07 foundation for how we treat one another
1:09 and care for our community at the toledo
1:11 lucas county public library it is the
1:13 responsibility of the executive
1:15 leadership team to ensure that these
1:17 words are not merely rhetoric but that
1:19 these beliefs are reflected daily in our
1:21 recruiting
1:22 hiring training collection development
1:26 services technology investment policy
1:28 development physical and digital access
1:31 and organizational strategy collectively
1:34 this work defines the tlcpl way
1:37 the library's strategic priorities
1:39 reflect our fundamental beliefs and
1:42 challenge us to play a critical role in
1:44 advancing the toledo and lucas county
1:47 community
1:48 there's so much reason to be hopeful for
1:50 the region with top businesses and
1:53 growth rankings riverfront
1:54 revitalization uptown improvement
1:57 corridor and the bitwise jefferson
1:59 center investment at the same time we
2:02 know many of our neighborhoods are still
2:04 struggling with finding their footing in
2:06 a post-industrial economy
2:09 we see the library as the driving force
2:12 to connect people organizations
2:15 resources and knowledge to fuel positive
2:18 momentum at both ends of this spectrum
2:22 one of my favorite quotes about
2:24 libraries is from author sydney sheldon
2:28 libraries store the energy that fuels
2:31 the imagination they open up windows to
2:34 the world and inspire us to explore and
2:37 achieve and contribute to improving our
2:40 quality of life
2:43 our first strategic priority provides a
2:45 direct pathway to improving our quality
2:48 of life with a promise to help children
2:50 to learn to read from birth to third
2:52 grade numerous studies show
2:54 unequivocally that strong early literacy
2:57 skills are absolutely essential to a
2:59 life rich with promise and choices every
3:02 child deserves the opportunity to
3:04 nurture dreams and possibilities but
3:07 their options narrow alarmingly quickly
3:10 without early childhood reading support
3:12 our success in meeting this priority
3:14 will be found in direct measurable
3:17 impact in the individual lives of
3:18 children birth to third grade through
3:21 tlcpl tutoring reading and teacher
3:24 outreach programs we'll do this work in
3:26 direct support of increasing the
3:27 kindergarten readiness assessment rate
3:30 and the passing rate of the third grade
3:32 reading guarantee
3:34 our next strategic priority builds on
3:36 the library's early reading commitment
3:38 as we promise to help students succeed
3:41 from third to 12th grade just as data
3:44 shows the need for early reading skills
3:46 there is also a direct connection
3:48 between success at school and the
3:50 richest opportunities to build a life of
3:53 each person's choosing while i celebrate
3:56 when i read about students who succeed
3:58 in school despite overwhelming obstacles
4:00 i think
4:01 it shouldn't be an inspirational story
4:03 that a student succeeds it should be
4:06 expected for each student in each
4:08 neighborhood each day
4:10 our success in meeting this priority
4:12 will be found as we create pathways to
4:15 success in the individual lives of
4:17 students and young adults through
4:19 participation in tlcpl after school
4:22 programs strategic partnerships and
4:25 mentorship programs the next strategic
4:27 priority expands our focus from children
4:31 as we promise to help adults expand
4:33 their horizons within our areas of
4:36 expertise
4:37 this priority is exciting because it
4:40 challenges the library to define our
4:42 areas of expertise by collecting
4:45 information on our impact evaluating
4:48 other community services
4:50 making data-driven decisions and
4:53 innovating to help people discover more
4:55 promise and more possibilities in their
4:57 lives
4:59 carefully evaluating our work and asking
5:01 critical questions about what we do best
5:05 also ensures that we are responsible
5:07 stewards of taxpayer dollars the success
5:10 of this work will be realized by 90
5:13 percent of lucas county residents having
5:15 an active library card never has the
5:18 necessity of computer and internet been
5:20 so clear nor has the cost to those who
5:22 go without toledo and lucas county is
5:25 full of talented makers doers and
5:27 dreamers but our collective potential is
5:30 limited by the stubborn gap between
5:32 those who can easily get online and
5:34 those who can't because they don't have
5:35 reliable or affordable access to a
5:37 computer or internet service
5:39 that's why the library's next priority
5:41 is to provide technology access
5:44 the library is uniquely positioned to
5:45 bridge this digital divide and unleash
5:47 the community's potential with our
5:49 numerous locations vendor negotiating
5:52 reach and partnerships with
5:54 organizations that share our passion for
5:56 providing technology access
5:59 our success means that every person in
6:00 lucas county has access to a computer
6:02 and wi-fi when they need it the
6:04 library's next priority magnifies the
6:08 importance of addressing the digital
6:10 divide with a promise to provide
6:12 technology skills development
6:15 if we think of libraries as essential
6:18 for improving the quality of life of
6:20 community residents then attention to
6:23 technology skills is essential
6:26 digital skills are increasingly required
6:29 for all levels of employment with more
6:32 than 80 percent of middle-income jobs
6:35 requiring digital literacy and usage
6:39 furthermore
6:40 access to skilled workers is a key
6:42 factor that distinguishes thriving
6:45 companies and thus regions apart from
6:48 failing ones with the library's
6:50 long-established reputation as a place
6:53 for information and learning we can be
6:56 the engine that drives improvement in
6:59 the digital skills gap we will succeed
7:02 when every customer can go to any
7:05 location at any time to meet and or
7:09 expand their technology skills
7:12 our final priority builds on the
7:14 library's reputation as a trusted
7:16 resource as we promise to serve as the
7:18 go-to community connection and hub
7:21 there are a lot of great public
7:22 institutions across the country but none
7:25 quite like your public library
7:27 public libraries really are for everyone
7:30 it doesn't matter your age your
7:31 demographic your socioeconomic status
7:34 your beliefs your education level or
7:36 anything else the toledo lucas county
7:39 public library welcomes everyone and has
7:41 something to offer you it's the perfect
7:44 place to go to bring people and ideas
7:46 together to meet this priority we need
7:48 to
7:49 be the institution where community
7:51 members want to turn when they want to
7:53 engage one another or connect with vital
7:55 community resources the toledo lucas
7:57 county public library is the community's
7:59 investment in itself
8:01 the strategic priorities are a promise
8:03 to ourselves and the community to ensure
8:05 that investment paves the way for a
8:07 bright tomorrow thank you for joining us
8:09 on this journey together we will embrace
8:11 the future and see what wonderful things
8:13 come from
8:14 [music]
Transcript