A NANCY DREW MYSTERY STORY
THE MYSTERY OF THE LIBRARY COLLECTION
By TERRI CARROLL
I:
 

A WINNING TITLE

Nancy Drew has inspired generations of girls with her indomitable resolve, resourcefulness, and aplomb. Whether speeding down a country lane in her zippy roadster, taking down racketeers, recovering heaps of stolen jewels, or scouting a secret tunnel with her best chums Bess and George, readers can always count on Nancy Drew to save the day. 

More than 80 million copies of Nancy Drew Mystery Stories have been sold since 1930, cementing her position as a role model for generations of readers, law enforcement professionals, and trailblazers such as Oprah Winfrey, Ruth Bader Ginsburg, Hillary Clinton, Sonia Sotomayor, and Sandra Day O'Connor.  

"She's a force for good, unafraid to speak up, unafraid to challenge authority," said Melanie Rehak, the author of Girl Sleuth: Nancy Drew and the Women Who Created Her. 

Never out of print, Nancy Drew has appeared in more than 600 books and counting, in movies, on television shows, and in video games. She has been reinvented, in ways that fans have not always embraced, for seemingly every era. Throughout decades of adaptations and reboots, American culture has continued to embrace Nancy Drew's intelligence, courage, and independence.

II:  THE WOMAN OF MYSTERY
Toledo has a special connection to this girl wonder as home to the original Nancy Drew Ghostwriter, Mildred A. Wirt Benson (1905-2002.) Main Library also holds the nation's largest public Nancy Drew collection of books and memorabilia and will be host to the 2022 Nancy Drew Sleuth Convention on July 14-15.
An author and journalist, Benson wrote 135 books for children including some under various pseudonyms. Benson moved to Toledo, Ohio in 1938 and worked for the Toledo Times (which later became The Blade) from 1944-2002. From 1930-1953, under the pen name Carolyn Keene, Benson wrote 23 of the first 30 Nancy Drew mysteries, including the first book in the series. Benson's Nancy Drew was a trailblazing and independent sleuth who the publisher described as, "An up-to-date American girl at her best, bright, clever, resourceful, and full of energy."

III: AN EXCITING FIND
The Toledo Lucas County Public Library holds a number of items related to the life and work of Mildred A. Wirt Benson. Among these are:
All of the 135 books written by Benson under various pseudonyms are held in the Library's Rare Book Collection. Circulating copies of her Nancy Drew books are also available.
Nancy Drew diorama. A three-dimensional diorama based on the original cover art from the first book in the Nancy Drew series The Secret of the Old Clock is featured on a Children's Library shelf end panel.
Benson was awarded the Malice Domestic Award for Lifetime Achievement in 2001. The Library has the teapot representing her award.
The Library has a collection of various photos taken of Benson throughout her life and photos of the young woman who modeled for the original Nancy Drew illustrations. Benson became a pilot in her sixties and the Library has five of her flight logbooks in the Rare Book Room.
Russell H. Tandy was the original illustrator for the Nancy Drew series. The cover art for the fifth book in the series The Secret at Shadow Ranch is part of the Robert L. and Posy Huebner Collection of Original Illustrations.

IV:  A DARING PLAN
With these comprehensive Nancy Drew assets, the Library applied for and was designated as a National Literary Landmark Register in 2015. Then, the 2019 renovation of Main Library included space to highlight the Tandy illustration and a 16-foot Mystery Wall. Complete with secret drawers, coded messages, and other hidden clues, the dramatic wall establishes sleuthing and discovery as central to the Library experience while helping visitors learn basic library search skills.

V:  A VALUABLE GIFT
Throughout the Nancy Drew and Benson activities, Youth Services Coordinator Nancy Eames was also talking with Jennifer Fisher who is the Nancy Drew Sleuths founder and president and a well-known Nancy Drew collector, author, and consultant.
Fisher had curated a collection of more than 4,000 pieces of Nancy Drew books and memorabilia with a vision to inspire, educate, and reach new generations of Nancy Drew readers and fans. 
"Collecting dust in my living room was never in the cards," said Fisher. "I had mentioned to the Library about donating it someday. Some day. But the renovation gave the Library and me the perfect opportunity to have the collection be accommodated, in a room created just for it, and the chance to help shape the manner in which it would be donated and displayed." 
Fisher's goal is fourfold:
To provide a place where youth can be inspired, as so many generations of Nancy Drew readers have been, so the series will stay alive in their hearts. 
Allow adults and fans who love to revisit happy childhood memories and perhaps share with new generations of readers.
Offer scholars and researchers a place to gain a richer perspective on the series and its publishing history.
Inspire other collectors, who have items in their collections that could be donated to the Library to enhance the collection and add to the wealth of knowledge to be gleaned from this collection.
"I know my collection has a warm, respectful, and proper home at the Toledo Lucas County Public Library and will be well-kept by her trusted caretakers for many years to come," Fisher said.

VI: STARTLING DEVELOPMENTS
The Nancy Drew books were written before American publishing did an honest interrogation of representation. When concerns about racism in the books were raised in the 1950's, the publisher's solution was to make all characters white — creating a monoculture rather than publishing stories that provided positive representation. Original texts with racist language and depictions were revised and published within the monoculture directive. Then, in 1991, Applewood Books reissued the original text with a warning about the language; a decision that was fraught with concern and controversy. Since then, reboots and off-shoots have gradually introduced more inclusivity, with the acknowledgment that the character of Nancy Drew is particularly adaptable to societal standards as they shift over time.
On July 14-15, Nancy Drew fans — both burgeoning sleuths and those who have embraced Nancy Drew as a pivotal role model — will be able to discover the plucky sleuth's journey across the decades and cast Nancy Drew in their own likeness.
"Nancy Drew's sense of adventure, of helping others, tenacity, resourcefulness, and — of course — great style, reach across generations and identities," said Eames. "This event will celebrate this ethos, provide an opportunity to build sleuthing skills, and allow people to enjoy the nation's largest public collection of Nancy Drew memorabilia."
Save the date and visit toledolibrary.org/nancy-drew-convention for registration and details.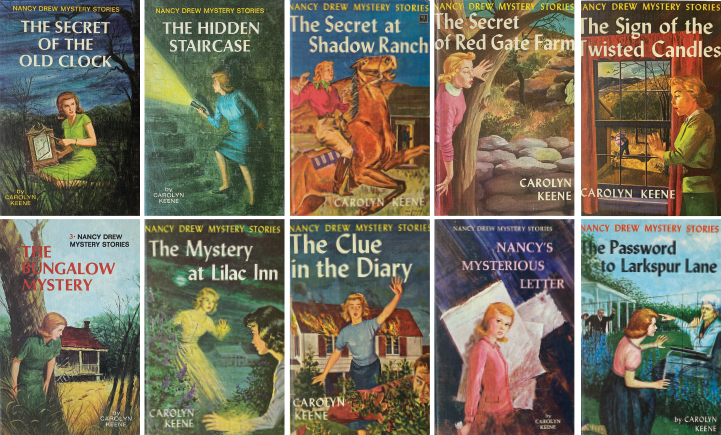 Bonus Easter Egg: Each subhead in this story is a chapter from a Nancy Drew title. Can you identify them?