Celebrate Rosa Parks, An American Civil Rights Activist
Posted on February 1, 2023
Rosa Parks is a name everyone should know. An activist in the United States Civil Rights Movement, she is best known for her refusal to give up her seat in the "colored" section of a bus for a white passenger in 1955. She helped to inspire the Montgomery bus boycott, a protest against racial segregation on public transit in Montgomery, Alabama, and is often referred to as the mother of the modern Civil Rights Movement.
Toledo is lucky enough to have a few connections to Rosa Parks. She attended a ceremony at Scott High School in 1990, as Toledo honored her by dedicating a section of I-475 in her name, and her visit was commemorated in Scott's 1991 yearbook. Additionally, local illustrator Wil Clay illustrated her book I Am Rosa Parks, listed in the resources below.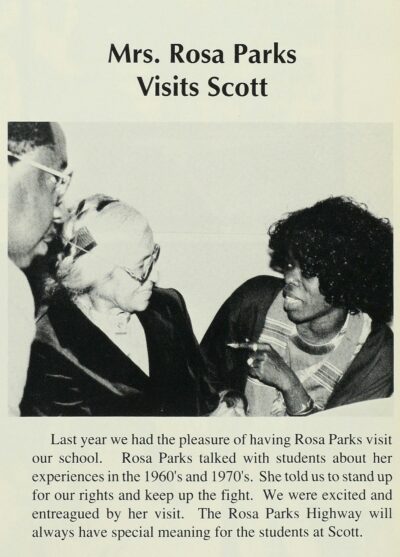 In recognition of Rosa Parks' birthday on February 4, Mott Branch Library (1010 Dorr St., Toledo, OH 43607) is hosting a Rosa Parks Day Storytime at 2:00 p.m. This event, presented in partnership with TARTA and the NAACP, will feature an interactive family storytime and activities celebrating the life of Rosa Parks.
Also in recognition of Rosa Park's birthday, and to kick off Ohio Loves Transit Week, TARTA is celebrating Transit Equity Day with events focusing on transit as a basic right for all people. TARTA and the NAACP will host a press conference at the TARTA Transit Hub (612 N Huron St. Toledo, OH 43604) at 10:00 A.M. on Saturday, February 4, 2023, to introduce an interactive Rosa Parks exhibit, located at the Transit Hub, where visitors can answer the question "What does Rosa Parks mean to you?" After the press conference, all attendees will RIDE THE 5: Ride the historic TARTA route 5 to the African American Legacy Project located at 1326 Collingwood Blvd. Toledo, OH 43604.
To learn more about Rosa Parks, check out any of the books listed below. For further information, visit your local library or check us out online.
Did you like this blog post? Keep up to date with all of our posts by subscribing to the Library's newsletters!