Holiday-Themed Mysteries that are So Good You'll Want to Read Them Year-Round
Posted on November 28, 2018
There's just something about holiday-themed books in general that holds appeal for so many reasons. Just mentioning the word holiday conjures up an array of images – snow, family gatherings and good food. Now throw in a little murder — wait, what? Well, that's exactly what you can expect from holiday-themed mysteries … sugarplums and someone's untimely demise … sounds a little morbid. Well, if you love mysteries it probably sounds like heaven. When it's too cold to enjoy the outdoors it's really nice to curl up with a good mystery and a cup of hot chocolate. The Library has something for everyone.
Selections from 2018
Sister Jane Foxhunting Mysteries – Book 11
When the Christmas Hunt is interrupted by the discovery of a body, "Sister" Jane Arnold and her company of loyal hounds find their efforts to uncover the truth complicated by the meddling antics of loathsome Victor Harris.
Christmas Tree Farm Mysteries – Book 2
Horrified when a grisly murder takes place on the festively decorated town square, Holly White catches the attentions of the killer while trying to prove the innocence of her wrongly accused best friend.
Cackleberry Club Mysteries – Book 8
When an unpopular curmudgeon, cast as Scrooge in a local production of A Christmas Carol, is murdered by someone dressed as the Ghost of Christmas Past, the Cackleberry Club members find themselves sorting through a growing list of suspects.
Yule Be Dead by Lorraine Bartlett with Gayle Leeson
Victoria Square Mysteries – Book 5
When the daughter of tea shop owner Francine Barnett is murdered, and then she herself is attacked, Katie Bonner, the manager of Artisan's Alley in Victoria Square, must quickly close in on a killer before they close in on her.
Hannah Swensen Mysteries – Book 23
Juggling the responsibilities of opening her shop with the demands of Christmas, Hannah Swensen is surprised by the writing talents of an elderly local whose murder story chillingly comes true.
Selections from 2017
Mordecai Tremaine Novels – Book 2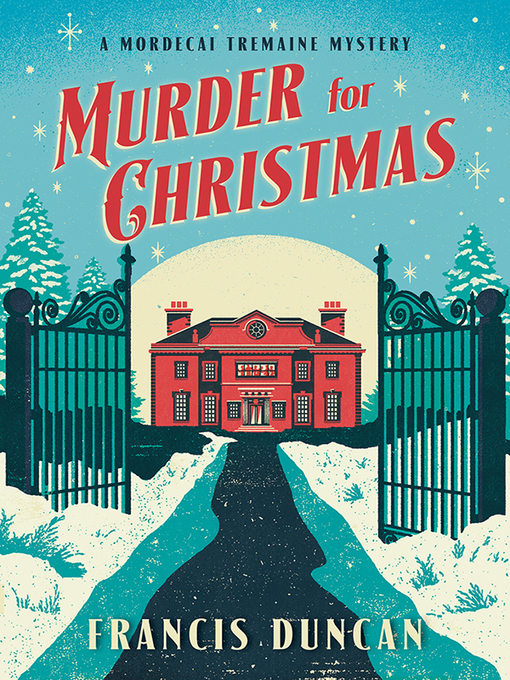 The first book in a classic Golden Age mystery series perfect for fans of Agatha Christie's Hercule Poirot
When Mordecai Tremaine arrives at the country retreat of one Benedict Grame on Christmas Eve, he discovers that the revelries are in full swing in the sleepy village of Sherbroome—but so too are tensions amongst the assortment of guests.
When midnight strikes, the partygoers discover that presents aren't the only things nestled under the tree…there's a dead body too. A dead body that bears a striking resemblance to Father Christmas. With the snow falling and suspicions flying, it's up to Mordecai to sniff out the culprit—and prevent anyone else from getting murder for Christmas.
"Murder for Christma"s is a festive mystery for the holiday season: mulled wine, mince pies… and murder.
Meg Langslow Mysteries – Book 22
When her husband organizes a full-scale production of A Christmas Carol with a famous veteran actor in the starring role, Meg finds herself navigating unexpected challenges in the star's baggage and enemies.
Inspector and Mrs. Jeffries Mysteries – Book 36
After an unpopular guest at Abigail Chase's Guy Fawkes Night dinner party turns up murdered, Inspector Witherspoon has too many suspects with Christmas fast approaching.
Viv and Charlie Novels – Book 2
Radio star Vivian Witchell spends Christmas holidays trying to discover how her father spent the last weeks of his life, and with the help of detective Charlie Haverman, she uncovers disturbing clues that point to notorious crime boss Al Capone.
This captivating collection — which features eighteen bestselling and award-winning Soho Crime authors — contains laughs aplenty, hardboiled holiday noir, and heartwarming reminders of the spirit of the season. Nine mall Santas must find the imposter among them. A young woman receives a mysterious invitation to Christmas dinner with a stranger. Niccoló Machiavelli sets out to save an Italian city. Jane Austen searches for the Dowager Duchess of Wilborough's stolen diamonds. And more adventures that will whisk readers away to Christmases around the globe.
Selections from 2016
Fixer-Upper Mysteries – Book 4
While trying to transform a Victorian mansion into apartments for homeless families in time for the holidays, contractor Shannon Hammer must pull-off a Christmas miracle to save her father from prison and find the real killer of a miserly bank president.
Four Christmas short stories, two featuring poet-detective Adam Dalgliesh, that deal with some of the most unsettling aspects of human nature. Previously published in newspapers and magazines, they are collected here for the first time.
Happy Hoofers Mysteries – Book 5
When the Happy Hoofers score a gig at New York CityÆs Radio City Music Hall with the legendary Rockettes during the Christmas Spectacular, the toe-tapping troupe must solve a murder in between rehearsals and sightseeing before someone else dances to their death. Includes cooking tips and recipes.
Andy Carpenter Novels – Book 15
Defending a friend who has been reported by a cranky neighbor for fostering homeless puppies during the holiday season, Andy Carpenter encounters more trouble than anticipated when the neighbor is found murdered.
Comfort Food Mysteries – Book 5
With a broken leg and busy diner during the holiday season, Trixie Matkowski also finds herself the prime suspect in the murder of Liz Fellows, the director of the local Christmas pageant who was found with Trixie's butcher knife in her back.
More Holiday Mysteries Worth Checking Out
Looking For More Holiday-Themed Mysteries?
Try searching the Library catalog using the following terms:
Christmas stories + mystery fiction
Mystery Cozy + Holidays
Christmas + mystery
Try these great websites:
---
Looking for More Book and Movie Recommendations?
Tell us what you've enjoyed reading, watching or listening to, and our librarians will give you personalized recommendations. No algorithms, cookies or data mining – just real experts in your community sharing their love of great books, music and movies with you!
We call it Give 3 Get 3. Try it today!
Did you like this blog post? Keep up to date with all of our posts by subscribing to the Library's newsletters!