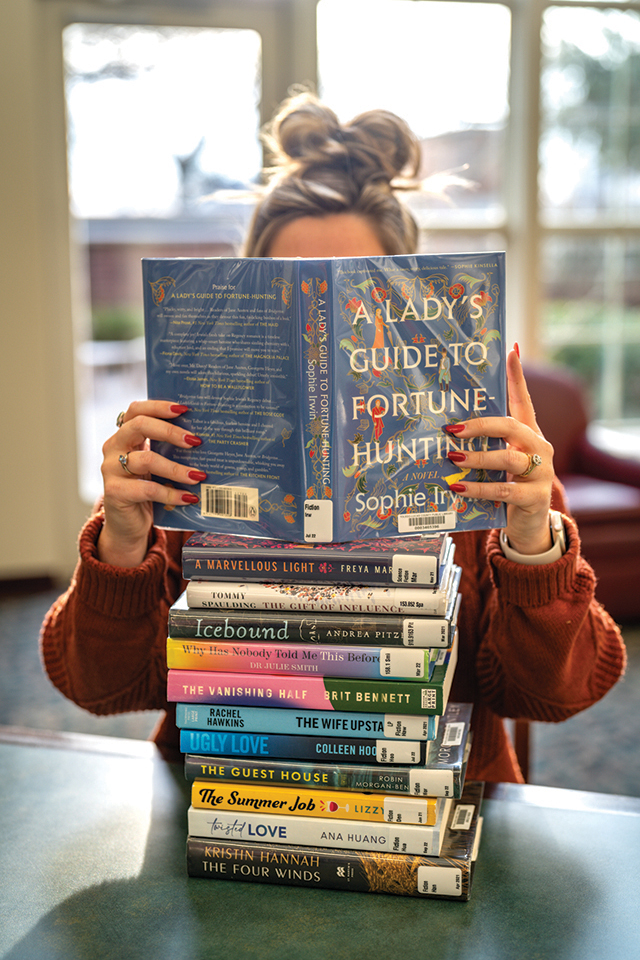 MORE WAYS TO READ MORE
By Kelsey Rader, Assistant Manager of Communications, Innovation, and Strategy 
Every year, many people add "read more books" to their New Year's resolutions (including me.) But let's face it, it can be hard to stay motivated to read when it is so easy to watch TV or scroll through social media.
In 2022, I finally reached my goal and read 85 books! Changing my perspective and ways of reading played a huge role, and it was all through using the Library's resources.
Try one (or all) of these ways to help you meet your resolution to read more!
Concierge Recommendations
Not sure what to read next? No problem. Our librarians love helping you find your next read. All you have to do is fill out a form and share what books, authors, or genres you've enjoyed, and they will send you a personalized list!
Request a Book Bundle
Tell us what type of genre or topic you want to read, and a librarian will put together a bundle just for you. Call any location with your request or fill out our online form, then pick up your bundle from the holds shelf. The bundles can be between 5 and 20 books—read them all or return what you don't want!
Join a Book Group
I am part of the Romance Book Group that meets on Zoom once a month, and I love that I can read great titles and make new friends, all while sitting on my couch! There are many different book groups ranging from a cookbook book group to romance, mystery, and nonfiction. With so many options, there is a group for everyone.
Try a Reading Challenge
Add rewards to motivate yourself to read more with one of our reading challenges.

8 Aloud: Read aloud 8 chapter books (or listen to the audiobook) with a child, a class, a family, or a friend. Complete the challenge and receive a zipper pouch.

101 Picture Book Challenge: Read our list of the best picture books, which includes classics, new titles, and everything in between. Track your progress with our beautiful keepsake tracker. Complete the challenge and receive a book to keep.

50 More Picture Book Challenge: If 101 books weren't enough, or you want to start with a smaller challenge, this is for you! Complete the challenge by reading the books on this list to receive a book to keep. I love this keepsake tracker too.

Summer Read: Too bad summer is so far away, but we'll be ready with our annual Summer Read when it arrives.
Now that you have different ways to read more, you can explore HOW to get those titles and get reading!
So. Many. Books.
We have thousands of physical books within the Library. You can visit any of the 20 locations across Lucas County to find your next great read. You can also request a specific book online or by calling, and then pick it up at your location of choice. Our "floating collection" means you can borrow and return books at any branch, not just the one you borrowed from!
Audiobooks are my favorite!
Yes, they count as reading! The majority of my 85 books were audiobooks through Libby and hoopla. If I was in the car, cleaning my house, or walking my dog, I had my audiobook on.

Free Comics
Comics Plus is new to TLCPL and already super popular! Check it out and have unlimited, instant access to thousands of digital comics, graphic novels, and manga.

Read anywhere.
eBooks are another favorite of mine. The instant access to thousands of books is so convenient and affordable! Instead of the $120 annual Amazon Kindle subscription (plus more for "special" titles), I don't spend any money to read!

No device needed!
Playaways are a great way to listen to audiobooks, and the best part is you don't need a device or internet. The books are preloaded on a small device. Just plug in some headphones and start listening anywhere.
Learn more about these awesome resources and HAPPY READING!