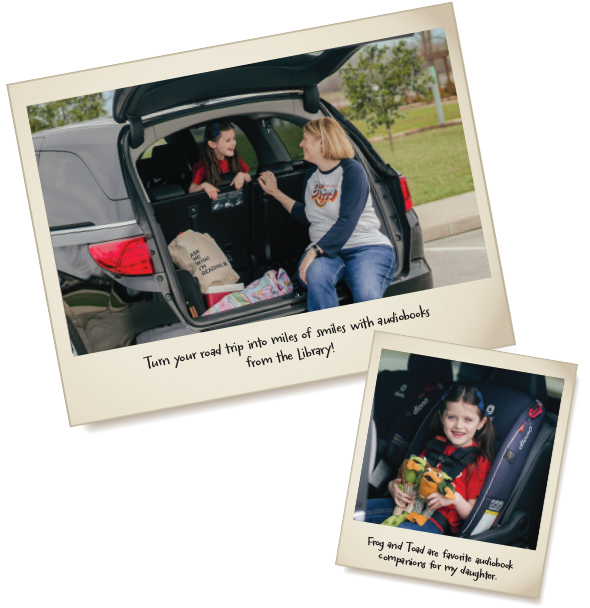 Road Trip Audiobooks
By NANCY EAMES, YOUTH SERVICES COORDINATOR
Get excited about your family road trip this summer because I have a secret weapon that will make the journey even more enjoyable: audiobooks!
Whether you're driving across the country or just a few hours away, audiobooks are the perfect companion for any road trip.
In addition to being entertaining, audiobooks are great for kids. According to the Audio Publishers Association, audiobooks help "build and enhance vital literacy skills such as fluency, vocabulary, language acquisition, pronunciation, phonemic awareness, and comprehension—skills that often boost reading scores."
I was eager to introduce my young children (ages 4 and 6) to the joys of audiobooks. I started with short familiar stories. We listened to James Marshall's fairy tales which were the perfect length of just 8-10 minutes. Then we tried some short chapter books. I looked for books with chapters that could stand alone in case they didn't quite follow the thread of a longer story. Arnold Lobel's Frog and Toad books, read by the author, were perfect.  
The right narrator is so important. Wedgie and Gizmo, by Suzanne Selfors with alternating narrators Johnny Heller and Maxwell Glick, is hysterically funny for all ages. We've now listened to this book multiple times and enjoyed the sequels just as much. 
Lana Quintal perfectly voices kindergartner Junie B. Jones, without being annoying. There are lots of Junie B. books, and while it helps to listen to them in order, it's not essential.
Another early chapter book with a perfect narrator is the Mercy Watson series, written by Kate DiCamillo and read by Ron McLarty. Mercy the pig is adored by her adopted parents Mr. and Mrs. Watson, loathed by her neighbor Eugenia Lincoln, and will do anything for hot buttered toast. 
Now that my kids are comfortable listening to short chapter books, they are ready for longer chapter books. Next in our queue: 
Charlotte's Web by E.B. White (3:34) is a timeless story of a pig named Wilbur and a spider named Charlotte who saved his life. My first choice will always be the moving and eloquent version read by the author, E.B. White, who once confessed in an interview that it took him 17 takes to read the scene where Charlotte dies. A newer full-cast audiobook version is read by Meryl Streep.
The Ramona Quimby Audio Collection by Beverly Cleary (18:57), performed by Stockard Channing, includes all eight of the Ramona books. Spunky and inquisitive, Ramona handles the challenges of school and friendships.
The Tale of Despereaux by Kate DiCamillo (3:30) read by Graeme Malcolm. This is the story of Desperaux Tilling, a mouse in love with music, stories, and a princess named Pea. It is also the story of Miggery Sow, a slow-witted serving girl with a simple, impossible wish. What happens to these characters? Listeners, it is your destiny to find out. 
The Adventures of Captain Underpants by Dav Pilkey (1:00). This multi-cast audiobook is outrageously funny. The only thing fourth-graders George Beard and Harold Hutchins enjoy more than playing practical jokes is creating their own comic books. And together, they've created the greatest superhero in the history of their elementary school: Captain Underpants! 
So, buckle up and get ready for an unforgettable journey filled with adventure, laughter, and the magic of storytelling. With audiobooks, your family road trip will be an experience to remember! 
AUDIOBOOK IDEAS FOR OLDER KIDS
AGES 7-10
AGES 9-12
AGES 13 AND UP