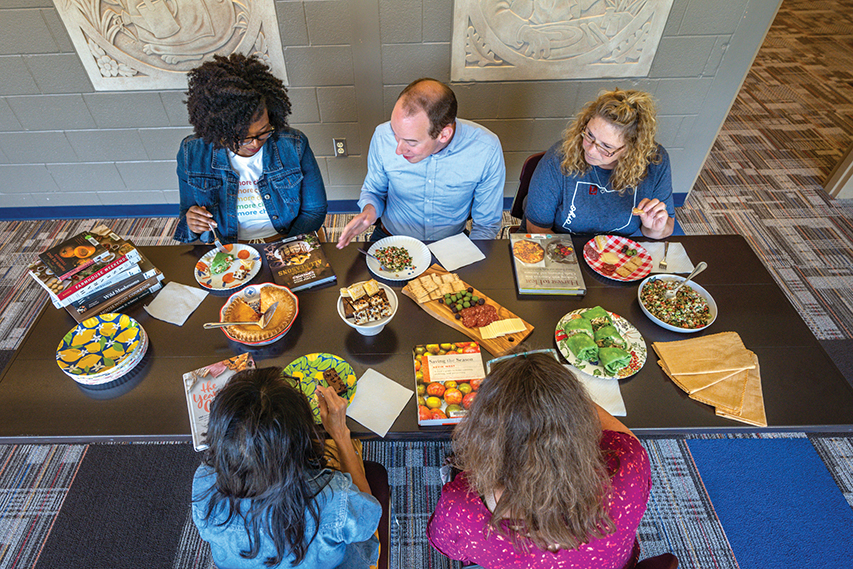 BUILDING A COMMUNITY OF READERS
by Abby Byers, assistant manager, Waterville Branch
Sorry, I can't. I have book club." 
These are words I frequently use when I'm asked to make plans. Between the two book groups I host and the additional groups I attend, I easily squeeze in 4-5 book groups a month – and I wouldn't have it any other way. 
My book group habit is supported by one of my favorite research studies about reading. A 2016 project from Yale University delved into "… whether those who read books have a survival advantage over those who do not read books and over those who read other types of materials."
As a librarian, I can – and do!  – extol the benefits of reading all day long, but this study has some impressive discoveries:
Book readers had a 23-month survival advantage and a 20% reduction in mortality compared to those who did not read books.
Any level of book reading gave a significantly stronger survival advantage than reading periodicals.
This is a novel finding (in both senses of the word), as previous studies did not compare types of reading material; it indicates that book reading rather than reading in general, is driving a survival advantage.
Researchers at Yale University asked 3,635 participants over 50-years-old about their reading habits. They split the cohort into three groups: non-readers, people who read less than 3.5 hours per week, and people who read more than 3.5 hours per week. The researchers followed up with each group for 12 years.
The people who read over 3.5 hours a week lived 23 months longer than those who didn't read at all, regardless of gender, wealth, education, or health factors.
"This finding suggests that reading books provides a survival advantage due to the immersive nature that helps maintain cognitive status," the study's authors said.
They conclude that reading novels involves two major cognitive processes, deep reading and emotional connection, which provide the health benefits.
Happily, for Toledo and Lucas County residents, everyone can easily get a reading health boost with the millions of free book titles available at all of our locations and online. The Library also has another incredible resource to increase reading's heath benefits – our 20 book groups, which further promote deep reading and emotional connection.
Before COVID-19 disrupted traditional library services, Library book groups happened in person and were Library-location specific, meeting mostly during the day. Switching to virtual book groups allowed Library users across the community to read and discuss books from the comfort of their homes. This relaxed environment and tailored genre-based groups have tripled book group participation!
The new groups also have specific genre focuses (such as romance, mystery, sci-fi, and nonfiction), which has allowed participants to  build communities based on interests.
Many participants attend two or more groups each month. Seeing the same faces each month has helped create a welcoming community of readers.
Book group frequent-flyer Felicia Neal (she often attends five book groups a month!) said she loves the virtual environment. "I like going online instead of the Library to listen to people talk from my couch."
Romance Book Group member Cami Roth Szirothnyak loves learning from others about what they liked or disliked about each read. "The group chooses titles I might not have picked up on my own," she said, "which I love because it gets me to try something new and fun."
After a Twitter interaction between a Library employee and author J. Ryan Stradal (The Lager Queen of Minnesota and Great Kitchens of the Midwest), the Online Fiction Book Group began hosting author discussions via Zoom. Visiting authors include Andrew J Graff (Raft of Stars), Mary Dixie Carter (The Photographer), Eileen Garvin (The Music of Bees), and Christopher Buehlman (The Blacktongue Thief.)
In-person book groups have returned full force at the Library and offer additional community connections. The Waterville Cookbook Group is a fantastic way to try new recipes. Sanger's long-running Under 200 Book Group is the perfect fit for readers with limited time. The new Wellness Book Group discusses books from the self-help genre. TLCPL partners with the Toledo Museum of Art to offer Pen to Palette, with a free museum tour based on the chosen book.
The popularity of virtual groups has led to new options debuting this fall. The Online Comic Book Group is reading classic comics and graphic novels, many of which are available on our eMedia platforms: hoopla, Libby, and Comics Plus. Documentary Discussion follows monthly themes of inclusion by choosing documentaries on relevant topics. All documentaries are available on TLCPL's streaming service, Kanopy. The Online Romance Book Group launched in June 2021, and read Sarah J. Maas's entire bestselling fantasy series, A Court of Thorns and Roses, this past year. This fall, a spinoff romance group, the CoHo Book Group, will be reading four of TikTok phenomenon Colleen Hoover's books, including Ugly Love, It Ends With Us, and Verity.
If you're ready to expand your reading horizons and make new community connections, you will soon find yourself saying, "Sorry, I can't. I have book club."